I graduated from Hitotsubashi ICS over a decade ago, but key lessons from my time there remain relevant even today. I was a company-sponsored student who, upon finishing my MBA, had the opportunity to work in different sectors and do business in different parts of the world. To this day, as a manager of a semi-global team, I rely on these key takeaways.
1. The basics are very important
When it comes to decision-making, whether it's investing on a company, reviewing a potential deal, or deciding whether to enter a new market, sound foundations of business thinking are critical. You do your due-diligence, of course: When my team conducts due diligence for any new investments, for financial, tax, technical, legal and environmental and so on, we work with outside consultants/specialists. Yet to get the green light, you need to ensure that all that was done right. And in many cases, the language we use are DCFs, FCFs, NVPs and other management frameworks: SWOTs, 5Fs that you may learn at term 1 in MBA class.
2. Divide and conquer
During my time at ICS, I learned that when you try to tackle something big and unknown, breaking it down really helps. With Professor Yoshi Fujikawa, we were writing a case about a Japanese entrepreneur that set up a startup in the US and had to deal with a lot of unexpected issues. The theme of the case was something like: identify key issues, devise different ways to solve those - and through this journey, develop the business model. For example, sometimes it can be hard to grasp another company's value proposition. But if you try to take it in parts, such as challenges, strengths, core competence, it gets easier.
3. Diversity
Working with people from different backgrounds means experiencing diverse business manners and attitudes; time management is a good example. Getting frustrated with people who may have totally different values from yours might seem inevitable, but it's completely unhelpful. Since I was sponsored by a Japanese company, I was used to having mostly Japanese colleagues. But at ICS I learned to try always to understand where an opinion, manner, or attitude is coming from. The more sensitive you are to these differences and how to handle them, you can make the best of a situation.
A big part of business comes down to communication – be it in negotiating, interviewing, even pitching. And there usually is no one right answer in business, and it's not about which decision you make, but more about how to execute it. The more open you are to other people's opinions and ideas, it allows you to explore a wider span of possibilities. Diversity is not about forgiving people, it is about understanding different values, attitudes, and ways of working.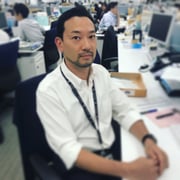 Ryusuke Kabasawa | MITSUI & CO | MBA Class 2006 He has worked at Mitsui & Co. since he was a fresh graduate; his has ample expertise in the ICT business: investments to startup companies, contents distribution business to global TV broadcasters, as well as, in the Mineral & metal industry: trading and investment projects of ferro alloys business. He has experience working in Japan, South Africa and the United States.