On Saturday, June 22, 2019 at Hitotsubashi Hall, the Hitotsubashi ICS Alumni Association and Hitotsubashi ICS hosted Alumni Day 2019, the much-anticipated event held annually since the first class graduated in 2000.
Hitotsubashi ICS Dean Kaz Ichijo delivered the opening remarks. After proudly announcing that Hitotsubashi ICS was named the best graduate business school in Japan in the QS Global MBA Ranking 2019, he spoke eagerly about achieving the next milestone – certification as an AACSB accredited graduate school – by 2020. Referring to Alumni Day as "homecoming day for the entire Hitotsubashi ICS family", Dean Ichijo welcomed everyone participating in the event, both those attending in person in Tokyo and those beaming in from around the world. He encouraged everyone to join Hitotsubashi iCS Connect, stay re-connect with fellow graduates and alumni to find out what they have been doing, to give back by introducing interesting opportunities and acting as mentors to the newly graduating students, and to further expand the network by leveraging each other's personal and professional connections.

Following the dean's opening remarks, Sherman Abe delivered his keynote address titled "The Arc of Life". As one of the founders of Hitotsubashi ICS who is remembered by many as one of the most beloved faculty members, the former professor of corporate finance reflected on his 74 years by highlighting several turning points that set the course and shaped the arc of his life.
Sherm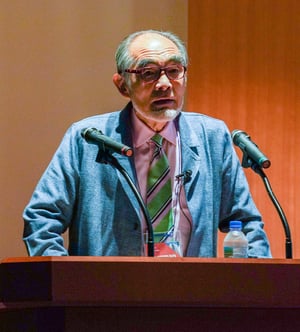 an Abe was born in Texas to an immigrant family from Japan who were, at the time, confined to the Crystal City Internment Camp where American people of Japanese, German, and Italian descent were sent during World War II. After the war ended, his family moved to San Bernardino, California, where he graduated from high school. His first turning point was attending Harvard University. It was like moving "From Earth to Mars", he recalled, using the title of his 2016 TED speech to describe the enormity of the transition.

Over the five decades of his professional career, he had several jobs, ranging from teaching English as a foreign language in Japan, earning a living as a poker player, and over 20 years as an investment banker in global financial centers, to becoming a professor for the first time at the age of 55.

He closed his speech by encouraging everyone to shape a beautiful arc in a rich personal life by always seeking their "North Star that will guide where you want to go next" and to include in their lifelong vision the positive spirit of "paying forward" to create a virtuous cycle of compassion and happiness.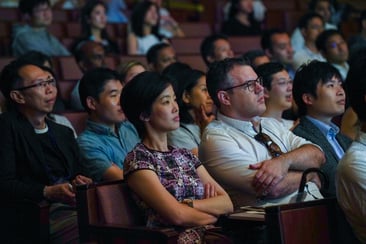 The audience turned to the screen to participate in Hitotsubashi ICS MBA Director and Professor Yoshi Fujikawa's webinar on Digital Disruption. He began by sharing TechCrunch columnist Tom Goodwin's comment on the digital revolution that went viral a few years ago, "Uber, the world's largest taxi company, owns no vehicles. Facebook, the world's most popular media owner, creates no content. Alibaba, the most valuable retailer, has no inventory. And Airbnb, the world's largest accommodation provider, owns no real estate. Something interesting is happening."
Noting that they all became highly successful with their tech-driven out-of-the-box business models, Professor Fujikawa suggested that we are no longer in the age of asking whether, when or which; it is rather a question of "what is disrupting or being disrupted by what?"
He then invited three alumni currently based in Portugal, the United States, and South Korea, respectively, to join the real-time discussion in the context of the pre-digital past, the digital present, and the post-digital future.

Olivier Le Lann, Class of 2009, who worked at Tesla Yokohama before establishing EVA LABS to invent the future of electric air mobility, emphasized that it is the power to foresee that will make the difference.

Nick Tanaka, Class of 2009, who works as a consultant, shared an insightful conversation he recently had with business associates in which they discussed:
- how technology is making us collectively smarter, but individually stupider
- how data is getting bigger and deeper, and making it harder to grasp the entire picture
- how much time we now spend daily watching YouTube or Netflix or checking email, and
- how we must not lose our ability to maintain focus, as the length of time we can go without being distracted by the above activities is getting shorter.
Leo Hwang, class of 2011, reassured everyone that IT can still bring about big changes through revolutionary innovations that make everyday difficulties easier to handle. As a successful entrepreneur running a mobile app-based time-and-cost-efficient carwash business in Seoul, he advised future entrepreneurs to keep up with the speed of change by finding a developer of the tech solution that they want to include in their service, if they cannot do it themselves.

Next on the agenda was an awards ceremony to commemorate and celebrate the 10th anniversary of the Class of 2009. Sherman Abe presented a special plaque to each 2009 class member attending Alumni Day 2019. Tim Bates spoke on behalf of his former classmates.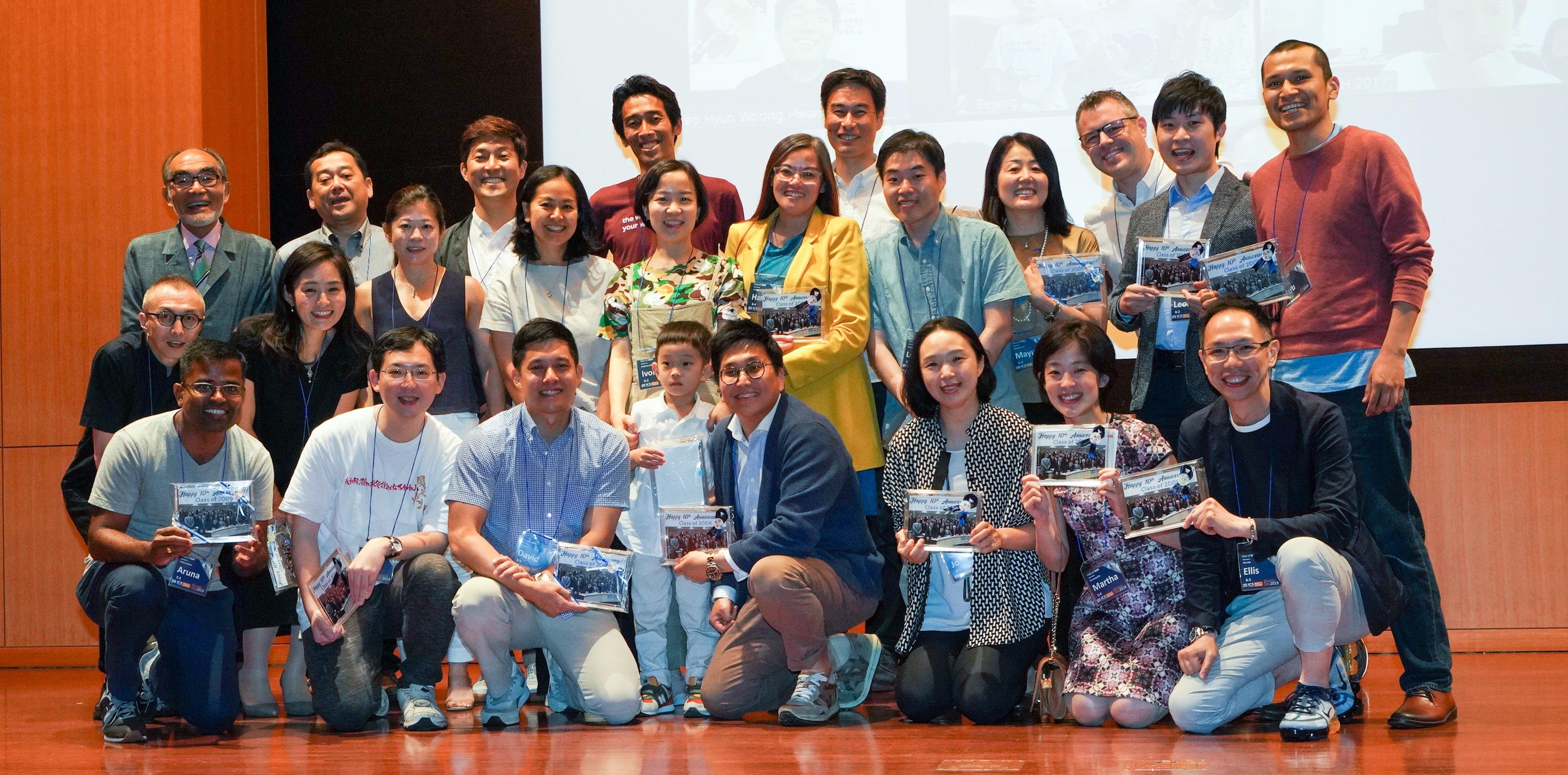 He characterized the fond memories they shared of Hitotsubashi ICS with three adjectives:
Lucky (for being destined to cross paths by enrolling in this graduate school in the same year; for being blessed with such outstanding faculty members, etc.),
Brave (for overcoming their hardships together while they saw the world recover from the Lehman shock in 2008, and with a special shout-out to the Japanese people for their resilience and for helping each other to cope in the aftermath of the Great East Japan Earthquake in 2011), and
Happy (for all the countless enjoyable times and the unbreakable bonds forged between the classmates).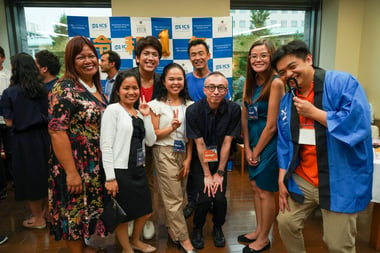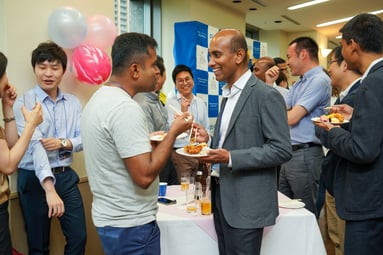 After a short break, EMBA Program Director Tom Ito spoke about the Executive MBA program, new to ICS in 2017. A video introducing the EMBA showed the students engaging in numerous activities throughout Japan and abroad as part of the four months of 10 foundation courses and 8 months of mastery courses.

Professor Ito then called to the stage four members of the Class of 2017; Nobu Hojo of Idemitsu Kosan; Munemitsu Takanabe of SBI Sumishin Net Bank; Manzur Mahtab of Fast Retailing Co., Ltd.; and Martin Stollberg from the Australian Trade & Investment Commission. He asked them to share their post-EMBA experiences as the first EMBA holders.

Nobu Hojo facilitated a brief panel discussion, starting with "How do you feel after the EMBA?" His classmates recalled how difficult the year-long program had been and agreed that the time management skills they acquired at ICS were quite useful in the corporate world.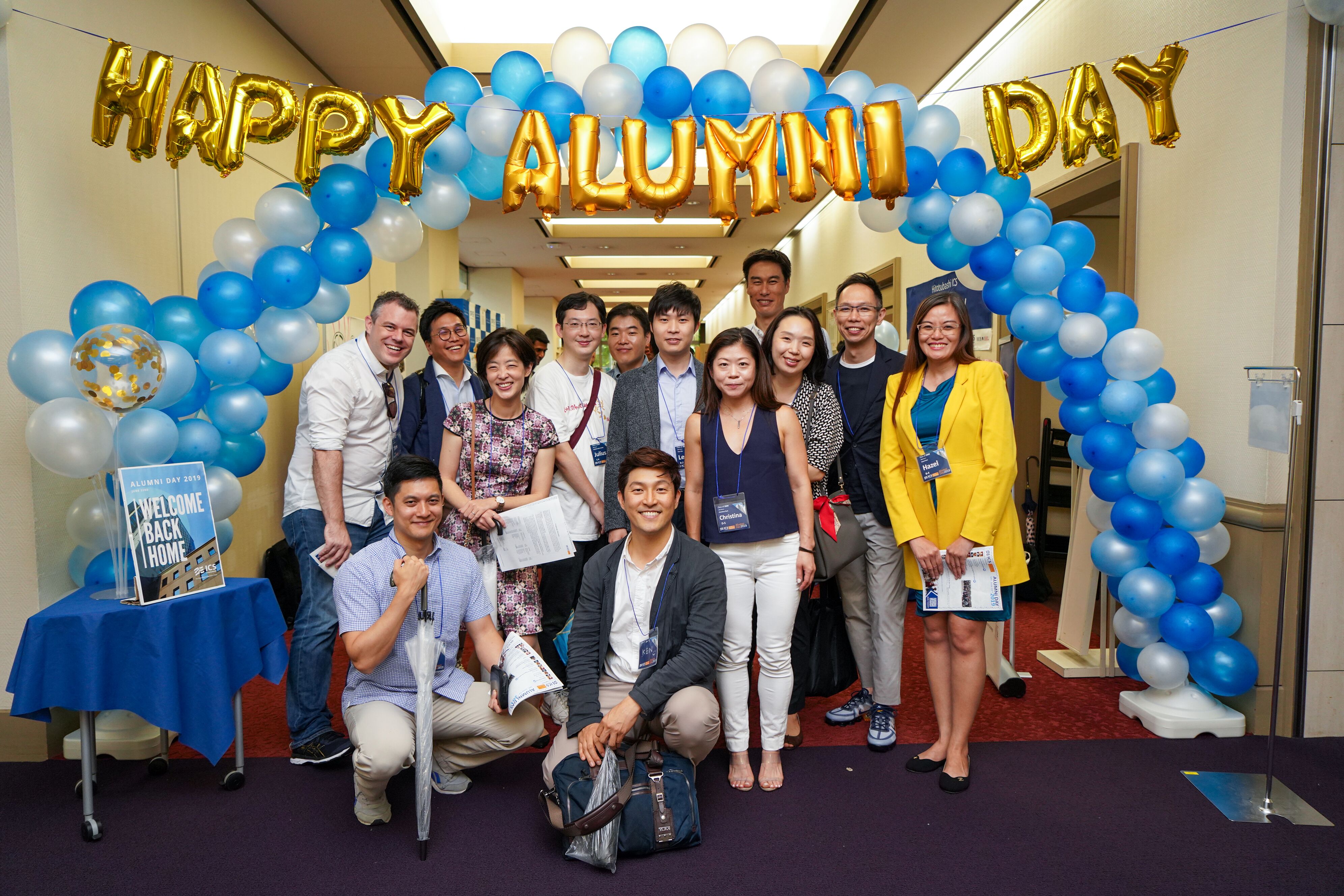 To the question "What is your biggest challenge now?", Manzur Mahtub mentioned the difficulty of adjusting the Japanese mindset to the global norms in the major apparel house, while Munemitsu Takanabe said he is still struggling to shift from being a risk manager to a risk taker in his new job at the net bank.

To the question "What impact has your EMBA had on your job?", Martin Stollberg said the long-term thinking he learned in the EMBA is helping him to envision several decades ahead after fossil fuels have been completely depleted, which is his current focus at the government-run trade and investment think tank.

With closing remarks and a quick wrap-up, Shingo Oue and Ma-Lavina Penaverde from the Class of 2001 brought the three-hour event to an end. Everyone moved to the reception for another hour of trading memories, networking, and oh so many photos!