In this edition of Byline ICS, Jane Jihyun Park, a two-year program MBA student, shares with us why "The Most Important Thing" by Howard Marks is valuable reading for anyone who wants to excel in investing. Below read the three-key take-aways of her review.
While I learned about valuation in the Corporate Finance course, this book provides a practical perspective to understand the relationship between price and value.

As the author shares his point of view on market efficiency, I could go further from the learning of efficient market hypothesis from our economics professor Hiroshi Ono, who studied in Chicago school.
Recently I read The Most Important Thing by Oaktree Capital founder Howard Marks, from my dearest professor Ito Tomonori's must-read list. A friend who had already read the book said that it would be better to read it after accumulating years of investment experience. (I'd heard that One up on Wall Street by Peter Lynch and The Art of Thinking About Money (Die Kunst über Geld Nachzudenken) by André Kostolany were recommended for beginners.) The book begins with the quote, "It's not supposed to be easy. Anyone who finds it easy is stupid." from Charlie Munger and ends with Howard's advice, "Your view of value has to be based on a solid factual and analytical foundation, and it has to be held firmly." I came to agree with my friend when I saw Howard's emphasis on the psychological impact on investing and on defensive investing.
Marks is famous for his memos to Oaktree's clients and the public. In fact, Professor Ito's book recommendation reminded me to update my email address to re-subscribe. This book, a collection of his last-20-year memos, written long before I read one of his memos for the first time. One memo, also titled "The Most Important Thing," was written in 2003, demonstrating his longevity as an investor and his dedication to thinking about investing. While I was reading the book, he released two new memos on the uncertainty of the current economy.
In his book, Marks captures, in 20 principles, what he thinks is crucial in investment, which I found to be multi-sided insight from a professional investor's perspective. He explains each principle with detailed examples and illustrations, and in the final chapter, he summarizes all the principles tidily, trying to ensure a clear understanding of the principles.
The book was useful for comparing the different styles of investment and writing of investors, in addition to understanding the recent market volatility and understanding the randomness asserted by author Nassim Nicholas Taleb in Fooled by Randomness. As Immanuel Kant's famously said, "Conceptions without intuitions are empty, intuitions without conceptions are blind (Gedanken ohne Inhalt sind leer, Anschauungen ohne Begriffe sind blind)". I am concerned about my lack of experience in investing. Hopefully, the Equity Investment course in this term will serve as a sandbox, one that I can play in, helping me to understand investing and the market better.
About Jane Jihyun Park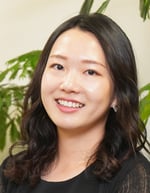 Before entering the 2-year MBA program at Hitotsubashi ICS, Jane worked as an external auditor and tax advisor for major companies in Korea and Korean branches of multinationals.
She joined Hitotsubashi ICS to broaden her understanding of comprehensive management and Japanese business. She participated in a global network investment competition with other classmates, and their team ranked 5th.