Hitotsubashi ICS, Tokyo, marks the first anniversary of its Executive MBA program with a symposium on "Knowledge Maneuverability and Dynamic Capability," joined by its Silicon-valley based strategic partner, Berkeley Research Group. Intersecting knowledge creation and dynamic capability thinking – two influential business leadership concepts conceived by the speakers themselves – crafts a powerful message to Japanese companies in a VUCA world.
Opening remarks: Kaz Ichijo, Dean and Professor, Hitotsubashi ICS
Keynote speakers: Ikujiro Nonaka, Professor Emeritus, Hitotsubashi University
David Teece, Chairman, Berkeley Research Group; Professor,
Haas School of Business, University of California, Berkeley
Panelists: Jose Munoz, Chief Performance Officer, Nissan Motor Corporation
Arun Bajaj, Chief Human Resource Officer, Renault-Nissan-Mitsubishi Alliance
Joe Bohling, Managing Director, Berkeley Research Group
The world is watching as Japan's flagship corporations, especially in the automotive industry, respond to a setting that looks, feels, and is very different from the postwar economy where most of them were born and raised. Can the iconic Japanese contenders lead their industries into the future, while preserving the primacy of purpose that nurtured them as pillars of society?
Which line to hold?
"Over-planning, over-analysis, over-governance," is Ikujiro Nonaka's incisive diagnosis of the ills Japanese companies must either cure or prevent if they are to remain competitive and relevant in a VUCA (volatile, uncertain, complex, and ambiguous) world. Hitotsubashi University Professor Emeritus, 2017 recipient of the Lifetime Achievement Award from the Haas School of Business, UC Berkeley (Berkeley Haas), and founding father of the school of knowledge creation in management thinking, Nonaka challenges Japanese corporate leaders to shore up their business strategies through healthy debate, informed experience, and frank intellectual battles that foster deep relatedness and shared purpose. He explains: "Knowledge maneuverability means getting to pragmatic knowledge with agility and employing it for the common good."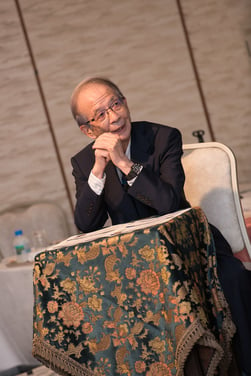 Those familiar with Japan's penchant for rules, routines, and processes will note the italics. Yet, Japan's tradition of stakeholder capitalism still offers a creditable counter to the shareholder standard of the US and UK, and its leaders still draw pride from doing so. Purpose – the why of a company – stands decidedly steadfast here, defining the role of business as running the flag towards a common good. As Nonaka put it, "Management that doesn't address 'way of life' is nonsense. Without that, it's all just planning and organizing… Companies must ask: For what do we live?"
But in all that is to come, challenged by disruptive innovations from all corners and realms, can Japan's companies hold fast to purpose as they learn, agile enough, to synthesize the analog with the digital, the art with the science, the warm heart with the cool head?
"It's the biggest disruption in industrial history… Look at the auto industry, moving from hardware to software, and to services. Now the entire industry is shifting to MaaS (Mobility as a Service), which is a business model disruption AND a technology disruption." Enter David Teece, renowned organizational theorist, authority on industrial economics, technological change, and innovation, co-founder of Berkeley Research Group and professor in global business at Haas School of Business, UC Berkeley. And, friend and colleague of Ikujiro Nonaka. As Hitotsubashi ICS Dean Kaz Ichijo notes in his opening remarks: "The strategic collaboration between Berkeley Haas and Hitotsubashi ICS … is rooted in the long friendship between David Teece and Ikujiro Nonaka."
In his keynote speech, Teece leads the audience to an understanding of how knowledge maneuverability moves in sync with his dynamic capabilities theory, which helps companies learn to align their strategy, innovation and organization to reap success in VUCA environments. Via three imperatives: sensing, seizing, transforming, Japanese (and other) corporations can put the creation, maneuverability, and protection of knowledge back at the center, and abandon the false comfort of core capabilities that "may become core rigidities." They can identify their dynamic capabilities – their key knowledge assets, their culture of purpose, leading-edge abilities as the case may be – then bring these to bear in "seeing around corners" to anticipate what's next, in the form of threat or of opportunity. In accordance with the results of this process, many companies will identify a need to reach out beyond themselves for critical technology and smart partnerships.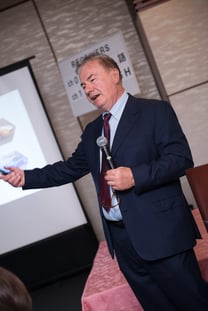 Steepening the climb for Japanese companies, Teece observes, is the "burden of incumbency." With decades of success behind them, flagship companies can find it hard to make the changes necessary to prioritize dynamic capabilities, over conventionally accepted best practices or widely lauded technical efficiency.
The dynamic capabilities framework offers companies a workable system, says Teece, that supports Nonaka's call for holistic, "wise leadership" that cultivates and uses practical wisdom melding ethics, pragmatism, perceptiveness, creativity, know-how and, certainly, timing.
And how to hold it?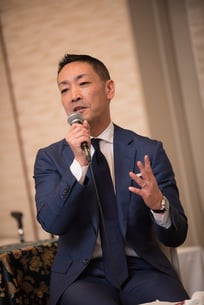 "Given these challenges, what kind of leadership do companies need, urgently now and for the foreseeable future?" asks Hitotsubashi ICS MBA Director and Associate Professor Yoshi Fujikawa. For the panel discussion, three more voices join Nonaka and Teece on the dais: Jose Munoz of Nissan Motor Corporation, Arun Bajaj of Renault-Nissan-Mitsubishi Alliance, and Joe Bohling of Berkeley Research Group.
"Japanese companies used to be known for agility," posits Fujikawa, before asking everyone in the room: "How agile are they now, in your view? Thumbs up or down." A mixed result.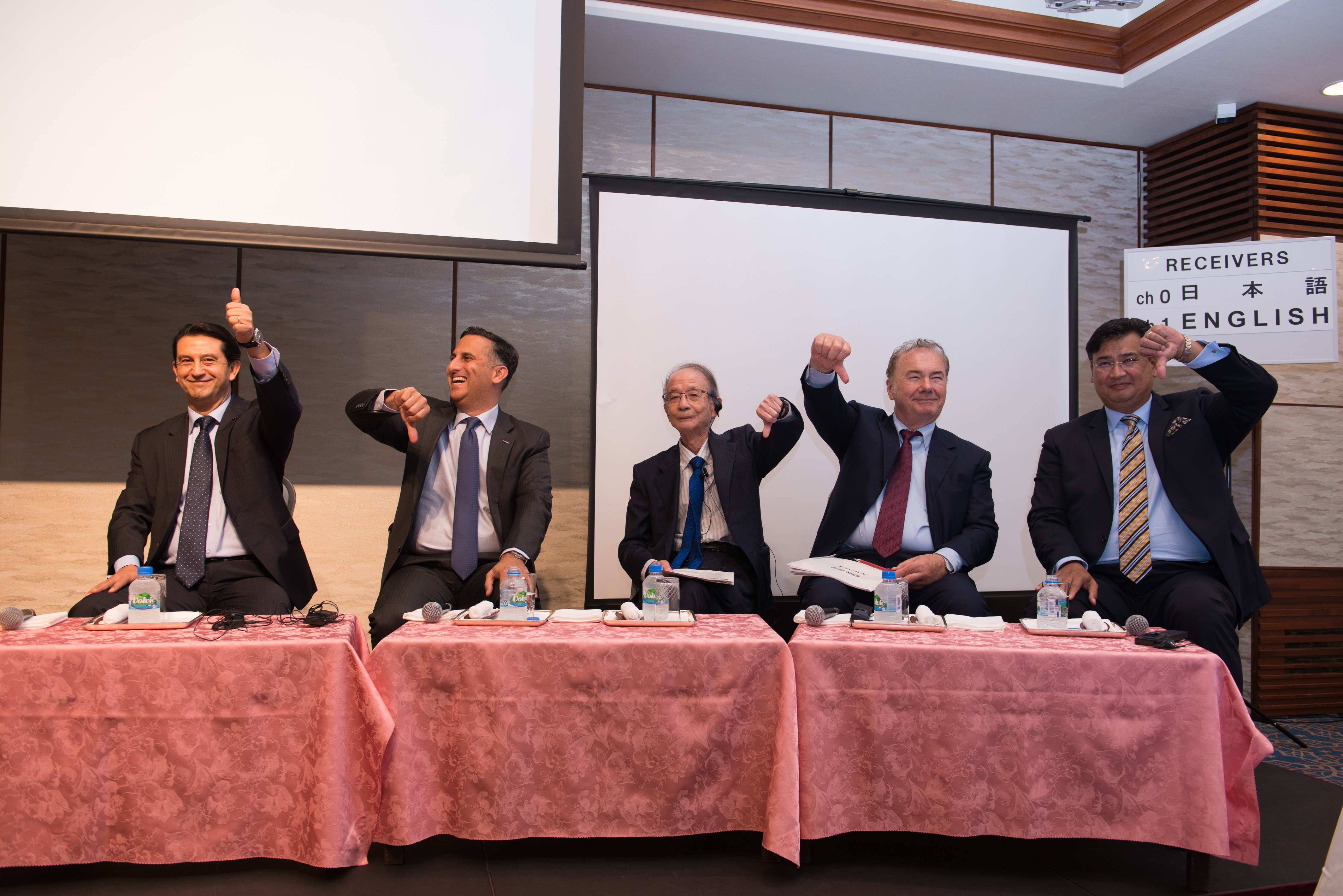 Panelist Munoz comments, "The lack of agility among Japanese companies has actually given advantages to our alliance [Nissan-Renault-Mitsubishi]. We're getting diversity of countries and cultures that's a source of strength for us." Munoz credits the Japanese corporate culture with discipline and rigor. But going forward, it should give equal weight to participating in industry ecosystems beyond their long-established networks.
Leading in a VUCA world, remarks Bajaj, indeed means reaching out to new tools and partners and appreciating diversity of thought and viewpoints: "Companies that really get that tap the power of diversity." What's critical, he adds, is the mindset of openness that permits reaching out beyond default modes. Bohling reminds the room that good leaders possess the humility to know when they need others.
Yes, VUCA is disrupting old assumptions about talent and skillsets, too. Nonaka urges: "Rich debates about ideas is a powerful way to generate new meaning." Teece notes, "The Japanese top-down hierarchy with consensus-building at all levels is problematic in the VUCA setting. Companies need to speed up decisionmaking and allow people to take responsibility for failures." Bajaj adds: "Adaptation has to occur faster than before. Discipline of process is still important, but leadership even more." Bohling advises: "We see the VUCA disruption effects also in healthcare and across manufacturing, carrying chaos but also opportunity. What's important is to take it on the lead foot. Don't wait for it to happen to you."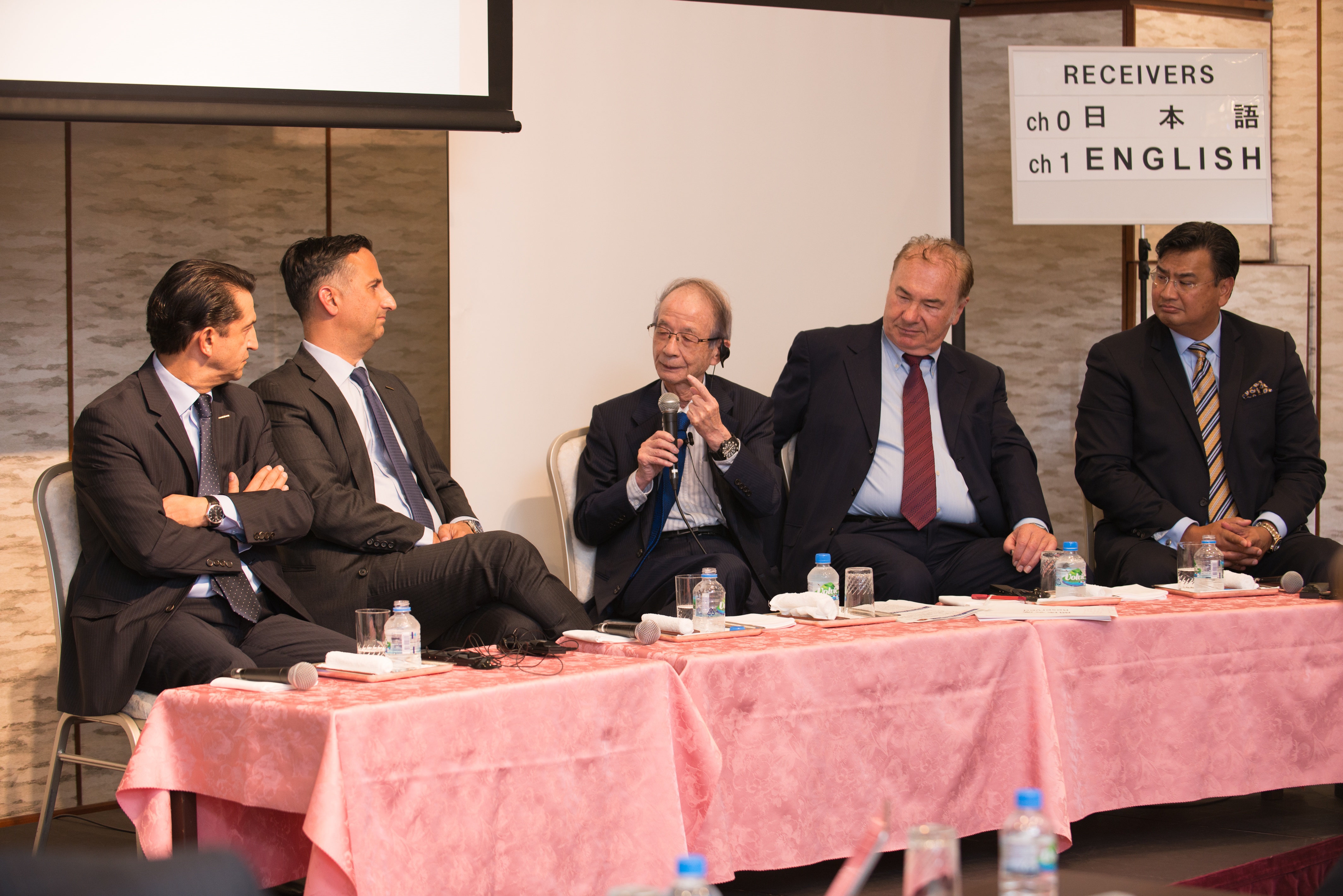 In closing, David Teece offers the Japanese business community wise counsel. "Remember that leaders have to recruit other leaders - people with a system dynamics view. Without strong leadership, as Drucker told us, the old will always destroy the new."
******************************************************
Hitotsubashi ICS offers the English-only global MBA programs of Hitotsubashi University Business School in Tokyo: https://www.ics.hub.hit-u.ac.jp/
Hitotsubashi ICS Executive MBA program, Professor Tom Ito, Program Director
Earlier in 2018, Hitotsubashi ICS and Berkeley Research Group announced the launch of a strategic partnership. The two organizations are united by the premium they place on innovation and harnessing the knowledge potential of companies, providing clients and students with the know-how to thrive in today's global business environment.