Last week, David Bach, Deputy Dean of Academic Programs at Yale SOM traveled to Tokyo and spent a day at Hitotsubashi ICS meeting MBA Program Director Yoshi Fujikawa, lunching with Professor James Kondo and the EMBA Class of 2018 and conducting an information session on Yale SOM's MAM Program.

During his visit Deputy Dean Bach sat down with Professor Fujikawa for a short interview, in which he talked about the about the value of the Global Network for Advanced Management, a community of 30 top business schools around the globe that is committed not only to developing global talent, but also to implementing innovative pedagogical initiatives leveraging faculty and student bodies across borders.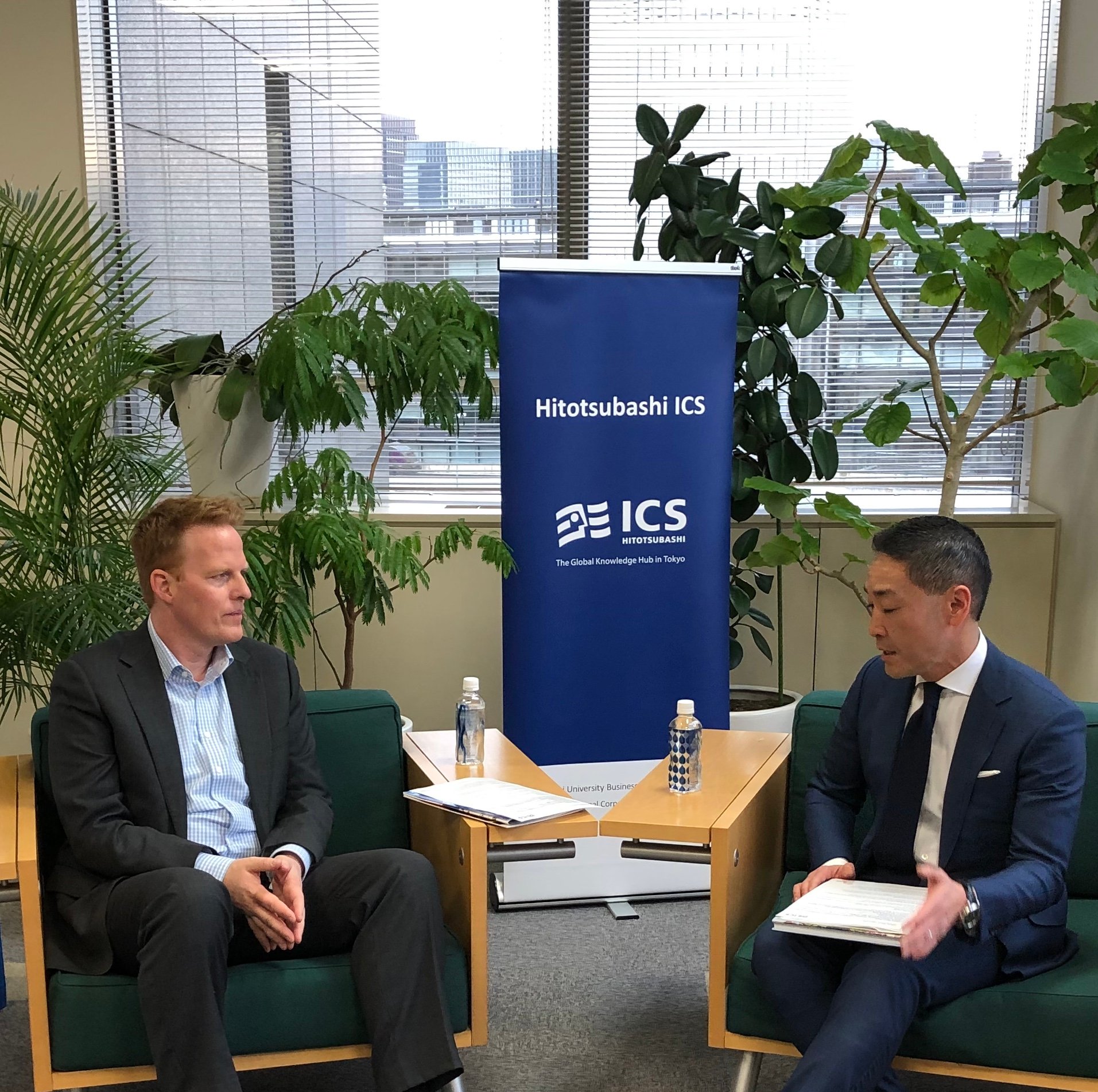 Yale School of Management (SOM) and Hitotsubashi ICS are two of the founding Business Schools of the Global Network for Advanced Management (GN); seven years in, a strong relationship has been forged among the GN member schools. One of the most popular GN programs is Global Network Week (GNW), where students travel to a GN member school for a one-week course in a specific field of expertise. Hitotsubashi ICS's GNW has been one of the most in-demand programs within the network, and this year was no exception. During the second week of March this year, Hitotsubashi ICS will welcome students for an immersion in Innovation X Globalization, Japan Style. Students from other GN member Schools will analyze, through exposure to a variety of corporate practices and market singularities, Japanese business and Japan's economy and the unique innovation and globalization-related challenges the nation is facing.

Following his interview with Professor Fujikawa, Deputy Dean Bach enjoyed lunch with Hitotsubashi ICS EMBA Class of 2018 students and Professor Kondo, instructor on political economy in this program and a Yale Word Fellow (2008). Over lunch, faculty and students discussed how to create value in the current international political-economic climate.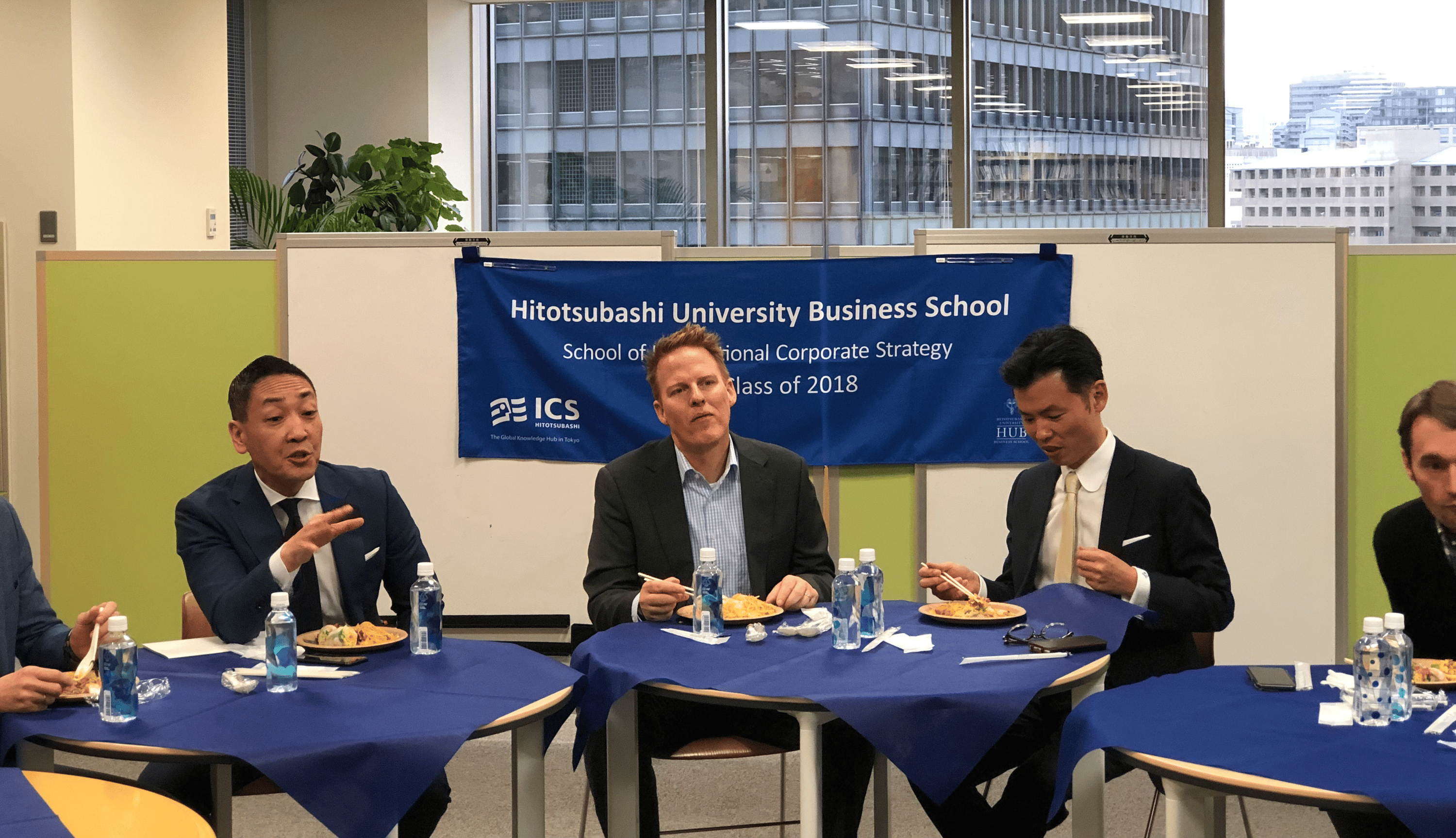 To wrap up his visit, Deputy Dean Bach spoke in more depth to Hitotsubashi ICS students about the Yale SOM MAM program, a 10-months program open to all GN students, that builds skills via the unique resources offered at Yale. The worldwide need to develop talent that can work across borders, speak multiple languages, and cultivate expertise from around the world, as well as feedback from employers, was the impetus for the establishment of the program several years ago.

One of the key differentiators of the MAM program is its students, a class of 60-70 people all drawn from top global Business Schools, and the diversity that comes with that- not only the way business and management is taught in those various parts of the world, but also how business is practiced, and also tapping into the interpretation that each student has given their personal and professional background.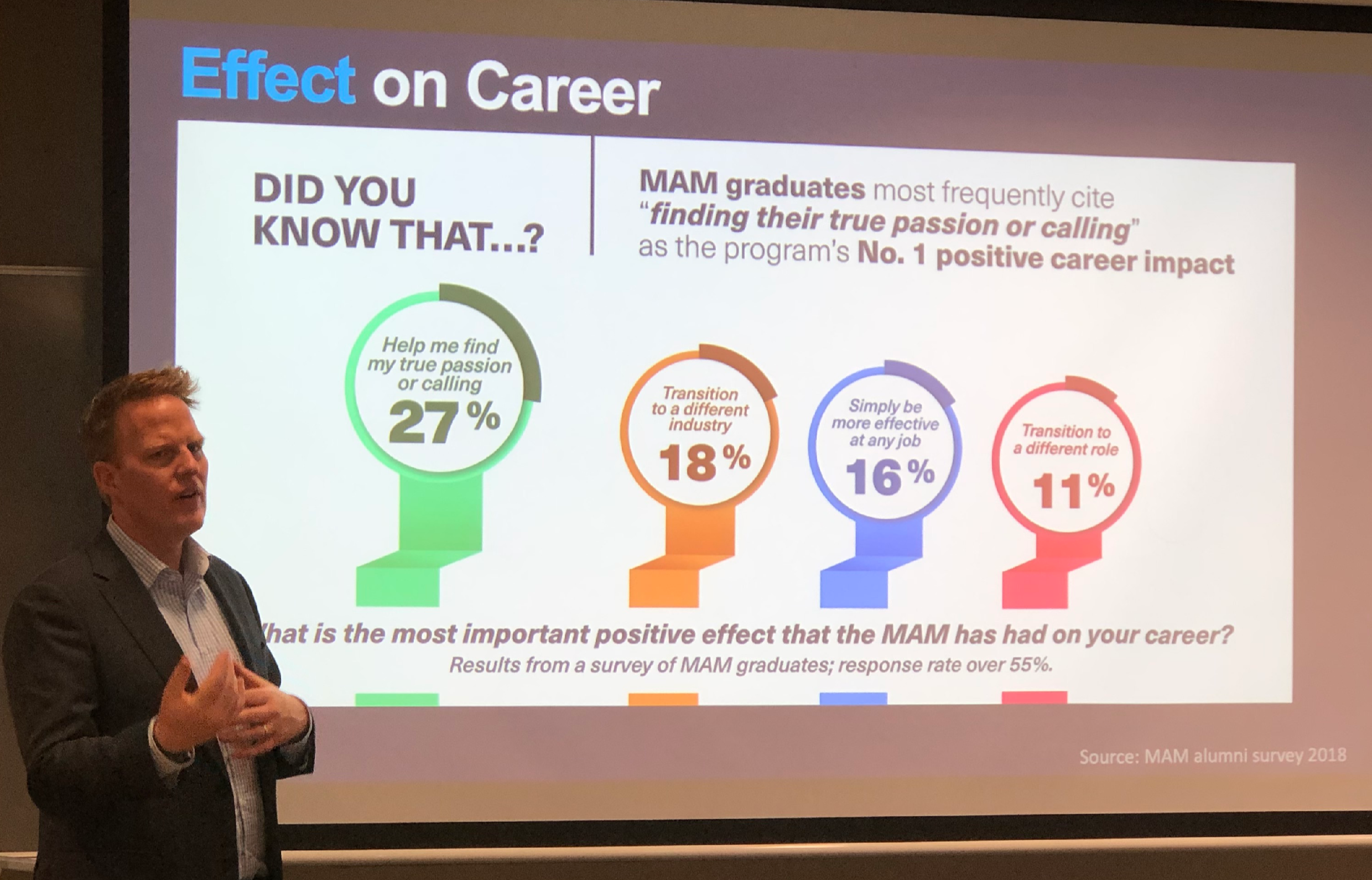 Over the past 7 years, a number of students from Hitotsubashi ICS, after finishing their MBA program, have gone to Yale to pursue MAM studies, which allow them to "go deeper" by focusing on a particular field of interest or "go broad", taking advantage of the hundreds of electives offered by other schools within Yale. Deputy Dean Bach made note of the strong foundation Hitotsubashi ICS students entering the MAM program brought to the table, having a Japan based-global perspective that leverages cutting-edge knowledge while remaining grounded in a local business environment that emphasizes innovation, adept change management, and customer value.

Hitotsubashi ICS wants to thank Deputy Dean Bach for his time in visiting Hitotsubashi ICS, and wishes all its students currently applying to the MAM program success.