On November 6, 2020, Professor Emeritus Ikujiro Nonaka attended the electronic World Marketing Summit (eWMS) as a speaker on "Humanizing Strategy."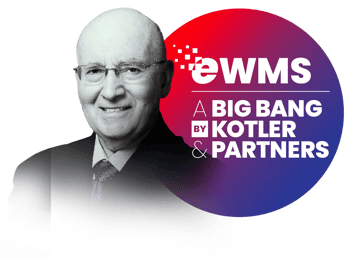 image of the eWMS website: https://e-wms.jp/
Our World Lacks Empathy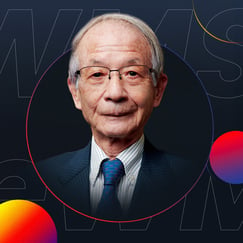 Professor Nonaka started with notes the state of the VUCA world we are living in, and the limitations of traditional business strategy models and modern capitalism. In an age where everything in our daily lives is mathematized and digitalized, over-analysis, over-planning, over-compliance is everywhere. Strategy is all about analyzing, which lacks empathy.
Capitalism also lacks empathy, its core credo being how to maximize shareholder value and thus dismissing human morality and ethics. However, businesses are finally realizing the importance of the well-being of communities, and are recognizing that pursuing only the maximization of shareholder value is actually harmful to the society. Businesses are also realizing that "human resource" is not mere resource, but value-creating agents.
Professor Nonaka's SECI Model and "Intellectual Sparring"
So, how do businesses create knowledge through the value-creating agents in this new age? Professor Nonaka asked.
Professor Nonaka referenced his SECI model as a way to create knowledge, especially in these times of uncertainty.
The SECI model describes the dynamic process of knowledge creation throughout the organization as an upward spiral, one that involves four steps: (1) Socialization (empathizing with others and the environment to feel and sense reality), (2) Externalization (engaging in a dialogue to identify and conceptualize the essence of reality), (3) Combination (putting those different concepts and ideas together to develop a wholistic, coherent system, theory, and/or narrative), and (4) Internalization (practicing such a system, theory, and/or narrative through action).
Professor Nonaka emphasizes that the SECI model is an organizational--not an individual--model to explain how teams and organizations can create new knowledge. He suggests that a team always starts with two different people coming together ("creative pair"), who engage in serious "intellectual sparring" as he calls it - two people engaging in dialogues, pouring their heart and soul into the discussion to resolve an issue or to generate innovation. Through these rigorous dialogues, people generate meaning through empathy. It is essential to devote one's self to the environment and other people just like a relationship between a mother and her baby where they feel each other as one entity. It is only through dialogue based on a deep level of empathy that we can get a real sense of commonality and difference between ourselves and us, and thereby create new meaning and value. Creating this oneness in a team or an organization through deep empathy enables them to spur innovation.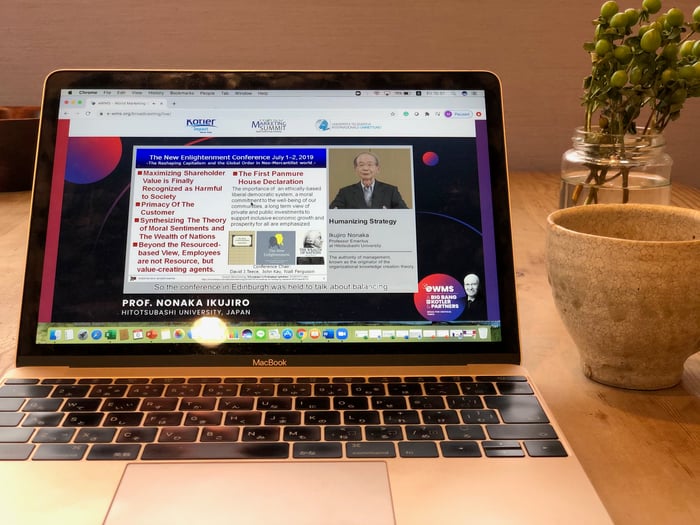 The SECI Model in the COVID-19 Environment
So, how then, can an organization create this dynamics of SECI spiral to generate new knowledge in a COVID-19 environment, Professor Nonaka asked.
In an era where close physical contact is restricted, it is difficult for people in organizations to engage in "intellectual sparring." Professor Nonaka acknowledged that it is difficult to nurture a deep dialogue online, and he argued that people need to identify a productive balance between online and offline engagements.

Professor Nonaka suggested that actually seeing people face to face and sharing common "ba (space)" with them serve as a springboard for empathy and knowledge creation. On the other hand, having more time with the self and engaging in self-reflection with deep thought also enrich the quality of knowledge creation. Keeping the balance between these two will be the key to adapting to these times.
Write Your Ideas Down
Last but not least, Professor Nonaka gave the following advice to the audience who are spending many hours working from home;
"Tacit knowledge is found everywhere in our daily lives. In order to turn tacit knowledge into explicit knowledge, you should think deeply about things and write them down. When you're writing, you're thinking about every sentence you write. You're thinking about what happened today and what was interesting. You're reflecting deeply on yourself. At the same time, you're thinking about how other people would respond to this, you're thinking seriously about others as you write. At times, your hand starts to move on its own and ideas just come from out of nowhere. So in that sense you should think seriously and deeply and write your ideas down."
-------
About Professor Emeritus Ikujiro Nonaka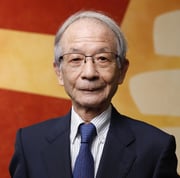 Ikujiro Nonaka received his BA in political science from Waseda University in 1958, and MBA and PhD in Business Administration from the University of California, Berkeley in 1968 and 1972, respectively. Professor Nonaka was appointed a Xerox Distinguished Faculty Scholar of the University of California in 1997, Professor Emeritus of Hitotsubashi University in 2006, and University Professor of Waseda University in 2013.
Professor Nonaka has published many books and contributed numerous articles to management journals as well as other media both in Japanese and in English. Selected publications include: The Wise Company, Oxford University Press,2019 (with Hirotaka Takeuchi); The Essence of Nation Management, Nihon Keizai Shimbun Shuppan-sha, 2014 (with co-authors); The Essence of Great Judgements, Diamond-sha, 2014 (with S. Ogino); The Grammar of Knowledge Creating Management for Prudent Capitalism, Toyokeizaishimpo-sha, 2012 (with N. Konno); Managing Flow: A Process Theory of the Knowledge-based Firm, Palgrave Macmillan, 2008 (with co-authors); The Essence of Strategy, Nihon Keizai Shimbun-sha, 2005 (with co-authors); Hitotsubashi on Knowledge Management, John Wiley & Sons, 2004 (with co-authors); The Essence of Innovation, Nikkei BP-sha, 2004 (with co-authors); Enabling Knowledge Creation: How to Unlock the Mystery of Tacit Knowledge and Release the Power of Innovation, Oxford University Press, 2000 (with co-authors); The Knowledge-Creating Company, Oxford University Press, 1995 (with H.Takeuchi); Strategic vs. Evolutionary Management: A U.S.-Japan Comparison of Strategy and Organization, Amsterdam: North-Holland, 1985 (with co-authors); "The Wise Leader" Harvard Business Review, May 2011 (with Hirotaka Takeuchi); "The Theory of the Knowledge-creating Firm: Subjectivity, Objectivity and Synthesis," Industrial and Corporate Change, 14(3) 2005 (with R.Toyama); "Toward Middle Up-down Management: Accelerating Information Creation," Sloan Management Review, Spring 1998; "Creating Organizational Order out of Chaos: Self-renewal in Japanese Firms," California Management Review, Spring 1998; and "The Concept of 'Ba': Building a Foundation for Knowledge Creation," California Management Review, 40 (3) 1998 (with N. Konno). The Knowledge-Creating Company, and Enabling Knowledge Creation each received a best book of the year award in business and management from the (Association of American Publishers, Inc) in 1996 and 2000, respectively.