We sat down with the Dean of Hitotsubashi ICS, Professor Kazuo Ichijo (fondly known as Kaz) for a faculty interview commemorating the 20th anniversary of Hitotsubashi ICS.
Part 1 will unveil his personal history, starting with his recollections from high school up to the various turning points in his early life that set him on the course to his professional career and who he is today.
Part 2 will highlight his experience studying abroad, how he got involved in the founding of Hitotsubashi ICS, his views on the strengths and current challenges faced by Hitotsubashi ICS, his deep attachment to Hitotsubashi University and its community, and his vision on how he wishes to see Hitotsubashi ICS evolve as a world-renowned graduate school after marking its 20th anniversary next year and beyond.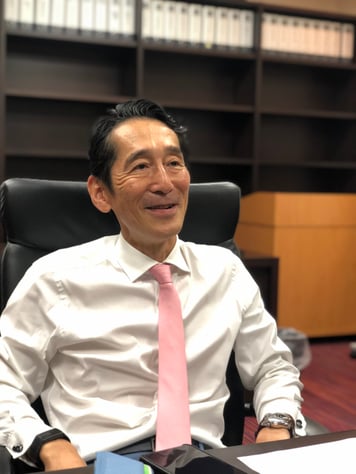 Marketing team: Thank you, Kaz, for granting us this interview. Many of us in the ICS community are interested in getting to know more about you, including your personal background, which is something we rarely get a chance to hear about in your lectures.

Kaz: My pleasure. So, I guess you want to start with my personal history. Since the questions you gave me are correlated, let me just give you a rundown that will serve as my collective answer to all those questions regarding my personal and professional background.



The first thing I want to reveal to you is that until I reached the age of 30, I had absolutely no experience studying anything about business. I started my professional career in 1988 as a junior associate professor of social sciences at Hitotsubashi University. At the time, I specialized in social policy with a focus on labor-management relations. So, I had no chance to study business in depth.

The reason I chose to pursue social sciences can be found in my upbringing and the influence of my father, who was a business owner. He was a bookworm, a typical quiet type who enjoyed spending much of his spare time reading. Although my father was not a scholar, he possessed all the qualities required to become a perfect one.

Actually, he was very interested in pursuing a career in education, but the difficult circumstances of his childhood, and his efforts to survive the turbulent years during and after World War II, inevitably forced him to give up this aspiration and choose a more practical livelihood to support his hungry family. He was the third son. His eldest brother couldn't work for a while after being arrested for violating the Peace Reservation Law as a communist activist and his second brother was confined in a sanatorium for intensive treatment for pulmonary tuberculosis.

The first company my father joined was a publisher named Iwanami Shoten. At that time, he held a strong view that social sciences would soon become a key field of study that would help raise the social awareness of the Japanese people on the need to come together as a solid and well-disciplined society that could stay resilient and, in the aftermath of war, rapidly rebuild the nation with pride, full of hope for a bright new future.

So, he recognized the importance and urgency of importing books published abroad that had anything to do with social sciences. For that purpose, he left Iwanami-shoten and started a new company to import foreign books of social sciences to Japan. The company is Kyokuto Shoten (Far Eastern Book Seller and it still exists as a leading bookseller in the field. Through his work at Kyokuto Shoten, he got to know a lot of scholars, researchers, and professors. After all, schools and universities were large institutional clients, if not the largest, for any publishing house.

Soon this group of highly educated people, including many intellectuals from abroad, started visiting my father. In hindsight, I think it was these visitors that my father often invited to our home who helped to build my foundation of "living locally but thinking globally" from early on in my life.

So, although my father did not seek any position as a teacher, he became a well-known figure in academic circles, and eventually gained a reputation as being the most prominent authority in Japan in the field of social sciences.

Now, importing books on social sciences was a niche business; as you can well imagine, this field was still in the incubation period in Japan. Far larger Japanese retail bookstore chains, such as Maruzen and Kinokuniya, imported books. They all hired their own subject-matter experts who specialized in foreign literature. My father decided to team up with these key players in competing companies and form a consortium. My father became the owner of this associated enterprise dedicated to importing quality publications with educational value from all over the world.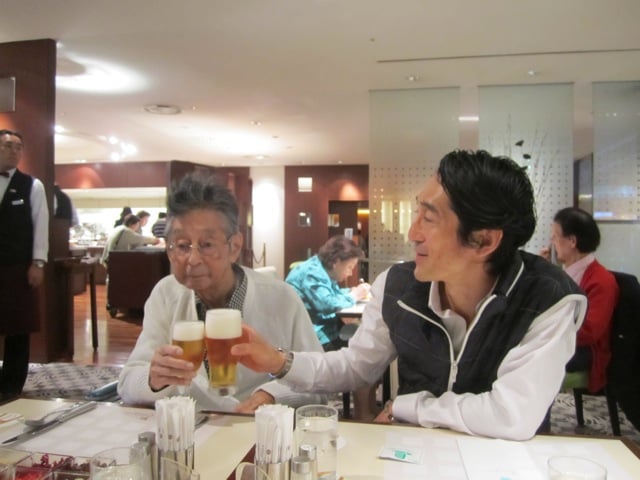 (Dean Kaz pictured with his father, October 2011. His father passed away March 2012 at the age of 91.)
This important life transition dates back to the early 70s. During that period in Japan, there were many college students actively protesting against social injustice and inequality. The student movements in those days spread widely, creating various factions, and escalated to the point of producing very radical groups collectively referred to as the Kagekiha. Serving as breeding grounds for like-minded rebels, these hard-core groups also included ultra-progressive sects formed by militant extremists that frequently resorted to violence ranging from terrorist bombings to high-jacking commercial airplanes to take them to rogue nations that championed the fundamentalist principles they blindly believed in.
Actually, it was not only students who led these social movements. There were also many activists in the corporate world who were backed by the labor unions. They formed similar radical groups that tried to push through unreasonable demands to the employers. The publishing industry was a favorite target. All the leading publishers—Bungei Shunjun, Shueisha, Sanseido—became their prey, and my father's enterprise was no exception.
The management of these large companies tended to seek compromise with these radical groups, even when they made outrageous demands, to avoid employee strikes; prolonged strikes could affect their business pretty seriously. So, they gave in and let the unions earn some extra cash, which funded the activities of these radicals.
But my father never gave in. He unwaveringly refused their claims if he determined that they were unjustifiable. See, he was an idealist, even as an employer. He was a firm believer in workers' rights and respected them highly. He never received a very high wage himself just because he was the president. He treated all the employees working under him like a family and paid them all their fair share.
When these activists realized they couldn't squeeze employers who had a strong sense of justice, like my father, they would start pressuring their families. So, these radical groups would come to our house every Saturday or Sunday, and ring the doorbell non-stop. When no one would open the door to greet them, they would surround our house and yell, "Ichijo is an unscrupulous business owner!" To stop them from annoying our neighbors, my father would call the police. When they hear the sirens approaching, they fled.
This occurred basically every weekend in front of our house. They would even come on January 1st every year for the New Year's greeting! I was in high school those days. At first I was so green. I was angry about what they were doing to us, especially because I had to cram until very late to prepare for the college entrance exams. Night after night, they would call our house and then say nothing when we picked up. They were such a distraction while I was studying that we would place cushions over our phone from around 10 p.m.
But as I got a little older, I started to think more calmly about the ongoing situation. Why did labor have to get so tough and take such a hardline approach toward management every time? Couldn't both sides find common ground and build a more constructive relationship? What was wrong with this society?
These questions circling in my head fueled my curiosity and led me to study labor-management relationships when I entered university.
Continued to Part 1-2...