We sat down with the Dean of Hitotsubashi ICS, Professor Kazuo Ichijo (fondly known as Kaz) for a faculty interview commemorating the 20th anniversary of Hitotsubashi ICS.
Part 1 will unveil his personal history, starting with his recollections from high school up to the various turning points in his early life that set him on the course to his professional career and who he is today.
Part 2 will highlight his experience studying abroad, how he got involved in the founding of Hitotsubashi ICS, his views on the strengths and current challenges faced by Hitotsubashi ICS, his deep attachment to Hitotsubashi University and its community, and his vision on how he wishes to see Hitotsubashi ICS evolve as a world-renowned graduate school after marking its 20th anniversary next year and beyond.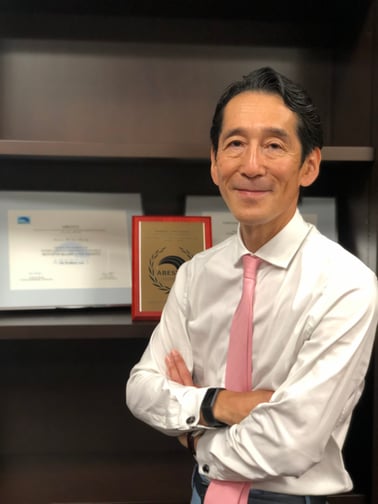 Marketing Team: What made you choose Hitotsubashi University?
Kaz: Well, my father was a graduate of Tokyo University, so I was thinking of following in his footsteps. I passed the first set of entrance exams but didn't make it through their second set. I could have waited another year to try to again, but when I thought about those radical activists and all their despicable attempts to bully my father and harass the family, I couldn't imagine dealing with them for one more year. I chose Hitotsubashi, which had a good reputation for hiring high-profile professors in the social sciences.
Their reputation was well deserved. I was blessed with so many great professors teaching social science in Hitotsubashi. I followed up my bachelor's with a master's and a doctorate degree in the same field.
After earning my PhD in 1988, I was lucky to get a teaching job in this university straight away as a junior associate professor specializing in labor-management relations and social policies. I remember bringing my father to my office after I got the job. I still can't forget his happy face and sense of fulfillment at seeing his son doing what he once dreamed of pursuing himself.
That was the year I met Kyoko, my future wife. She supported and assisted the faculty. She belonged to the Department of Commerce and was more or less a secretary to Takeuchi-san. (Hirotaka Takeuchi, Professor Emeritus of Hitotsubashi University, and founding Dean of Hitotsubashi ICS)
She used to tell me what Takeuchi-san and other faculty members in the Department of Commerce did every day. Professor Takeuchi traveled the world, speaking to executives of large corporations, such as IBM and GE. These stories were like a thunderbolt out of the blue. I couldn't believe we were both university professors! (laughs)
At the time, I was studying the social policies that Germany had adopted back then and their influence on the labor movement in Great Britain. I spent days in the library's old moldy archives to find useful references for this historical research, the theme of my next thesis.
I had a fixed image of a scholar in those days, which was completely overturned when I heard about Takeuchi-san's interesting and exciting professional life. And since I knew nothing about business administration—I thought it was a discipline similar to accounting that was basically for people who liked doing calculations—it didn't sound so interesting to me.
But the more I heard about Takeuchi-san's activities, the more my curiosity grew. I wanted to find out how his day-to-day experience as a university professor differed from mine.
When Kyoko and I got engaged, she took me to Takeuchi-san to inform him about our marriage. That was our first encounter. We learned that we had many things in common. We were both born in October, in the Year of the Dog, although we are one generation (twelve years) apart in the Oriental Zodiac. Even our blood type is the same, so we clicked from the very beginning.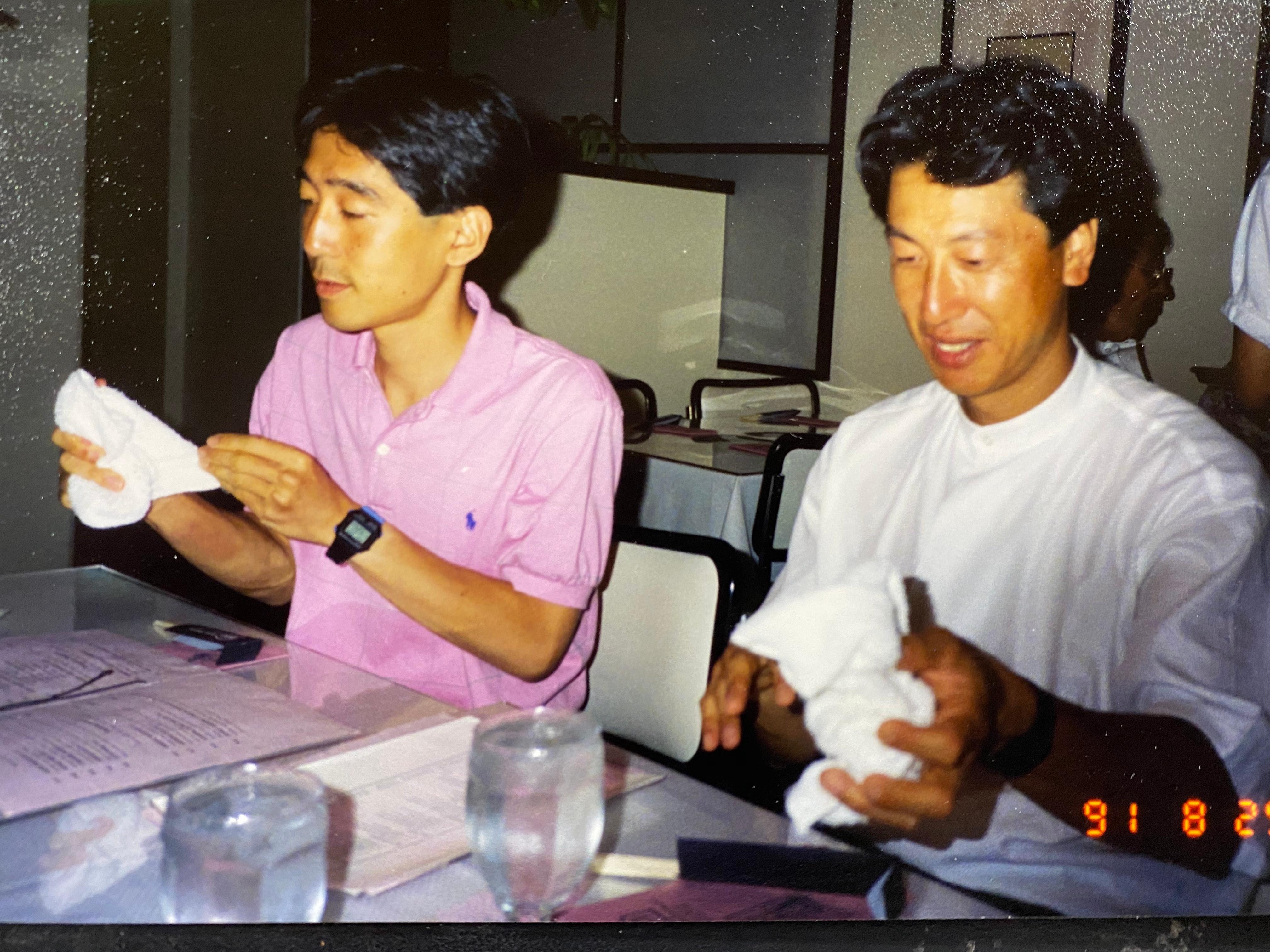 (Dean Kaz with Professor Takeuchi, Co-founder of Hitotsubashi ICS)
Takeuchi-san took interest in me as the son of a business owner. When I told him that I was curious to know how he worked, he said, "Oh? Then why don't you come along as my assistant when I go on business trips?"
I replied, "Definitely!" and began to travel with him. And when I saw with my own eyes how Takeuchi-san shined in front of all these big shots as he confidently delivered his speech or presentation, I was totally amazed and shocked at how different our two worlds were.
I told Takeuchi-san that I was fascinated with his work. He soon told me, "If you enjoy it so much, why don't you also participate in it yourself? Facilitation won't be too hard for you, right?" A facilitator gets the discussion going in forums and group discussions. Takeuchi-san continued to assign me the facilitator role when he was invited to speak.
After he found out that I got pretty good at this role, he started introducing me to different faculty members in the Department of Commerce, including Professor Seiichiro Yonekura and Professor Ikuo Ito.
See, that's the beauty of a small tight-knit university like Hitotsubashi that only takes around 1,000 new students every year. After being there for a while, you get to know literally all the faculty members on the roster, regardless of their department. That's how I got to meet Nonaka-san as well. (Ikujiro Nonaka: Professor Emeritus of Hitotsubashi University, Professor of Waseda University) Nonaka-san was full of energy at the time. He would finish his lunch fast around 11:30 and call his staff to drive him to the tennis court, where he would spend the rest of the lunch break playing tennis!
The more I got to know dynamic scholars like Takeuchi-san and Nonaka-san, the deeper I got into their professional world. But then I began to think about my own future. I realized that I'd soon hit a dead end if I just kept on following their paths. I didn't have any credentials as a business scholar, even though I was starting to get paid for organizing events, such as workshops for GE.
I confessed my anxiety to these two mentors. You know what they said? "Kaz, you are still fresh and young. If you really like what you are seeing when you are with us, why don't you get a legitimate degree in business by restarting as a graduate student in business school? The world is getting smaller. More and more businesspeople are starting to work globally. Scholars must also start doing the same. They need to find opportunities to go out to the world to continue their research in an international environment. To do that, you need a legitimate work permit. For scholars who want to work globally, there is literally only one way to get a work permit: earn a PhD in one of the top business schools in the United States."
Now, wait a minute! I just got a doctorate at Hitotsubashi and I am now a junior associate professor. And now you are telling me to get back to school again after coming this far? That's pretty insane.
But I decided to follow their advice anyway because they were shining so brightly and all the activities that they were engaging in appeared to be really exciting. I not only wanted to work with them, I also wanted to work like them.
Yet, there was another big obstacle I needed to overcome. I had to persuade Hitotsubashi University to allow me to start anew as a business school student. This was a university that had given me a teaching job right after finishing their doctorate program. It was a very rare case and I knew how fortunate I was to be given this special privilege. And now I was thinking of blowing this golden opportunity. How was I supposed to convince the university?
After pondering it and searching hard for a way to pull this off, I found one solution that I thought might work; I needed to get a scholarship from the world-renowned Fulbright Scholar Program. If I told the university that I had been endorsed by this highly prestigious exchange program, they might not be able to reject my far-fetched idea.
So, I began to focus on getting this scholarship. But first, I needed high scores on both the Graduate Management Admission Test (GMAT) and the Test Of English as a Foreign Language (TOEFL), the two prerequisite tests that I needed to pass to be eligible for admission to a U.S. business school. I woke up at 4 a.m. every morning and used the first two hours to prepare for these two exams. From 6 a.m., I worked on preparing my curriculum for the classes that I would be teaching from 1989. I hadn't studied this hard every day since I'd prepared for the college entrance exams back in high school.
After all this hard work, I managed to pass both the GMAT and TOEFL, and was also very lucky to be granted a Fulbright scholarship. This indeed proved to a very powerful tool to convince the university to go along with my bold plan to get a PhD from a top business school in the United States. For me, this was the University of Michigan because it offered the best program in organizational theory, my chosen subject.
In this way, I met the requirements to study abroad and the university agreed to let me go. This was around July or August of 1989. Since the first semester starts in September, I started packing and getting excited for the new life awaiting me in the U.S. I hoped everything would go smoothly from then on but that hope was soon dashed. A series of unexpected events threatened to derail my plans.
To be continued to Part 2-1...