We sat down with Prof. Ken Kusunoki on why competitive strategy became his field and how being "misfit" crafted his unique character.
Marketing team: Thank you for taking the time to talk with us today. You are known for being the "strategy" professor, but we wanted to know how you came to pursue strategy as your field.
Ken: Very good question. I decided to enter the graduate school of Hitotsubashi University after graduating from the undergraduate program. The main reason for going to graduate school was because I didn't want to do anything. I didn't want to work at a large company. At the time, it was just before the bubble economy in Japan, so many companies were eager to hire from an established university like Hitotsubashi. Most Hitotsubashi graduates would enter large prestigious companies like Mitsui, Mitsubishi, etc., but I had a very good understanding of the misfit between these kinds of companies and myself.
So graduate school was a great place to be, since I didn't have to work, I could sleep for long hours, and read for as much as I'd like, etc. There was really no strong sense of mission or vision of myself for going to graduate school. But eventually, I had to get a job to make a living, and fortunately, I got a job at Hitotsubashi University when I was 27 years old, and that was when I started my career. But still, I didn't have a strong motivation to do research. However, I did like the nature and style of the job - studying and reading and writing and thinking all by myself. I am not a teamwork guy, so it was not so bad for the first few years. Since the job was academic, I was expected to conduct research and publish it in academic journals, and I was following the norm of the academic world, writing papers. However, gradually, I started to feel again a mismatch between academic expectations and what I really wanted to do. After doing 4, 5 years of doing rather academic research, I gradually came to love thinking about logic and aligning firm performance in a competition. It was rather late in my career, but after I started my job, I found my topic. Normally, graduate students have a theme or a field they want to pursue, and then they get a job, but in my case, I got a job without any strong mission, and eventually I found what I should do, which was a competitive strategy. Since then, I have been thinking about the logic to explain the sustained difference in terms of firm performance in a competition.
Marketing team: So what were the kinds of papers you wrote before you found your theme?
Ken: Oh, academic, but very boring papers. I collected data, I did statistical analysis, and the format and structure simply followed the academic journals. Before I started focusing on competitive strategy, I wrote papers in the field of technology management. So for the first 5 or 6 years after I started my job, I was doing this kind or research without a strong commitment to the style of academic research nor to the issues of technology management.
Marketing team: But eventually, you found a passion for competitive strategy.
Ken: Yes, simply because it was fun and interesting. However, before I found this passion, the academic work was stressful for me. As a young researcher, the only way achievement was measured by the number of publications in academic journals, and I had to follow the norm. After a few years, I sometimes thought I should quit this world. So I was not in good condition for a couple of years. However, gradually, a passion for competitive strategy began to develop internally.
Marketing team: You talk a lot about the various "misfits" you experienced, and I know you grew up in Africa. Do you think your upbringing in Africa has anything to do with this?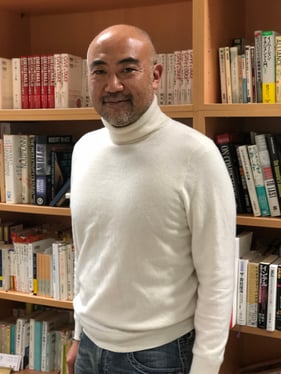 Ken: Yes, I spent my youth in the countryside of South Africa, in Johannesburg, and I know this had an impact on my personality. Life in Tokyo back in the 60s and 70s was very intense. Back in those days, Japanese people were so eager and to grow economically after the world war. Japanese people were very aggressive and competitive. My family moved to Africa shortly after I was born until the age of 10, so I could be freed from this kind of competitive atmosphere in Japan. I came back to Japan when I was in fourth grade, and went to a Japanese public school, so I was shocked at how competitive my classmates were. I was the only one that was relaxed both mentally and physically, and it was hard for me to join club activities where the rules were so strict and rigid. So I started to recognize that I was an outsider, and I think this gradually crafted my personality - I like to be alone, I don't want to belong to big organizations under clear structures, etc.
So when an opportunity to join ICS upon its establishment came up, I didn't hesitate to join this small, new, and experimental institution. It felt like a much better fit for me than the established Kunitachi campus.
Marketing team: Yes, you are one of the faculties that has been at ICS from the very beginning. Can you talk a little bit about your experience at ICS?
Ken: ICS is small, very flexible, informal, and I love the culture and atmosphere here. And more importantly, I now realize an important mission on the side of teaching. We are now living in the age of Asia, and in my philosophy, it is very important to have good relationships with other Asian countries. With the unfortunate history of war, it is sometimes difficult on the political side to build these relationships. However, the education arena is the best place to develop these kinds of relationships. For example, the "Doing Business in Asia" program we have for the MBA students for Peking University, Seoul National University, and Hitotsubashi ICS is a great way to foster relationships on a deeper level for Chinese, Korean, and Japanese students. In the one week, they are in Japan, my team can show these students about Japan from many different aspects, and many students develop a better understanding of Japan. I feel that I can contribute to the big purpose of building better Asian relationships through education.
Marketing team: One final question. Your specialty is a competitive strategy, and we wanted to ask you how you see the competitive advantage of Hitotsubashi ICS.
Ken: From the perspective of competitive strategy, Hitotsubashi ICS has a differentiated positioning. In a few words, the definition of competitive strategy is "being different." Being different is not about being better. From that perspective, Hitotsubashi ICS is a unique school, very different from western business schools. Hitotsubashi ICS is located in the heart of Tokyo, has a very small class size, is very international, and is very networked to the real world. We should continue to seek to be different as a business school in Japan.
Marketing team: Thank you very much for your time today!