In May, Professor Olivier Bossard, the ED of the MSc Finance at HEC Paris, came to Hitotsubashi ICS to teach Capital Markets. During his time at Hitotsubashi ICS we talked with him about his career shift and relation with Japan.
What drove you to make the shift from banking to academia?
Actually, I have always been attracted to teaching, and I started a long time ago; this year, I will be celebrating my 20th year of uninterrupted teaching at HEC Paris Business School!
While still a banker in London, I was taking five days off every year to teach on campus. I have always thought that my experience would be valuable in bridging the gap between theoretical finance and everyday applications for market professionals. I was fortunate that the students also enjoyed this experience a lot and rewarded me every year with the highest teaching evaluations.
When my predecessor, Professor Jacques Olivier, was promoted to Dean of Faculty, he was looking for a new Executive Director for his MSc Finance program. We naturally discussed this opportunity during lunch. I was petrified by the responsibility as he was at the helm during the program's reign as #1 master's in finance in the world in the Financial Times Global Ranking for seven consecutive years. At the same time, I had always known that I didn't want to stay in the banking industry forever, so I had to seize this unique opportunity despite the heavy challenge. At the time, I did not realize how difficult the job would be, but I will never regret that move!
Do you miss the "rush" of working in the financial industry? If not, what has replaced it?
Yes and no. I enjoyed so much the fast pace of financial markets, the constructive pressure, the need to constantly learn from your mistakes, and the opportunity to work with extremely talented colleagues.
I am still fascinated by the financial markets, and after two decades in them, my body clock is still set to wake me naturally at 5 am every morning. So, I truly enjoy, every morning after my shower and before going to work, studying the markets for an hour and reading the financial press to stay up-to-date on new developments, in both the academic and the banking world.
Meanwhile, my new life in academia is immensely fulfilling as recruiting, taking care of, and placing 180 students every year does not leave a free minute in my agenda. Apart from my teaching duties, I allot at least a one-hour slot in my diary every day to contact former colleagues and former students by phone or Skype. These daily interactions allow me to secure new job offers for my new students , but they also give me a unique opportunity to remain constantly abreast of the skills required in an ever-evolving industry.
Although I miss the adrenaline rush from working on a trading floor, I don't complain for a second as my new job is so rewarding in terms of intellectual challenges and interaction with brilliant individuals. I could not dream of a better job than contributing to the education of the next generation.
What is your teaching philosophy?
In the movie Margin Call, John Tuld, (a character inspired by Dick Fuld, former CEO of Lehman Brothers, and played by Jeremy Irons) tells a young analyst, "Please, speak as you might to a young child, or a golden retriever". This is a real quote and it was addressed to me in February 2000 when, as a young director at Lehman Brothers, I had to present my business plan for setting up my derivatives exotics business. This quote made history, and it is a lesson I've never forgotten.
Indeed, I consider that my role as a teacher is to make complex things easy to understand—even the most complex stochastic partial differential equation should be explained intuitively. Finding the right way to explain the most complex mathematical model with simple words and simple analogies is the most exciting challenge I can find in education.
I also try to make use of digital tools as much as possible. I record courses online and prepare online quizzes so that I can assess, in real time in the classroom, to what extent my students have understood each lesson.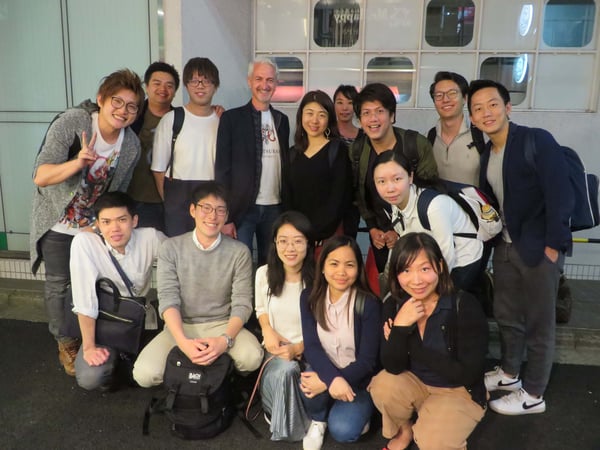 What topic do you enjoy teaching the most?
I try to remain at the forefront of innovation in financial engineering; academics are developing new mathematical models every year and, at the same time, professionals are designing new complex structured products to meet client demand. Attempting to link the two components—the academic developments and practical banking demands—is what makes teaching so exciting.
On a side note, I am fascinated by current developments with blockchain technology and the design of crypto-currencies. I actually studied artificial intelligence, deep-learning neural networks, and cryptography at Yokohama National University many years ago. Therefore, having this opportunity to reuse this knowledge in the context of new financial innovation is truly exciting for me.
Meanwhile, I have to be very humble as this field is extremely complex to understand, although I try to study it every evening. Moreover, at this very early stage, blockchain technology is still fledgling, energy consuming, and difficult to scale, so I am still unsure whether we will ever witness the large-scale adoption of blockchain theory. I think it will take long time, but as we have witnessed the amazing digitization of information, thanks to the internet, our children will probably also witness a complete digitization of money, thanks to blockchain technology.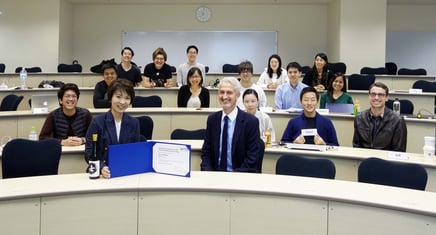 How did your experience as a student in Japan influence your life and career?
To answer this question, I need to go back to thirty years ago, when I was granted a Monbukagakusho scholarship to study in Japan. Beyond the technical knowledge, I learned so many things from my Japanese professors, senpai, colleagues and friends; how to work relentlessly, to be patient, to be innovative, and how to share knowledge.
当時の日本の同級生や先生方から勉学に関することはもちろん、やらなければならないことへの向き合い方、努力と根気、革新的なことへの取り組み、そして知識を共有することなどを学びました。
I will be forever indebted to Japan and the Japanese people for having taught me these fundamental values in life. I would not have had the career I had, and I would not be the man and the father I am now if I had not learnt these amazing lessons in life while in Japan.
Thirty years later, having the opportunity to come back to Japan now is a unique way for me to express my gratitude, to give back some of my expertise to Japan, and to be able to share my experience with a younger generation of students.
Moreover, since many of my MBA students at Hitotsubashi ICS are also foreign students, like I was 30 years ago, this is also an opportunity for me to remind them how lucky they are, how grateful they should be to learn so much from Japan and its unique people, and, in turn, for them to contribute to the ongoing relationship between Japan and the rest of the world.