I would like to share some slightly different perspectives; some of which are becoming ever more common amongst business minds and others that I believe need to be rapidly adopted by future business leaders, both in Japan and globally. While I hold no delusions that my career path is singularly unique; my background, my experiences, and my journey remain intrinsically tied to me and give me a unique view that I would like to share. I began my career as an investment banker on Wall Street but left it behind for an opportunity to work in development in Sub-Saharan Africa and subsequently in the U.S. Following which, I joined Yale School of Management as an MBA student and most recently Hitotsubashi ICS as an exchange student. During my time in Japan both as an ICS student and as a Tokyo resident, I've been able to add another perspective by contrasting the challenges of a stagnating Japan with the opportunities of a rising Sub-Saharan Africa. However, I know that my world view and my form of development is still incomplete. After completing my MBA, I will continue to build my social enterprise and begin my master's degree in public policy.

I think there is a misconception that development is somehow concessionary work or a sacrifice, but nothing could be further than the truth. I left Wall Street and strove to work in this field because its ambitions far exceed the corporate goals of profit and growth for stakeholders. Development aims to solve global challenges, build nations, raise humanity to our best levels, and ultimately bring us closer together. I feel grateful every single day that I've been given the opportunity to break free from corporate shackles and move on to a larger stage. My journey began the day I walked into my managing director's office at Barclays and formalized my resignation. After leaving New York City, I packed my bags and moved across the world to Namibia to be a U.S. Peace Corps volunteer.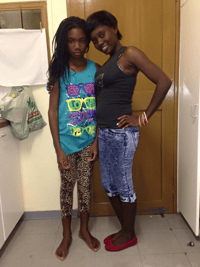 I spent the first two months staying with a host family, learning a local tribal language, the history, foods, social and cultural habits of the country with a group of 40 other volunteers. We were then split up across the country to be sent to a rural village or town on our own to work for the next two years. I was stationed in Ondangwa at a vocational school, but I was allowed to work on whatever project I saw fit across the region that aligned with economic development. I walked around town and started making friends and connections with people I met at the markets, the hospitals, the schools, the local businesses, and through my local Namibian flatmate.
Host family: Host sister (left) and host cousin (right)
By the time I left, I was working on female empowerment projects with women in abusive relationships; fundraising efforts for a hospital, school and an orphanage; pitching the governor on my business plan to fund a training factory, and setting up a trade fair in town. I loved every minute of it and became integrated into my Oshiwambo tribe, but as a one-man consultant walking around town without an organization behind me, my impact was very limited. I needed to gain some skills and build my network in order to increase my own effectiveness.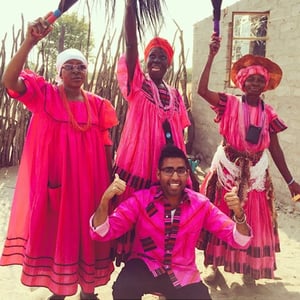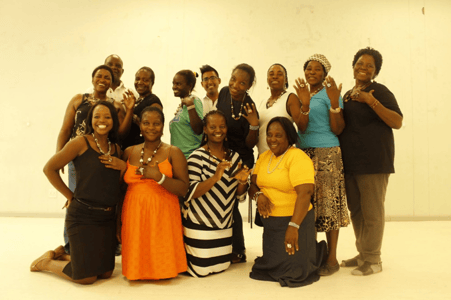 Oshiwambo tribe colors Jewelry and Business Training for Women
After returning to the U.S., I explored some other models of development by working at a few nonprofits, but I was disappointed in the speed, scope, and efficiency of the public and nonprofit sectors. I had to make a choice. I decided that the private sector is still one of the most promising areas for sustainable development, but I didn't trust the private sector to do the right thing on its own accord. I applied to graduate schools for both my MBA and a master's degree in public policy. I first started school at Yale School of Management because of its outsized focus on nonprofit management and societal impact, compared to other top U.S. business schools.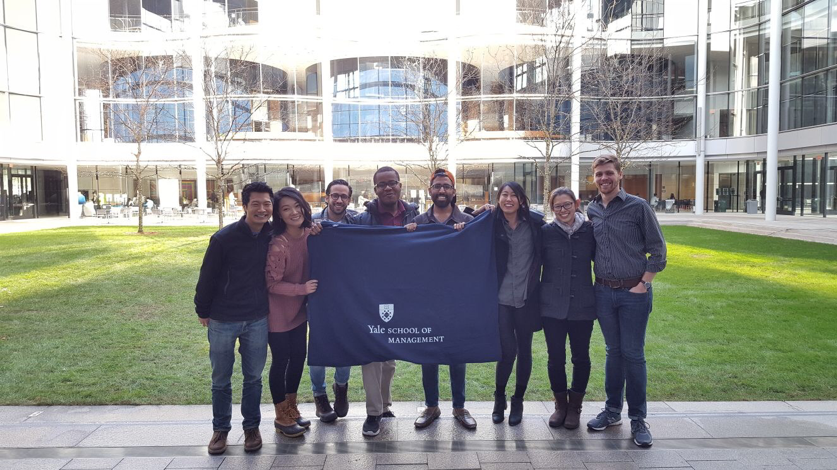 My friends at Yale SOM
I took every opportunity I could to explore global development through a business lens. I took classes on urban poverty, managing sustainable operations, business and the environment, and state & society. I helped put on the 2018 Economic Development conference and the 2018 & 2019 Yale Philanthropy conferences. I work with three local nonprofits focused on literacy, autism, and financial empowerment. I'm currently performing research with a team of development economists on evidence-based public/private market interventions in Sierra Leone as it relates to economic, education, and health outcomes. During the summer after my first year of school, I worked at a for-profit tech accelerator in Kenya that aims to reduce the high youth unemployment through boosting high-growth start-ups. And most recently, I took advantage of an international exchange opportunity to study at Hitotsubashi ICS.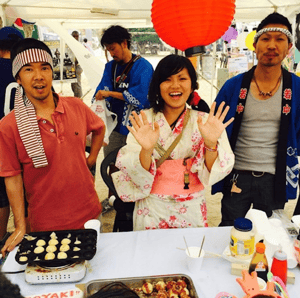 The reason I initially chose to come to Hitotsubashi ICS is actually related to my time in Namibia. While I was a volunteer, I had met people from aid organizations all around the world such as those from the German organization GIZ, and also miners and construction workers sent on 3-5 year projects from China. All these organizations in one way or another, were trying to build up the country. However, I also had the opportunity to meet young workers from JICA, the Japanese aid organization. JICA's approach to development in the region relied heavily on capacity building, a form of development I strongly agree with. In contrast, China's overreaching Belt & Road initiative creates destructive reliance on foreign powers for expertise, labor, and capital. The people I met from JICA had made substantial efforts to integrate into their communities, share Japanese culture, and were genuinely kind and supportive.
One of the workers grew up on his family's farm somewhere in western Japan, and his only reason for coming to Namibia was to help out for a few years and then to return to Japan and take over the family farm. Anyone in development knows that this is an incredibly rare story. This may sound simple, but most large government development organizations/banks such as USAID, DFID and ADB; and multilateral organizations like UNDP or the World Bank; have been accused of donor-led development or paternalistic practices. People who work in those organizations have often been criticized for their savior complexes or elitism. I, myself, cannot work for those organizations because they operate with a mission that contradicts profoundly with my own; but I was intrigued by JICA. As I was selecting which global business school to choose, Hitotsubashi ICS was top of my list. I wanted to learn more about the culture, education, and work ethics that helped shape the identities of the JICA workers that I met.
As an exchange student at ICS and as a short-term resident of Japan, I gained some unexpected perspectives on the country that I can now take back with me to Sub-Saharan Africa. While the corporate finance course was the same both in Yale and ICS, the major differences were revealed in the Human Resource Management (HRM) course taught by Professor Ono and the Global Network Project (GNP) class taught by Professor Fujikawa. Learning about the Japanese employment system in HRM was eye-opening to me. Some of the practices in Japan, both from black firms and good firms, of 80-hour+ work weeks, staying in the office late for face-time with the boss, having to go out afterward for drinks, the strict hierarchies, extensive employee training, the homogeneity of workers, etc. were all seemingly adopted by U.S. investment banks. In fact, while I was sitting through the class, all I kept recalling was working at Barclays in the U.S. (which adopted Lehman Brothers' culture after the post-bankruptcy acquisition).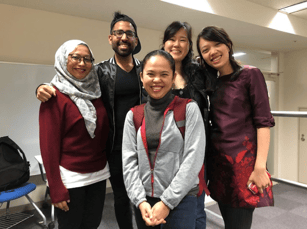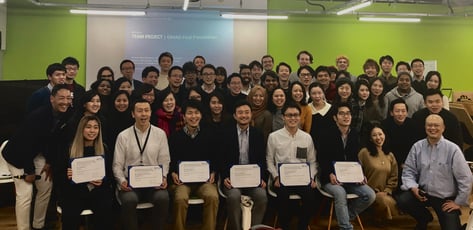 friends at Hitotsubashi ICS GNP Final Presentation at Sony's Creative Lounge
I could relate immediately to the black firms in Japan and immediately understand its flaws. But more importantly, it was interesting to hear about the labor shortages in Japan due to the declining net birth rates. While the Japanese government is making some efforts to address this by loosening restrictive immigration policies and encouraging women and the elderly to work; there is a severe problem that likely can only be resolved through immigration or innovation. The GNP course was focused on the latter. How should for-profit companies operate in this new environment in which they cannot be alienated from social issues and how can they learn best practices from abroad to bring back to Japan? What is interesting in Japan is that corporate policies, government regulations, and company innovations are not what is shaping the people that work there; it is instead seemingly deep ties to the roots and traditions of the country. The ties are to practices in Shintoism, Buddhism, and Confucianism; and to the artisan traditions of the past – and they guide everything from sake production and flower arrangement to modern work ethic. What this has shown me is that there is a powerful third lever to guiding development, beyond the public and the private sectors. Culture and tradition, while not intuitive, can be a force for progress if framed properly. I'm grateful to have learned this and eager to apply it in my future roles.
After returning from Japan, I've been focused on finishing up my MBA, and I'm gearing up to start my public policy degree at Princeton. With the public sector becoming more private, the private sector becoming more public, and the intersection creating new sources of economic and social welfare globally, MBA students cannot afford to choose only one industry or one country, or they risk forever falling behind in global leadership. While we've moved past the primitive view that a profit-seeking business would have to sacrifice stockholder capital and returns to focus on social benefits, there is still more room to grow. Companies began by reducing their negative externalities (pollution & environmental damage), to actively creating positive externalities (CSR & sustainability programs), to now actively profiting from positive social changes (impact investing & social enterprises).
The future business leader must take it one step further in this continuously integrated environment and actively shape public policy to further push positive social change in order to create a virtuous cycle of increasing social welfare and increasing social enterprise profits. This has long been a tool of dark corporate interests to protect greed, malpractices, and corporate welfare, but profit and social welfare do not inherently conflict. At the same time, public and private partnerships can be more powerful than either alone. This is why I've decided to pursue a master's degree in public policy additionally, not to pivot away from business, but to strengthen business and society.

From each place I've had the privilege of living and working, I take with me lessons to apply in the future. My view is still incomplete, but it has become a lot clearer over the last few years. I encourage all of you also to keep a global mindset and to learn as many different skills and perspectives as you can. This is no longer the world to remain a specialist or an expert. If you want to be a contributor to global progress and a true leader in your field, you need the learnings you can only get from combining multiple disciplines.