These are the books recommendations from Professor Hiroshi Kanno, to read during this quarantine or any time!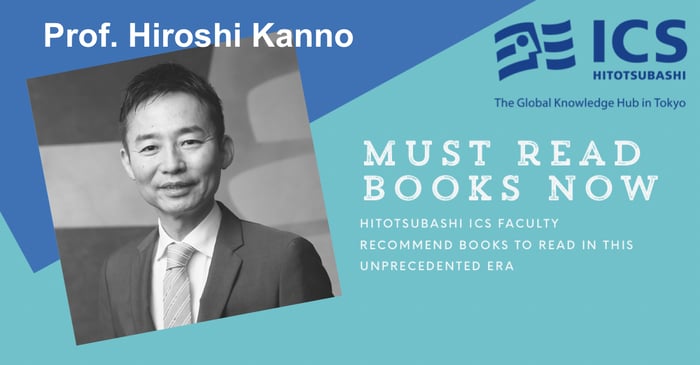 Using economics as an example, Prof. Galbraith shows us how easily human beings are "framed" by a paradigm. Once a paradigm has been established, even intelligent people can be brainwashed by the paradigm, stop thinking, and sometimes bring disaster to society. The book reminds us of the importance of being open-minded and questioning established paradigms.
Under the COVID-19 crisis, it has become even more important for business leaders to make tough decisions based not just on economics, but on ethics and justice. Prof. Sandel does not provide us with easy answers, but gives us three approaches to thinking about what is the right thing to do, and how we define our fundamental ethical values.

Prof. Diamond provides us with a detailed study on ancient civilizations that perished – how a civilization destroys the environmental ecosystem and eventually destroys the civilization itself – which gives us insights into the current environmental challenges we are facing.
Enjoy reading !
About Professor Hiroshi Kanno
:
Hiroshi Kanno received his Bachelor and Master of Engineering and Architecture degrees from the Tokyo Institute of Technology, and Master of Science in Industrial Administration degree from Carnegie Mellon University.
Mr. Kanno worked in consulting services at The Boston Consulting Group (BCG) for 17 years. His last position at BCG was Partner and Managing Director, where he served as the Asia/Pacific regional leader of BCG's Technology, Media and Telecommunications practice. At BCG, Mr. Kanno executed over 300 projects, working closely with both Japanese and non-Japanese companies. Although his main focus was technology, media and telecommunications, he worked in a wide range of industries, including high-tech, industrial goods, electronics, consumer electronics, telecommunications, systems integration, Internet services, broadcasting, medical devices, pharmaceuticals, real estate, insurance, and NPOs. He also worked in Europe, North America and Asia. Prior to BCG, Mr. Kanno worked as an architect, city planner, and engineer for Nikken Sekkei, Japan's largest architecture and city planning firm.
Mr. Kanno is the author of Corporate Strategy (Nihon Keizai Shinbun Shuppan-sha, 2019, in Japanese), BCG Management Concepts, Part II: Transformation (Toyo Keizai Shinpo-sha, 2016, in Japanese), Failsafe Ways to Avoid the Failure Trap (Nihon Keizai Shinbun Shuppan-sha, 2011, in Japanese; also published in Chinese and Korean) and The BCG Way - The Art of Developing Leadership (Diamond-sha, 2005, in Japanese; also published in Korean). Mr. Kanno has written a number of articles for business magazines, including: "Strategic Thinking of Carl von Clausewitz: its Application to Business" (Think!, Winter 2004); "Dilemma of the Successful CEO", (Nikkei Business, March 2006, (co-author); "Open Innovation", (Waseda Business School Review, July 2007); "Corporate Strategy and Growth: Creation of New Businesses at an Established Corporation", (Nihon Keizai Shimbun, January 14, 2010, (co-author) ; "Insight: how to 'jump' and think innovatively", (Think!, August 2013); and "Growing Leaders From Within Your Company", (Diamond Harvard Business Review, May 2015).