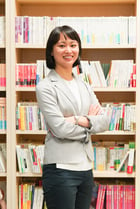 Since 85% of the students in the MBA course at Hitotsubashi ICS are from overseas, we haven't had much opportunity to talk about the life of Japanese students. Today, we sat down with Haruna Yamamoto, who is currently enrolled in the 2-year MBA program to find out why she decided to pursue an MBA at Hitotsubashi ICS and what her life at the school is like.
Why did you decide to study at Hitotsubashi ICS?
I liked Hitotsubashi ICS because it has many international students, and the curriculum is taught entirely in English. In the end, I decided on a domestic MBA from Hitotsubashi ICS rather than a foreign university because I was interested in business as well as domestic social issues.
You've already completed the first year of the program. Have you seen any changes in yourself?
The biggest change is that I am now able to state my opinion and what I want to do clearly. Before I joined Hitotsubashi ICS, I didn't think there was any way I could do that, even if I had wanted to.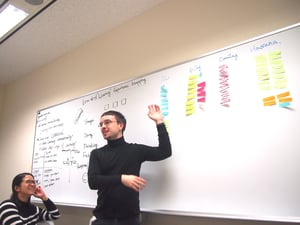 So, I wasn't able to express my true feelings to others. Now that I am at Hitotsubashi ICS, I have more opportunities to speak out in class and talk with my classmates about what I will do in the future.

I even had an excellent opportunity to have a workshop with my classmates to discuss my future plans. I have a strong interest in education and want to start a business in this area, but I'm still not sure about the details. They worked with me for several months to analyze the current status of the education industry and what I was thinking and wanting to do.
It's really nice to have my classmates participate in these venues apart from class. The environment is really nice because they always listen to my opinions and give me feedback about what they think based on their realistic business perspectives.
How did you get interested

in this area, and what is your current goal?



When I was a freshman in high school, I felt uncomfortable with the Japanese style of school education, which was only designed to help you get a high score on tests. At that time, I had a chance to study in the United States for a year. It was an incredible experience, especially knowing that there are many other ways to educate students. After returning to Japan, I became more and more interested in diverse teaching methods.
When I had a second chance to study in the United States in college, I happened to take a painting class, and I had no idea how much I loved oil painting until I took the class.
I thought it would be great to have more exciting opportunities like this in Japan. If I had had more opportunities like this, I could have found more subjects that I liked or improved myself in other ways.
In the future, I want to help children and even adults develop their abilities and provide them with an enjoyable learning experience in the school system, rather than just studying for tests or exams.

What message do you have for those who are thinking about attending Hitotsubashi ICS?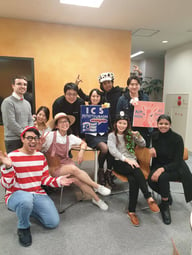 If you are looking for a change, this is the right place for you. In addition to changing careers, this program is an opportunity for people who want to be able to express themselves in English and to take a fresh look at themselves. Program is an opportunity for people who want to be able to express themselves in English and to take a fresh look at themselves.
If you want to change your life, this is the perfect school for you!