On this Byline ICS piece, Aiko Tokiyama, one of the MBA Coordinators, interviewed two current MBA students and one alumna on their experience of studying for an MBA during the first years of motherhood. Doro started the program when her daughter was around 2. Hong found out she had been accepted to the program soon after learning she was pregnant; she began her MBA studies when her daughter was three months old. Aya welcomed her son in the same week the program started in September 2019, so joined her MBA class in March this year.



How would you define the experience of pursuing an MBA while raising a small child?
Hong | An Amazing Growth Experience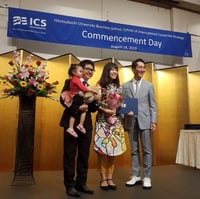 Having a child and completing an MBA boosted my self-confidence and expanded my view of what knowledge is; overall, it helped me build mental fortitude.
Aya | About Self-Fulfillment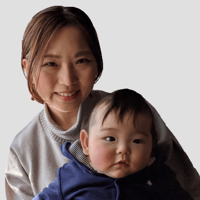 Actually, I did not know I was pregnant when I applied for the MBA, but when I found out, it was very clear to me that I would pursue an MBA regardless, since from an early age I had always want to have kids and get an MBA. I was not willing to give up on either of my dreams, so for me it is about self-fulfillment. I mean, I know that after graduation, I will take the next step on my career, so I will be a working mom, hence there was no reason to stop now. Also, I wanted to prove that women with kids can achieve their personal goals.
Doro | A Family Endeavor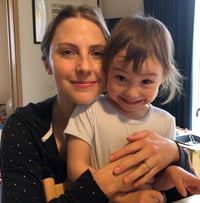 Before joining [the MBA program] I knew it would be a big challenge, as my professional background did not involve accounting, economics, or finance at all, so I had to shift my mindset into study-mode. However, one thing I hadn't considered was the impact on my family. Overall, getting my MBA has given us the opportunity to grow as a unit.
Aiko also had a child during her MBA journey and returned a few weeks after giving birth! Handling motherhood and an education/career is challenging, but it is also rewarding and empowering that can lead to a sense of satisfaction and empowerment, as once you master both, you feel you can tackle any challenge ahead.
How feasible is it?
An MBA is a marathon, Hong noted, "so health and resilience are crucial to succeed". On the other hand, as Doro pointed out that "it is totally doable, and knowing what you are getting into helps immensely", so speaking with alumni or current students can be a great guide. Aya concurred: "it is achievable, you just need to adapt, and become a master of time-management, I study, read cases, work in team's projects…all while my son is sleeping on in child-care."
While all three acknowledged that every child is different, everyone agreed that creating habits and sticking to a routine eased the art of balancing the demanding MBA study schedule with that of a mother.
What has been the biggest challenges you have overcome during your MBA journey?
Hong recalled that "at the beginning of the program I felt unconfident, everyone else seemed smart, capable and strong, so it was quite intimidating. Before starting my MBA, I was very timid and shy, I rarely spoke my mind, but while at ICS, I was encouraged to participate, even forced sometimes, during 'cold calls', so little by little, I became more confident, by making new friends and challenging myself every day. I guess, most importantly, celebrating the small wins, like getting praised by a professor or classmate, or attaining a better grade in a project. When I look back now, I see how much I grew, how I became stronger!"
Aya explained that for her, the biggest challenge she overcame was "finding the right balance between professional success and personal fulfillment. Even before I got pregnant, I always knew I wanted to have kids, but I did not want to give up on my successful career in consulting, so there was a time I was constantly overthinking about my future and it overwhelmed me, the uncertainty of how to manage both effectively. At my firm, there were very few women who returned to work after having kids, so there were scarce role models for me to see my future. Thus, over the years, I have come to the conclusion [that I need] to focus on my goals and let go of the things that I cannot control. This small revelation allowed me to move forward."
Aiko, underscoring Aya's point on the importance of role-models by sharing that there had been no working mother role models at the investment bank where she had been working prior to motherhood and MBA studies - only one female director, who was dedicated solely to the bank - added "I think you are the next generation of role models."
Finally, Doro shared how overcoming fear changed her life forever: "I had always been a person that worried and was afraid. When I was twenty years old, I got a scholarship to come to Japan, but I was afraid of traveling. Finally, I decided to tackle my fear and came to Japan, which led me to meet my husband... so, in a way, to me, getting an MBA was a similar 'turning point experience', I realized you just need to try; if you do not try you will never know. Before applying I thought, oh Hitotsubashi ICS will not accept me, because I have a small child, I have no marketing nor finance background and I thought, it was almost ridiculous for me to apply. Actually, it was my mother-in-law who encouraged me to apply, as she got her MBA while she was raising my husband, so she told me, just try, and see what happens."
What elements are crucial to succeed?
Hong, Aya and Doro all applauded Hitotsubashi ICS's support of mothers studying in its MBA program. Doro explained that, apart from the very welcoming environment and small – but thoughtful - things like the nursery that Hitotsubashi ICS has in place on campus, the importance of "getting feedback from other moms that have done it before truly helped me overcome my fear of not being able to handle both an MBA and motherhood. This is actually why I agreed to do this interview, because these experiences helped me so much, so now I want to give back too. Other than the mindset, I think the other key element is "hoikuen" (daycare.) In Japan the process of applying is improving, but still very stressful, like there was a chance that, once I changed from working to studying, I could lose [my daughter's spot in] daycare and this was nerve-wracking, because without daycare, I would not have been able to join the program."
Aya and Hong are on the same page as Doro in this regard, and all three have volunteered to provide time and advice for the following generations of MBA student mothers to contact them in this regard. Furthermore, the MBA Team is setting up a space in our Canvas Learning Management System for future moms to consult.
Aya added: "I totally agree with Doro, finding a hoikuen is quite the challenge. Even before I gave birth to my son, I started to look for daycare, because I knew it was very hard to find in Tokyo; what's more, being a student lowers your chances of getting in, as working moms have first priority. Consequently, I tried very hard, and finally I was able to get a place, but now, due to COVID-19 everything has changed. Thus, even if I did all of the preparation, my son cannot go to daycare right now. So, my husband is playing a pivotal role in child-rearing these days. Studying or working from home without childcare, under COVID-19, has proven demanding, but it has also allowed us to rearrange our roles. Because of the pandemic, he is also working from home, so now he realizes what is like to be with our son 24/., At the same time, now he sees that, he has taken a more active role … he is also discovering how cute his son is and is having greater involvement with our son. I would even say that he seems to be enjoying this confinement!"
On this point, everyone shared examples of how their husbands are very 'present' fathers who team up [with them] to take on house chores. Aiko commended this, calling it a "silver lining" of the cloud that COVID-19 has brought over the office and the home.
Hong added that the atmosphere at Hitotsubashi ICS was very friendly and that, importantly, she felt she was not given any 'special' treatment. Doro jumped in to share: "I think that, on this point, ICS is doing a really good job. Because I have never felt unwelcome as a mom …. just after starting the program I was overwhelmed, as term one has a really demanding schedule, and I had to take many courses in which I had no prior knowledge. So, I went to Yoshi, (the MBA program director), and what he did, was really good: he listened to me, and advised me to talk with other moms who had been through the program before I made any decisions. He did not offer me any special consideration, nor did he dismiss my concerns, which in the end empowered me. Also having Family Day*, where my daughter could come to school and meet the kids of my classmates, was really nice."
Any final thoughts?
Doro recommended getting GMAT before having kids: "GMAT first, then child." Hong said, "Enjoy the solitude while you still have it!" and Aya reminded that pregnancy and childhood were rollercoaster events with many unexpected surprises along the way.
All concurred that simply knowing that other women had succeeded at juggling an MBA and kids was both comforting and inspiring to potential MBA candidates. At ICS, we know that the real payoff is on graduation day, when you realize that you can now achieve anything you set your mind to!