These are the books Professor Tish Robinson has been reading (and re-reading) during the pandemic.
Pema Chodron is an American Buddhist nun in the lineage of Chögyam Trungpa. This book offers insight into how we might learn how to sit with our many difficult feelings during these uncertain times. During a difficult time in my life, this book opened up a path for me to understand what I was experiencing and how it could serve as the way toward enlightenment, particularly in terms of how to sit with my feelings and treat myself with compassion. Pema Chodron offers ancient knowledge in modern words and bite-sized pieces that are easy to digest, yet stimulate deep thought.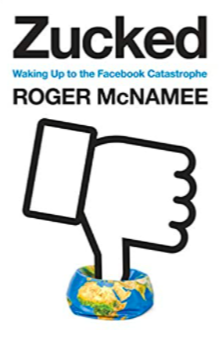 One of Financial Times' picks for "Best Business Book," Zucked is about a noted tech venture capitalist, early mentor to Mark Zuckerberg, and Facebook investor, Roger McNamee, who wakes up to the serious damage Facebook is doing to democracy and society.
Reuters notes in their review of this book: "In Zucked, McNamee lays out an argument why [Facebook] and other tech giants have grown into a monstrous threat to democracy. Better still he offers tangible solutions . . . What makes McNamee so credible is his status as a Silicon Valley insider . . . For anyone looking for a primer on what's wrong with social media and what to do about it, the book is well worth the read." (Reuters book review).
Frank Snowden is a professor emeritus of history and the history of medicine at Yale University. As Snowden pointed out in an interview with the New Yorker magazine, "Epidemics are a category of disease that seem to hold up the mirror to human beings as to who we really are. They show the moral relationships that we have toward each other as people, and we're seeing that today. That's one of the great messages that the World Health Organization keeps discussing. The main part of preparedness to face these events is that we need as human beings to realize that we're all in this together, that what affects one person anywhere affects everyone everywhere, that we are therefore inevitably part of a species, and we need to think in that way rather than about divisions of race and ethnicity, economic status, and all the rest of it." https://www.newyorker.com/news/q-and-a/how-pandemics-change-history
Enjoy reading!
About Professor Patricia Robinson (Tish):
Patricia (Tish) Robinson received her MBA and Ph.D. from the MIT Sloan School of Management at the Massachusetts Institute of Technology and her BA from Pomona College.
Until last month, Professor Robinson was on sabbatical at Stanford University, researching how managers could apply mediation and coaching to leading diverse teams. Robinson's interest in conflict resolution stems from two decades' worth of corporate training and consulting in companies such as Berlitz, Denso, Dentsu, Goldman Sachs, JTB (Japan Travel Bureau), Mitsui Trading, Mizuho Financial Group, Nikkei Shimbun, SMBC Mitsui Sumitomo Bank, Yamaha Music, and Yamaha Motors, among others.
Professor Robinson has taught courses in management and international business at NYU Stern School of Business, and corporate strategy and Japanese economics at Harvard University. She has been a visiting researcher at UC Berkeley's Institute of Industrial Relations (Haas School of Business), the Japan Institute of Labor Policy and Training, and NTT.
Professor Robinson has published in Administrative Science Quarterly, Academy of Management Perspectives, and Human Resource Management Review, among others. Her research has received the Academy of International Business Farmer Award, the Academy of Management Richman Award, three Fulbright Fellowships, a Japan Foundation Faculty Fellowship, and a Shintaro Abe Fellowship, among others.
Professor Robinson has served as a Commissioner on the Fulbright Japan-US Educational Commission at the appointment of Ambassador Caroline Kennedy, as an outside board director to Eisai Pharmaceuticals, as an elected Governor to the American Chamber of Commerce Board of Governors, and as a Founding Director of the Society of Organizational Learning Japan under the auspices of Peter Senge.