- Risk and Return, there is a positive correlation between risk and return, so the bigger the potential of return, the higher the risk you must undertake. You have all gone through a very tough program, so you are now prepared to take big risk, so go ahead and take on your next challenge, as the biggest risk is not taking any risk. These were Professor Tomonori Ito's send-off message to the Hitotsubashi ICS graduates.
The room was filled with mixed emotions, as commencement marked the successful competition of their MBA, EMBA or DBA degrees, but also meant the end of an era, that it's time to go back to the real world, and that it's the last time they will all be here together. Still, the overall sentiment was of optimism and joy. Graduates were surrounded by their families and loved ones, faculty, and staff who had gathered at the Josui Kaikan to celebrate our graduates and their achievements.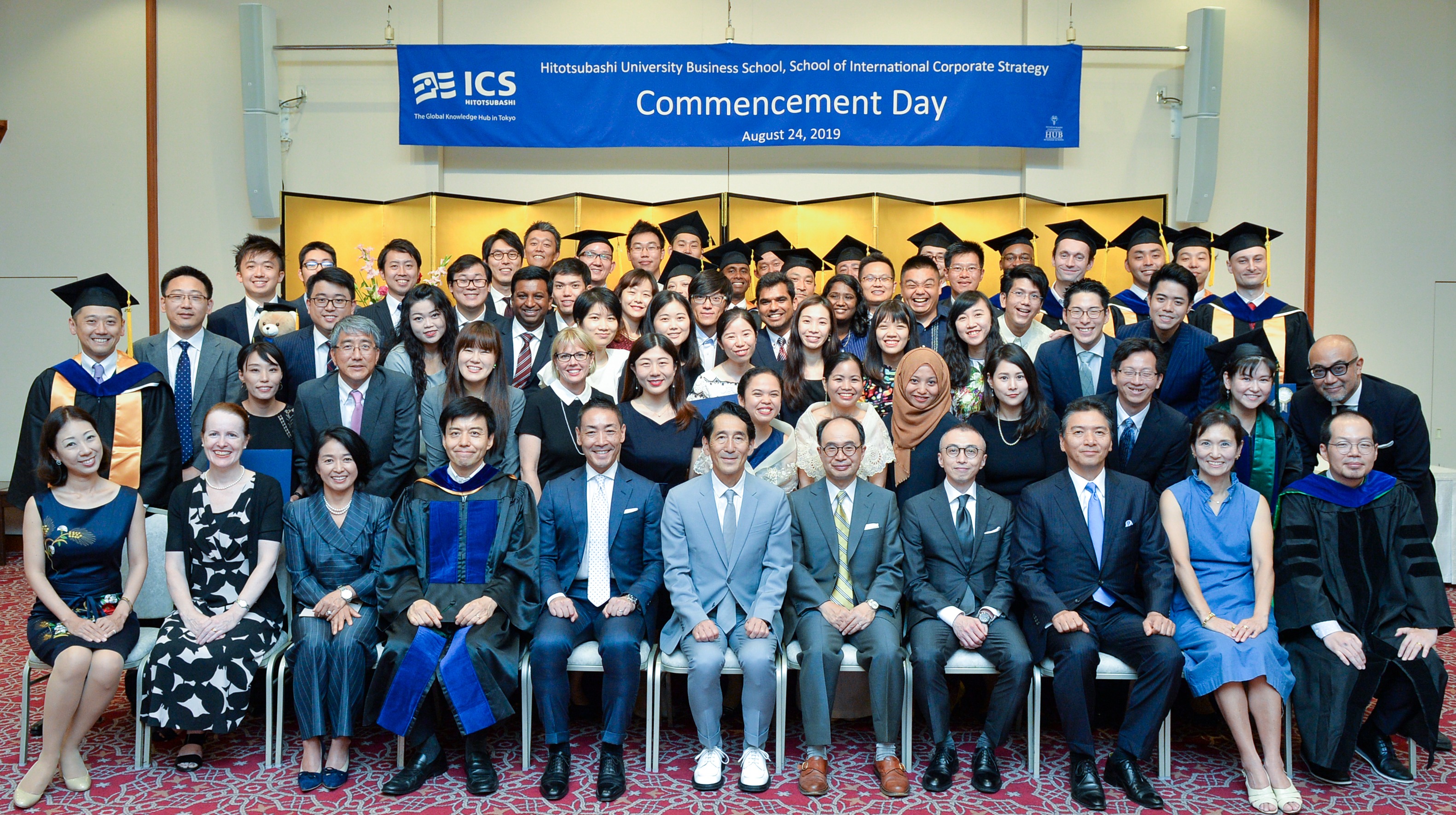 Professor Kenny Koga led the ceremony. After his warm opening remarks, he invited the faculty members to introduce themselves and to give a short send-off message to the graduates. Each Class representative also spoke. Let's hear from Masa Fujimori, the one-year class representative for the Class of 2018 and Full-Time MBA program representative: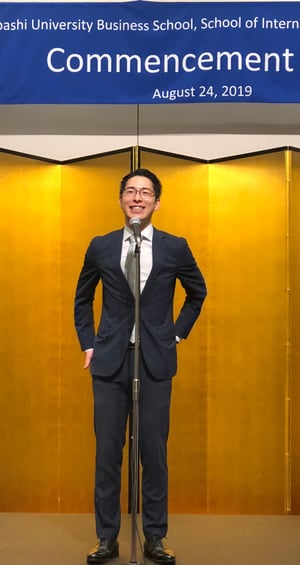 - To write this speech, I asked myself two questions. First, how did my time at Hitotsubashi ICS transform me? And what has changed? Before ICS, I thought I would learn about all the frameworks and skills to do business and about accounting and corporate finance. Then, upon graduation, my mindset would change completely to a ruthless money-making machine. But my expectation was completely off. During my time at ICS, I learned about the importance of soft skills. About how to communicate effectively to motivate someone to do something. About how to practice leadership as a global citizen. Overall, I thought that after graduating from Hitotsubashi ICS, I would know all the answers, but instead I learned how to ask the right questions.
Furthermore, I thought I would learn how to avoid failure. However, our professors encouraged us to make big mistakes as early as possible and learn from them. Also, I thought I was on this MBA journey alone. Instead, I made many new friends and mentors who will be part of my life for many years to come.
Finally, I wonder, what's next? During our last term, we had the chance to think about our plans for the future in an assignment called The Knowledge Report. I had the chance to see many of my classmates' presentations and read some of the previous classes' Knowledge Reports and I was very surprised. I expected that most people would talk about how to become rich or successful, but most focused on how to contribute to solving the global problems we are facing today. So, that is how Hitotsubashi ICS changed me, and how it shaped us…
The world is changing very fast right now, and it is pretty hard to predict what is going to happen next, but I want to close with a remark one of our professors made: The easiest way to predict the future is to build it by ourselves. So, with all the learnings and experiences that we've gathered at Hitotsubashi ICS, let's go to build the future, together!