In this edition of Byline ICS, we sat down with Bruce (Hirokazu Tanaka, EMBA Class of 2020 from Sony Group Corporation). Last spring, while he was still studying, received the exciting news that he would be appointed president & representative director of the new company that he had been working on as a part of his EMBA Capstone Project at Hitotsubashi ICS.
The new company is to be jointly established by Sony Group Corporation (Sony) and Kawasaki Heavy Industries, Ltd. (KHI), and they have joined forces to roll out a new remote robotics platform business that will cater to workers who have faced challenging conditions. The business will focus on offering industrial workers more flexible and safer working conditions through a "remote robot platform" which will enable workers to operate and control robots from remote locations. The new company will offer a remote robot operating system that will use specially designed controllers and a business scheme that will enable companies to monitor the status of work remotely. Read more below on how the Capstone Project at Hitotsubashi ICS ventured into a real-world start-up!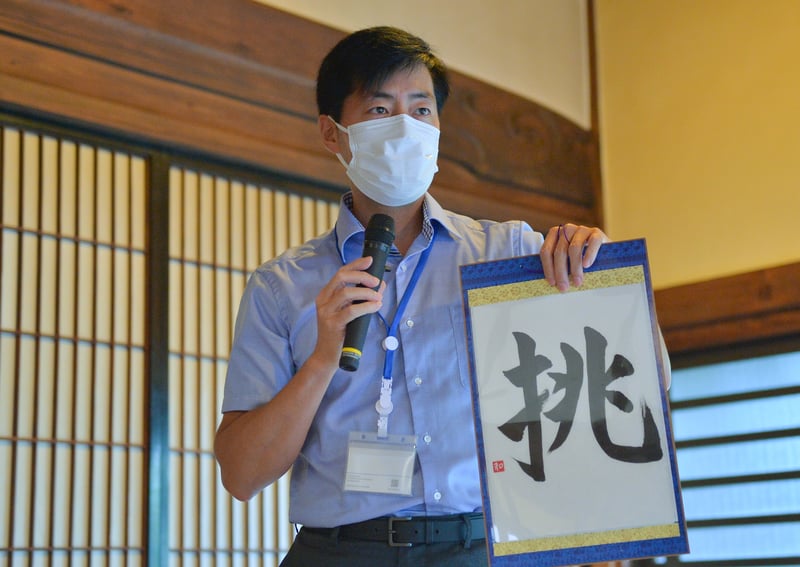 We'd like to talk a little about your background before coming to Hitotsubashi ICS.
I joined Sony Corporation (currently called Sony Group Corporation) in 1998 as an engineer and a new graduate. I worked as an engineer for 4 years, after which I became a product planner. A product planner designs the product concepts and ideas and communicates this to the engineers. After another 4 years, I became a product manager, and, from 2005-2010, I was sent to Sony Electronics, Inc., in New Jersey, U.S.A. From there, I came back to Japan as a senior manager at Sony Corporation. Now I am a general manager of the new business exploration. Throughout my career at Sony, I was always affiliated with the business side, not the consumer products. I was accepted to attend Hitotsubashi ICS in 2020.
Why did you think about pursuing an MBA degree?
I had been climbing up the corporate ladder at Sony, but I had been sensing a need for change not only inside myself but also as a company and as a country. Japan became an economic superpower after World War II with the manufacturing industry including Sony. However, in recent years with the rise of GAFA, I had a sense of urgency that the electronics business needs to change in order to thrive. I wanted to change something, but I didn't know where to start. That was when I started to think about getting an MBA degree, to gain a higher perspective on business, and also to be able to understand the strengths and weaknesses of corporate Japan.
Why did you choose Hitotsubashi ICS for your MBA degree?
I had learned about Hitotsubashi ICS through a training program at Sony, and I started doing research on Hitotsubashi ICS. When I visited the website, the tagline, "The Best of Two Worlds" resonated with me. As a Japanese manager of a Japanese company doing business abroad, I had always wanted to find common ground between Japanese management and Western management practices. Also, the EMBA program really emphasized that we would be learning not just the strengths of Japanese companies, but also the weakness of Japanese companies. Understanding and analyzing that weakness was very important to me.
Compared to other EMBA programs, the density of high-quality education was exceptional. With just 15 selected students from diverse backgrounds, we were able to have deep interactions among ourselves as well as with our professors and were able to meet and have discussions with top business leaders including former Chairman and Group CEO of Sony, Mr. Idei, CEO of Hoshino Resorts Inc., Mr.Hoshino, Senior Chairman of ORIX Corporation, Mr. Miyauchi, Honorary CEO and Chairman of the Board of Kikkoman Corporation, Mr. Mogi, just to name a few. You cannot find this density and quality in any other EMBA program.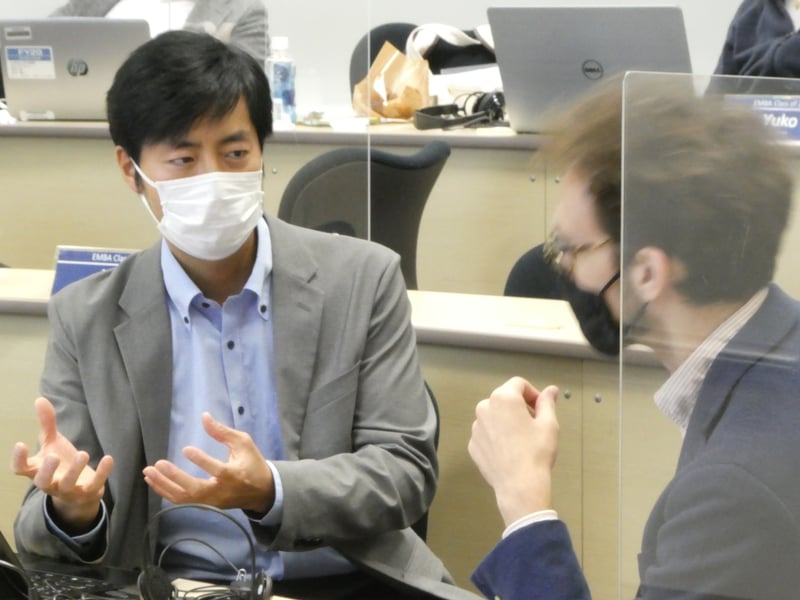 Apart from what you just mentioned, is there anything else you find unique about Hitotsubashi ICS?
The mentorship program was very special. My mentor was Prof. Ken Kusunoki, and I feel I was very lucky to have him as my mentor. Ken teaches competitive strategy, and it was exactly what I wanted to learn. I communicated with him directly throughout my Capstone Project, and he gave me great advice. My favorite case study I learned through him was the Amazon case. Amazon invested an unthinkable amount in their warehouse, which on the surface seems irrational since the cost is so high, but when you look at the investment from a higher perspective, you see how their strategy works. It has a rational whole story with an irrational component. I still hold this case close to my heart.
Your Capstone Project became a real-world project. Did you know this was what you wanted to do when you entered the program or did the idea emerge after you joined the program?
I didn't come into the program with this idea. At Sony, I was still managing its professional camera business, and robotics was not an area I had expertise in. At the beginning of 2020, as we were encouraged to start thinking about the Capstone Project, I started thinking about how Sony could utilize the various technologies it possesses to create something with more impact. One direction I thought we could pursue was a robotic platform business, and I decided to explore that direction.
Were there certain things you learned that you were able to apply to your project? What kind of peer support did you have?
Feedback from my classmates was essential in realizing my project. Junko from Honda and Ken from Nissan really gave me great advice from different standpoints.
Apart from my classmates, there was a lot that I acquired from the classes. Leading across Diversity and Culture taught by Prof. Royanne Doi has really impacted my recruiting strategy. I am planning to hire from very diverse backgrounds, regardless of age, gender, culture, and nationality in order for me to strengthen my organization. No single talent is enough for a creative and resilient organization.
I learned all the essential and key marketing aspects from Prof. Yoshi Fujikawa, and I know it will be very useful as I launch this service next year.
Another inspiration was from Prof. Takashi Nawa, who taught Creating Social Value. This class was a big inspiration for me. One of the biggest questions I had before the program was how to create economic value based on social value. Many times, there is a paradox between economic value and social value. With his class, I was truly able to understand there is a way to accomplish both economic and social value. This is another aspect of the "best of two worlds" concept that Hitotsubashi ICS builds its programs on, and I have incorporated this into my project. Through the remote robot operation platform that I am aiming to launch, I thought we could deliver this value proposition to the business, which is suffering from this COVID-19 situation. Skilled factory workers, part-time workers, and handicapped workers may have the skills and passion to work, but they may have some difficulties working from their location. I thought that is a social issue that could be addressed. Once given a solution, this issue could become a social value. This social value will then become economic value in the end.
So would you say your project was issue-driven?
I would say it's both issue-driven and technology-driven. In my mind, I already had an idea of the technologies that Sony already had that we could utilize for this business, such as image processing, sensing, and network communications technologies. This way of thinking was reinforced through classes at Hitotsubashi ICS, emphasizing that in this VUCA world, we need to collaborate with other companies to maximize impact. Collaboration is the key to success in this new world. I created my plan in about four months and proposed the plan to both my team and business partner.
Wow, it all seems very smooth!
Timing is very important - timing is everything. I came in with a concrete plan, so the engagement point was very clear. I think the timing was just right.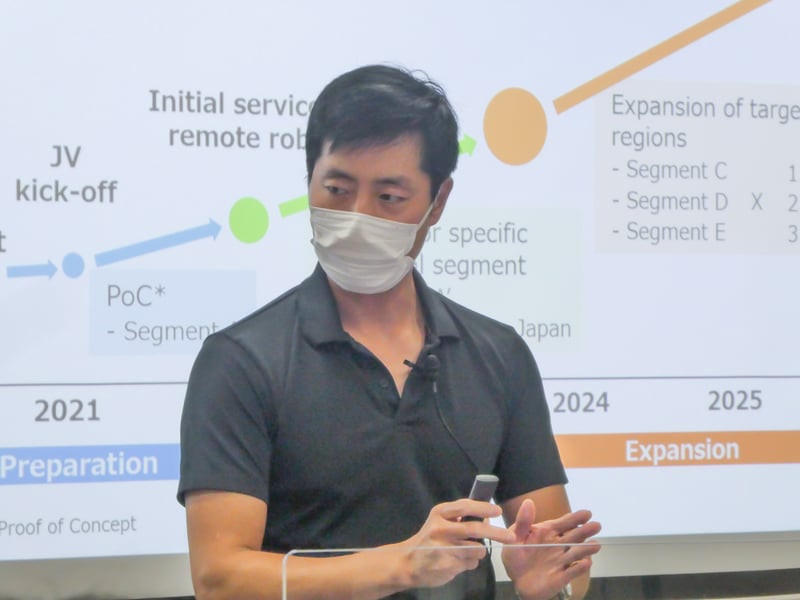 How do you think your experience at Hitotsubashi ICS has changed your leadership style as you manage your new joint venture?
Purpose and vision are so important to drive a new organization forward. I've learned that delivering purpose and vision is my main job as a leader of a new company. Becoming an Effective Leader, taught by Prof. Tak Umezawa, was very helpful for me to understand my leadership style because each leader is different and has his or her own uniqueness. For me, I realized that empathy was an important way to communicate with my team. Before coming to Hitotsubashi ICS, I think I tried to do almost everything by myself. Now I have learned that I need to delegate and allocate to nurture teamwork and also foster my team members. Sometimes I need to wait, and that has been crucial for me. All I need to do is deliver the purpose and the vision, and if I am successful in doing that, my team members will digest it and will be able to move automatically and optimally.
Please let us know about your aspirations as your service is scheduled to launch in 2022. What kind of society would you like to see?
I would like to deliver a new workstyle where humans work together with robots. Through our remote robot operation platform, industrial workers who cannot currently work remotely can utilize robots on their behalf to work in a different location. This will allow them to have a more flexible working style, and many people can enjoy this remote-work society. It will create more effectiveness and productivity. As you know, Japan is facing a major labor shortage issue. We are currently losing 1,750 workers a day. Other developed countries will be facing the same issue going forward. Naturally, businesses are looking at AI and robots to fill this shortage. AI and fully automated robots are one way of approaching this issue, but personally, I believe the human touch is very important. I believe in humans working together with robots to change the world for the better.
Would you like to see your business expand overseas?
Yes, definitely. Having said that, I would like to start small and see what unfolds. I would like to first deliver this service in Japan and set an example as a way for humans and robots to work together for social value.
Your service aspires to accelerate remote working for everyone. Did you adopt this working style at the new company?
Since we are in the initiation stage, I believe we do need to get together occasionally. We currently get together once a week, but the rest of the days we all work from home.
What's been amazing about our new company is that we have not had one nomikai due to COVID-19. This is very rare for a new organization that has its origins in traditional Japanese companies.
Not one??
NO, zero nomminication. But we are managing ways to communicate smoothly with each other. The Miro Board, which Yoshi introduced to us, has been very effective in communicating with each other. We use the Miro Board very often.

That's amazing. I think you are setting new standards for Japanese companies! Lastly, could you tell us about the changes you have observed in yourself as you finish the program at Hitotsubashi ICS?
Before Hitotsubashi ICS, I was always thinking about how to compete with GAFA. Now, I understand it is not about competing directly with these giants but about how to create a unique solution with Japanese core competence. Understanding the differences and the strengths/weaknesses of Japanese management styles and Western management styles has allowed me to find a common ground, and I am applying the core element to the new company.
Also, as I reflect upon my year at Hitotsubashi ICS, I now know there is still so much I don't know. Having been working in corporate for many years, I used to have a sense of already knowing many aspects of business. However, Hitotsubashi ICS has widened and deepened my perspective in so many ways that now I know there is still so much to learn. In many ways, I think I am humbler than before I came to Hitotsubashi ICS.
Lastly, I am very grateful for the wonderful opportunity to have joined the Hitotsubashi ICS community. It has changed my life in many ways.
That's amazing. I think you are setting new standards for Japanese companies!