Hitotsubashi ICS is featured in the first edition of Startup Guide Tokyo: one of four educational institutions selected
Launch Party of Startup Guide Tokyo
Hitotsubashi ICS attended the launch party of Startup Guide Tokyo on November 29, an event that drew over 150 active players in Tokyo's entrepreneurial ecosystem. After the opening remarks and acknowledgement of all the contributors to and sponsors of Startup Guide Tokyo, the launch party kicked off with a thought-provoking panel discussion on starting up a business in Japan.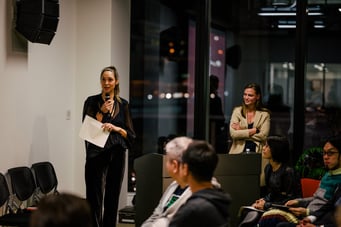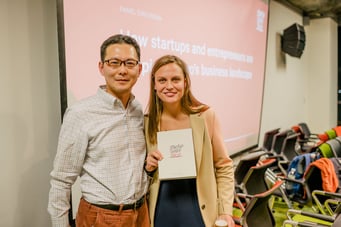 . (Photo credit: Said Karlsson)
About Startup Guide
Startup Guide is an organization dedicated to creating guidebooks of a city's entrepreneurship ecosystem that targets people who want to start a business in that specific city. After successfully launching her first publication "Startup Guide Berlin", founder Sissel Hansen and her team have worked with various organizations and institutions to publish over 28 Startup Guides in major cities in Europe, America, Africa, and the Middle East.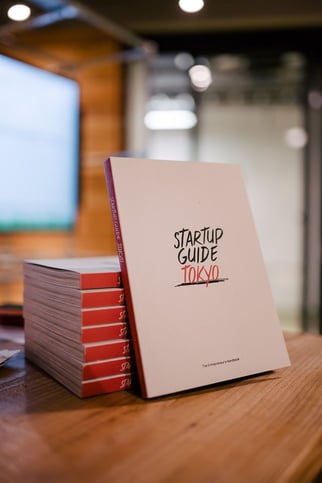 (Photo credit: Said Karlsson)
Startup Guide Tokyo
Tokyo was selected as Startup Guide's first city in East Asia as it is a "charming capital city with the exciting culture and environment, enhanced by the large sophisticated market; a mix of old and new, calm and commotion, order and chaos. (Startup Guide Tokyo) "
In order to start up your own business here in Tokyo, you will definitely need much more information than you'll find in a quick internet search. Startup Guide Tokyo provides a one-stop guide to help you to find and then navigate through the steps and procedures to launch your business in the city. It features nine established startups, eight escalation programs, and nine co-working facilities, as well as interviews with business experts and entrepreneurs. Startup Guide Tokyo also profiles key educational institutions as junctures between entrepreneurship and education and introduces potential investors.
Hitotsubashi ICS | a leading educational institution focusing on entrepreneurship in Tokyo
"We act as an international bridge and centre of excellence for the creation, management and dissemination of knowledge. We develop global leaders who are experts on Japan, immersed in Asia and able to make significant impacts on the world." Hitotsubashi ICS is the first Japanese National University Business School to offer an MBA completely in English. It is the youngest and most dynamic MBA program in Japan with an innovative curriculum targeted to maximize the students' learning experience and train them to do business with a global mindset, but local knowledge.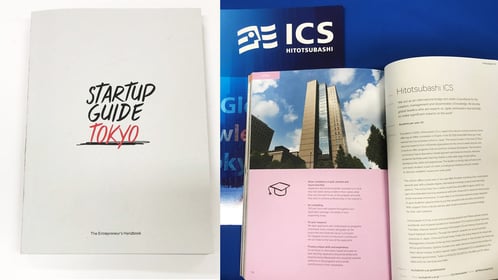 The Hitotsubashi ICS MBA program focuses not only on analyzing the existing successful business models in Japan and around the globe but is increasingly emphasizing the need for new business models. While the MBA students are immersed in courses on entrepreneurship and digital transformation, the Career Services team works on their behalf to match upcoming graduates with startups throughout Japan.
All in all, let's us mention again, that in "a metropolis of nearly fourteen million people, Tokyo is a fast-paced hub of opportunities. With government support and skyrocketing numbers of entrepreneurship events and startup programs, it has never been a better time to launch a business in the capital city of the world's third-largest economy." Startup Guide Tokyo
So come to Tokyo, get your MBA, and launch your business!