If you are considering applying for the EMBA program at Hitotsubashi ICS! This student voice piece provides the insights from four current EMBA students. These executives from the automotive, healthcare, airline, and beverage industries explain why they chose ICS, what they find most valuable about the EMBA program, and offer advice to incoming students.
Howard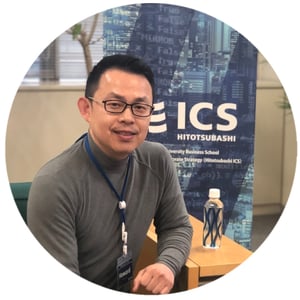 About me: Taiwanese, preparing to run the family business and our JV with Toyoda Gosei. Commuting to Tokyo for classes!
Why the ICS EMBA?
Our supply chain is undergoing a major disruption due to the revolution in the auto industry, which is a big risk for us. I'm here to learn how to run it differently to adapt.
When I hear ICS, I think: Rigorous. Prestigious.
What I find most valuable so far:
The courses look at Japan from a global view and are very focused on digital disruption. We're trained to view things as a CEO. Quite different from many other schools!
Advice for kohais:
It's been my most successful educational investment. I highly recommend it to future global leaders, especially in Asia. Be well-prepared or you'll be dead! (lol)
Hiromi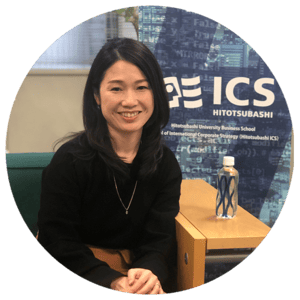 About me: I'm Hiromi from Kagome, GM of a beverage business. Spent 20 years at Ajinomoto (marketing)
Why the ICS EMBA?
The top EMBA with actual business cases. Teaches real-world management and leadership, which I need in my job.
The professors have actual business experience and many are known as industry experts. My classmates are managers and executives too. Also, ICS is the only English-taught EMBA in Japan and it has an international outlook.
When I hear ICS, I think:
It's part of my life now. (lol) I work full-time so I study at night and do online sessions or visit campus on weekends.
What I find most valuable so far: The actual business cases are highly practical. I'm getting valuable information both from my professors and my classmates, who work in various industries.
Advice for kohais:
Prepare well and manage your time. Have fun. Share your rich experiences; it's meaningful for everyone.
David
About me: An American in Japan for 16 years. In HR at All Nippon Airways (ANA).
Why the ICS EMBA? After 11 years in HR, I was falling behind in finance, accounting, and best practices. Several ANA executives recommended ICS. It's a perfect fit for me, as a non-Japanese employee in a Japanese company, to learn how Japanese companies can compete globally, not just domestically.
When I hear ICS, I think: Incredible opportunity to interact with really high performers in many different industries and to absorb their knowledge. Amazing professors, amazing staff, and students who are already leaders and executives in various industries.
What I find most valuable so far: In HR, I always put people first. I still will, but now I'm seeing the financial perspective, including investments and M&A. It has totally changed my thought process.
Advice for kohais: I don't care how tired you are, keep studying. It's all useful.
Ryan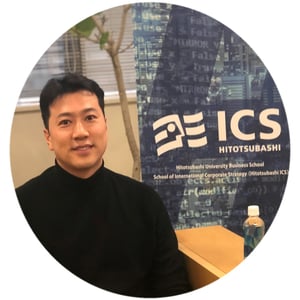 About me: I lead a business unit at Johnson & Johnson (medical devices)
Why the ICS EMBA? To accomplish my career objective. Many Japanese healthcare companies do business in Korea, but they tend to hire Japanese managers. With my academic background in Japanese literature and language, I want to be a bridge between Korea and Japan.
When I hear ICS, I think: Top business school in Asia and globally. Intense and academic. Friends who got EMBAs in Singapore, the US, and Korea said their programs focused on networking, not academics.
What I find most valuable so far: To participate actively requires strong preparation, but there is a lot of academic support available. I enjoy discussing ideas and hearing my classmates' experiences. There is good harmony between the faculty and students.
Advice for kohais: Dedicate yourself to this program; it's serious. Expect one year of very challenging, beneficial learning experiences.