It's obon, an annual buddhist event for welcoming our ancestors back to this world, and a time when many Japanese spend their summer holiday. Many Japanese associate summer with obon, and many of Japan's summer scenery has a close relation with it. It is believed that each year during obon, our ancestors' spirits return to spend time with family. Although it is not a national holiday, many businesses are closed during this time, and the Tokyo becomes empty since many people return to their home regions.
To guide our ancestors back to this world, the mukaebi, the "welcoming bonfire," is prepared in front of people's houses. The house is cleaned, and the deceased's altar is decorated with fruits, flowers, confectionary, and food or drinks our ancestors liked in their lifetime.
To end the obon with festivities and to see the spirits off to the other world, bon-odori festivals are held at many temples all over japan. Bon-odori is a type of folk dance that is performed around a heightened stage called yagura decorated with lanterns. What makes the Bon dance so much fun is that dancers repeat the same steps over and over so you can quickly catch on and join in.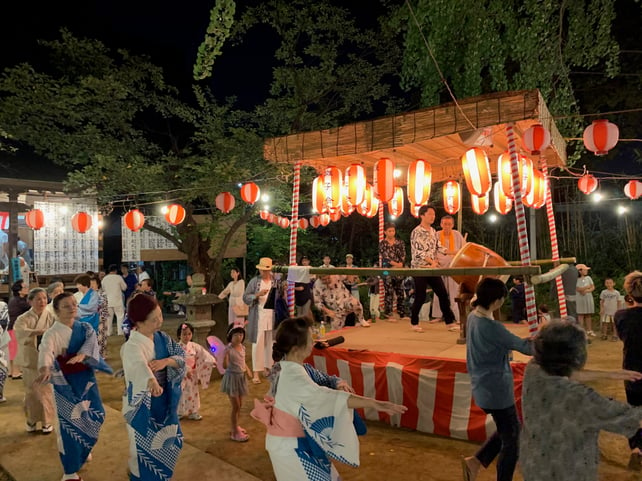 Within the temple precinct are food stalls where you can enjoy a variety of fried goods and food-on-sticks. Yaki, which means fry or grill, is a good keyword to know! Yaki-tori are grilled chicken skewers, yaki-soba are fried noodles, tako-yaki are fried octopus balls, okonomi-yaki translates to savory pancakes with various ingredients you like, and ika-yaki are grilled squid skewers.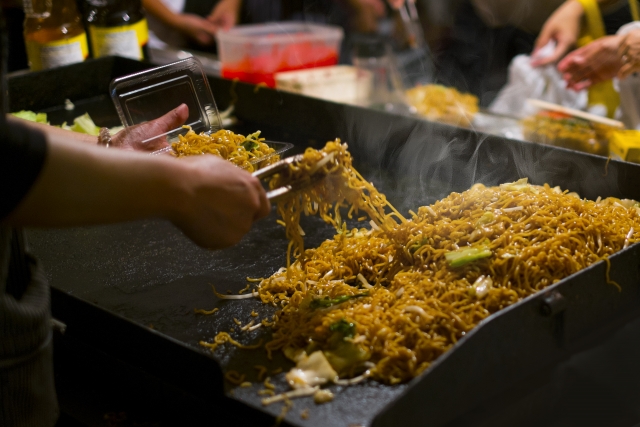 Along with the bon-odori, fireworks spark the skies all over Japan. Many firework festivals are held all over Japan, with grand works of firework craftsman painting the sky in all colors and dazzles. These summer fireworks are called hana-bi. "Hana" means flower and "bi" means fire, so literally it means "fire flowers."
The first public firework event dates back to 1733 when fireworks were launched around the Sumida River to repose the souls of the many people that died the previous year due to extreme famine and disease. In order to freshen the hot muggy air, ward off evil sprits and brighten the people's hearts, the Tokugawa Shogunate held the very first Sumida River Firework Festival, which is still held every summer. Many other regions have followed, and many Hana-bi festivals are held throughout Japan.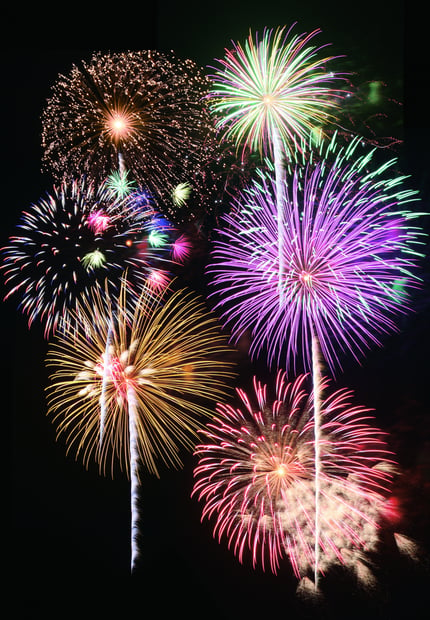 At festivals everywhere, you will find a cool summer treat called kakigōri, Japanese shaved ice flavored with sweet syrup to cool off the heat. Recently, many kakigōri specialty shops have popped up in many places, where you can enjoy fluffy shaved ice with special syrup and real fruit. It is a truly refreshing treat in the hot muggy weather!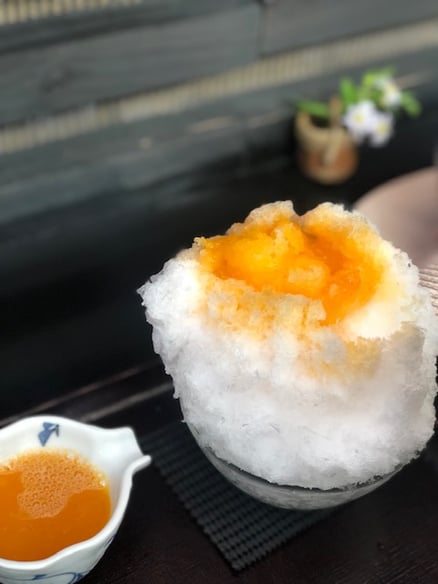 Despite the relentless temperature and humidity, the Japanese have devised many ways to make the best of and enjoy the summer. Enjoy the Japanese-style summer to the fullest!