Innovation, with a focus on Fintech development in China, was a key theme of the 7th BEST Alliance Annual Symposium in Beijing, China on 8 November.
The Symposium, hosted by Peking University's Guanghua School of Management (GSM), featured a keynote speech "Fintech Development in China" by GSM Professor Laura Xiaolei Liu and panel discussion, and also included presentations by academics from Hitotsubashi ICS, Seoul National University (SNU) and GSM on their current collaborative research projects.
Digital Assets and Data Represent the "New Oil"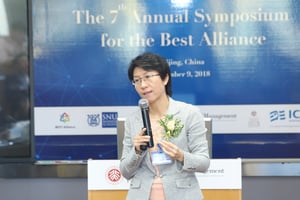 "Digital/data assets are the next driver for the new era of GDP growth in China" according to Dr Liu, who said that the country could no longer count on the more traditional engines of labor and productivity to maintain a positive economic trajectory as it transitions from 'Internet plus' to 'digital China'. In that sense, she suggested that data and digital assets represented the "new oil", with consequent ownership-related issues.
Blockchain's Impact on the Fintech Sector
Dr Liu identified myriad benefits to the fintech sector from digitization, including improved allocation of resources through circulation facilitation and correct pricing. She singled out blockchain technology as particularly useful in areas such as risk management, to enable timely disclosure of assets, and copyright protection, where blockchain is being used to provide legal protection of electronic data, an approach achieving increased governmental acceptance.
Technological Innovation in China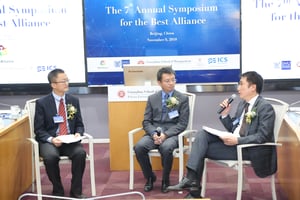 A panel discussion moderated by GSM's Dr Li Ma saw Mr Masaya Tokutani, General Manager of Mitsui Products (China) Co., Ltd. and Mr Daijun Zhang, President of Samsung Research China - Beijing (SRC-B), speak about their respective organizations' activities in China and offer their assessment of current challenges and future prospects for operations in China and in the region more broadly.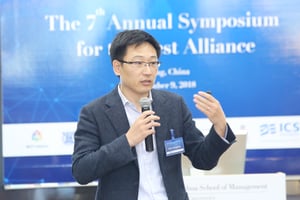 The themes of innovation and digitization were also picked up by Hitotsubashi ICS Professor Kangyong Sun who spoke briefly on his recently-commenced research "Japanese Multinational Companies: Technological Innovation in China". This research will look at the role of digital technological innovations such as AI, Big Data and the Internet of Things in Japanese companies in China and what organizational changes and managerial actions are necessary to utilize digitech successfully in managing innovation.
Three other research presentations by scholars from the three BEST Alliance schools demonstrated the breadth and depth of research collaboration, a key output of the Alliance.
CSR as a Strategy to Fix Legitimacy Issues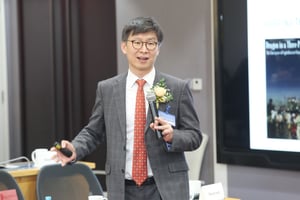 Professor Sun Hyun Park of SNU updated the symposium on his collaborative research with PKU's Yanlong Zhang, "CSR Disclosure and Legitimacy Management in the Wake of Earnings Surprises", posing the question "Can companies use CSR as a strategy to fix legitimacy issues?" Noting the recent phenomenon in China of CSR disclosure in instances of companies announcing unexpected negative earnings results (a violation of "pragmatic legitimacy"), Professor Park suggested that companies were using CSR as a strategy to manage legitimacy by:
acting as 'insurance' to mitigate possible negative consequences

serving as an ex post-coping mechanism when things go wrong

providing a symbolic management strategy to fix the company's image.
Authoritarian Leadership and Emotional Suppression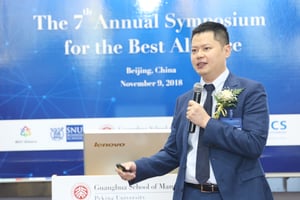 PKU Professor Jack Ting-Ju Chiang presented findings to date of his collaborative research with Hitotsubashi ICS's Professor Satoshi Akutsu, "We Have Emotions but we Can't Show Them! Authoritarian Leadership, Emotion Suppression Climate and Team Performance" which explores the relatively little-studied effect of authoritarian leadership on team (as opposed to individual) performance. The research suggests that authoritarian leadership leads to the creation of a climate of emotion suppression within the team that results in emotional exhaustion and consequent reduced team performance.
Cultural Branding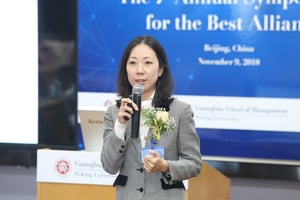 Hitotsubashi ICS's Professor Satoko Suzuki shared with Symposium attendees findings of her research "Branding Capabilities for Cultural Branding", explaining that "story-telling connects with people, constructs agency, shapes identity and shifts action". Professor Suzuki used Japan's Hoshino Resorts as an example to illustrate a whole-organization approach to creating, encapsulating visualizing, creating and performing a 'brand story' that customers seek to experience through buying the brand's products.
The success of the 7th Annual BEST Symposium highlighted the enduring benefits of trilateral education and research cooperation and collaboration in enabling Hitotsubashi ICS, SNU and PKU to maintain their prominence as global business schools at the leading edge of innovation to meet the challenges of the digital age.
About The BEST Business School Alliance



The BEST (Beijing, Seoul, Tokyo) Business School Alliance, established in 2011 between GSM, SNU's Graduate School of Business (GSB) and Hitotsubashi University's (then) Graduate School of International Corporate Strategy, is an initiative of the Trilateral Cooperation Vision 2020 jointly created in 2010 by the governments of Japan, South Korea and China, countries that are increasingly becoming the center of the world economy. The Alliance facilitates comprehensive research and educational cooperation between GSM, GSB and Hitotsubashi ICS, providing a platform for business leaders, academicians, and students in these three nations to develop a deeper understanding in each other's economy, business, society, and culture, as well as other important business-related aspects that are unique to the partner countries.