Kula, from the Class of 2019 shared her 2nd-year activity experiences during the COVID-19 and her decision to change her activity from the Exchange program to the Internship program.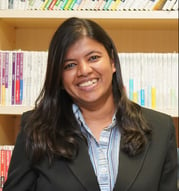 Kulasara Mahanama Siriwardena (Kula)
She majored in Information System Engineering with a Bachelor of Engineering. Before entering ICS, she was a project coordinator and a software engineer with a demonstrated history of working in the industrial automation industry at Yokogawa Electric Corporation. She currently works at AI Ethics Promotion Office at Sony Group Corporation. Fluent in both Japanese and English.

Hitotsubashi ICS MBA 2-year program covers business theories in its first year and allows students to experience their applications in the second year. I personally believe that the second-year activities provide the greatest opportunities to add value to oneself. It is a huge opportunity that a normal part-time MBA student or a full-time employee would not be able to gain.
When I joined ICS, I did not have a precise idea what I wanted to do with my post-MBA life. With time, while my perspective on the business world widened in the first year of the program, I wanted to change career in terms of my job function, the field and location, while keeping the industry the same. As for my 2nd year activities, I focused on activities that would benefit such career change and I decided to take part in an exchange program and some internships as my second-year activities.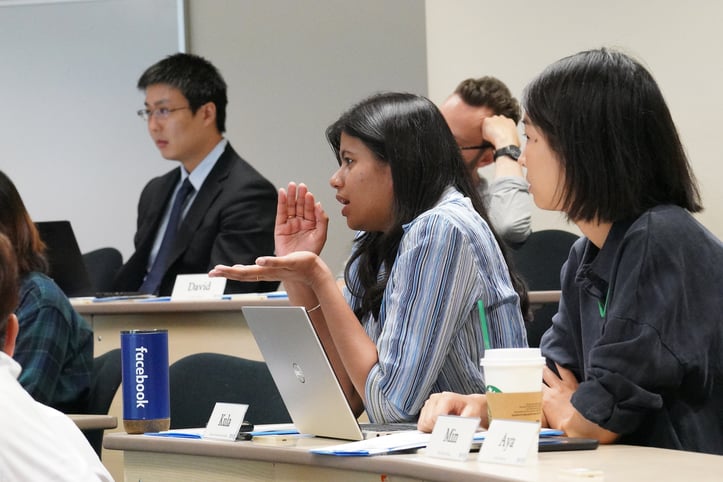 Why an exchange program?
My field of interest was technology-related strategy creation and corporate governance. Hitotsubashi ICS MBA program gives us a fair perspective on North American and East Asian (Japanese) businesses and their strategies. Through the case discussions we have had in our classes at ICS, I learned that Europe has a different uniqueness in most aspects, different from Asia and North America. I believed that an exchange program will be an opportunity to experience the uniqueness of European businesses. So, I thought that it was worth experiencing the European aspect of businesses and their strategies.
Why internships?
There was one main reason as to why I chose internships. It was to add value to my career by gaining experience in different industries and different fields. Through the classes, it made me realize that a whole new world of opportunities is lying beyond my comfort zone. I understood that I could stretch my capacity in playing bigger roles in various other fields. I decided that it is worth changing my career, not giving up my technical background but leveraging on it by making it an asset. I wanted to obtain work experience in few other companies to understand other industries, job roles and work cultures better.
So, I applied for 3-month exchange programs at ESADE Business School in Spain and Central European University (CEU) in Hungary. I was selected to the exchange program at ESADE for the autumn semester, but the pandemic prevailed, and I had to stay behind. ESADE kindly postponed the exchange program to the winter semester and offered online classes. But shifting to online classes did not serve my expectations of "actual European experience" and the time difference negatively affected the productivity. Weighing in the possibilities and opportunities, I chose to give up the exchange program, and engage in other activities.
As the saying goes, "when life gives you lemon, make lemonade!", I chose to focus more on internships and add value to myself, instead. I am very grateful to the Career Service Office (CSO) of Hitotsubashi ICS for the wonderful job done by introducing remote internships to the student, which were more efficient, safer, healthier, and challenging in the pandemic period. I did three remote internships, two at technology companies involved in futuristic businesses and one at an automobile company.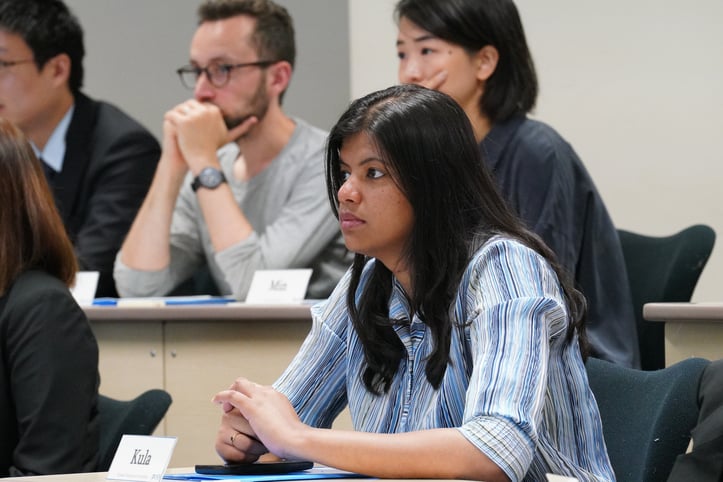 Internship experiences
My first internship experience was at EVA Inc., a drone infrastructure startup company. Their product uses cutting-edge technologies along with 5G and IoT, to realize its functionalities and is already being introduced to major customers in various industries around the world. I was assigned to support the business development in Asia by focusing on business opportunities in South Asia. I had two major gains from this internship. The first major gain was the new work culture. It was my first experience working at a start-up company, which had its employees located in different parts of the world. All employees were located in different parts of the world but still managed to successfully work towards a common goal, proving that connectivity and relationships had nothing to do with in-person face-to-face meetings. In my opinion, passion, freedom, and empowerment were some of the key success factors which allowed the team members success stories in such a short period. The second gain was the insights into the latest technologies. This internship experience made me aware that 5G, IoT, AI are well-established technologies in most industries across the world and the realization of society 5.0 is only a few years away.
My second internship experience was at Sony Corporation. I was a research intern at AI Ethics Promotion Office, where I researched AI ethics governance models around the world, and how to implement AI ethics assessment into the product development process within Sony. I had two major gains from this internship as well. The first major gain is the immensely valuable opportunity it gave me to align my career path with passion and my background. I wanted to change my career to one where I could use both my technical background and business knowledge. This internship was the perfect opportunity for me to understand that this is exactly what I wanted my career to be like. Creating an AI governance model for Sony, allowed me to utilize my technical background and the insights I gained through the MBA at the corporate level. The second major gain is that, the things I learned through the internship strengthened my perspective on AI ethical dilemmas. I strongly believed and continue to believe that innovation should not be killed due to ethical dilemmas. Instead, we should find both strategical and technical solutions which create a win-win situation for all parties with an acceptable number of compromises. This perspective strengthens my hope in enabling society 5.0 in near future. Other than above, researching AI project management methodologies and proposing an AI ethics assessment model was challenging as AI product development is a new area for me. It gave me an opportunity to learn about AI technologies, their project management cycle, and the importance of responsible AI.
My third internship experience was at Mitsubishi Fuso Truck and Bus Company. The digital transformation (DX) movement is at its heights within the company. I had the opportunity to join the business development department, supporting the planning phase of digitalization projects. I had two major gains from this internship experience. The first major gain was the understanding of Bus and Truck businesses. It was my first time experiencing the B2B automobile industry. I took part in the business requirement finalization phase in 2 digitalization projects, and both gave a vast insight into the Bus and Truck company businesses, their strategies, and their values. The second major gain was the working experience in a very diversified working culture. The company was a joint venture between a European company (Daimler) and a Japanese company (Mitsubishi). Hence a well-balanced mix of both cultures was fairly integrated into the systems. It was amazing to see how employees coming from various backgrounds smoothly merge into the mixed working cultures to reach the best results.
Job Hunting in Japan
While the internships were going on, the job-hunting process picked up pace in parallel. It began with self-analysis, trying to understand what I really wanted to do with my life. It was followed by discussions seeking advice with CSO, the faculty including my seminar advisor and friends. I appreciate all the support extended by CSO, the faculty and friends to finetune my career plans. The job-hunting process included working on my resume, utilizing job search engines such as LinkedIn, Glassdoor, etc. and directly approaching companies.
Meanwhile, Sony Group Corporation offered a position in the same department where I did the internship on AI ethics. I accepted it as it suited my career plan and it allowed me to make the maximum out of what I have gained so far in my previous work and as an MBA student.
With the job opportunity in hand, I tried my luck at 'early graduation', where a student can graduate 6 months earlier than the designated time if the university decides that he or she has completed all the graduation requirements. Obviously, an early graduation in times of a pandemic without a job could be a disaster, as most companies had held up new recruitments, minimizing the chances of finding a job after graduation. So, I decided to try my luck at early graduation, only when I was sure that I had a new job. I discussed with my seminar advisor, Academic Policy Committee and after a few screenings, my seminar advisor, Academic Policy Committee, and the faculty approved the early graduation. It was finalized in March, allowing me to start working at Sony from April. (* From 2022- 2023 academic year, early graduation will no longer be an option)
When I turn back to look at my 2nd year at Hitotsubashi, it undoubtedly has been an amazing experience. I could make the most out of the pandemic-ridden year of 2020 through various opportunities and support extended by the university. All internships have added so much value to me and my career. My heartiest gratitude goes out to the seminar advisor, CSO and the faculty, for the great understanding and support extended.