Finding a career during the pandemic
Whilst the average employment rate in Japan for international students who graduate from university is about 40%, the rate for ICS MBA graduates (self-financed students who wish to work in Japan) for 2021 is much higher, at 85%.*
This could be a result of ICS students already having diverse work experience at the time they join the MBA program, their working hard to attain skills and knowledge to meet business market requirements and the expanded social connections they gain throughout their MBA studies. Furthermore, according to business social media platform LinkedIn, MBA holders generally are viewed by proactive recruiters 4 times more often than those without an MBA.
In addition, ICS has built over the more than 20 years since its establishment a very strong alumni network, currently numbering over 1000 graduates. Students can get involved with this network through ICS Connect, a designated platform connecting faculty members, staff, students and alumni. Where students can get in touch with previous graduates who work within their industry of interest is another factor that contributes to the high placement rate for ICS graduates.*
In 2021, Japan, similar to other countries, suffered a hit to its economy from the Covid-19 pandemic. which has led to lower than average growth in salaries. However, salaries in Japan have not changed much over the past decade compared to other developed countries such as the USA and Europe. Despite this, many students, especially those from Asian countries, still wish to find a job and settle in Japan.
One possible reason for this is that Japan is politically and economically stable and the cost of living could be considered reasonable, with the country's inflation rate over the last 10 years remaining less than 1%.
The pie chart below indicates work placement by industry for ICS students that graduated in 2021. For many years, the financial services and consulting sectors have been the most popular career path for ICS MBA graduates. An interesting phenomenon reflected in this year's figures is a recent sharp rise in the number of ICS MBA graduates joining energy companies. This is due to active demand from Japan's largest power generation companies for global Human Resource talent, a factor that has strengthened such companies' relationships with ICS.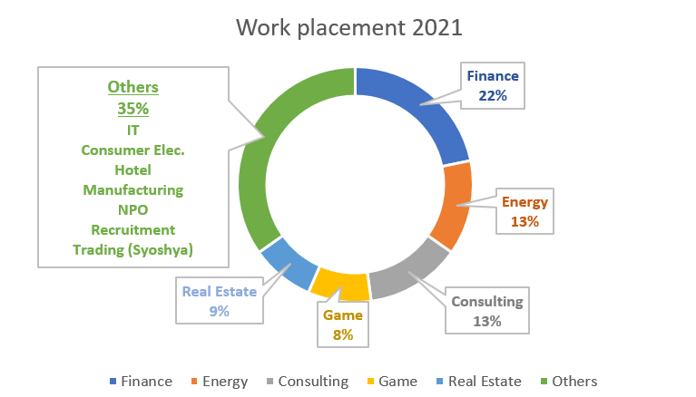 Moreover, owing to structural changes in society caused by COVID-19, there is now extremely high demand for talent in DX-related data analysis fields. The table below shows ICS graduates' role by function in 2021.
As ICS offers all courses in English, improving their Japanese level is always a concern for students. Most jobs require a certain level of Japanese language and understanding of Japanese business culture; that said, some students are recruited by companies on the condition that the new recruit subsequently improves their Japanese language skills.
In general, job hunting in 2021 was difficult in an uncertain and, for some, very unfamiliar environment. However, many students used the situation to their advantage to realize new and exciting opportunities. Job hunting while doing an MBA course is challenging, so students need a robust strategy to succeed. Savvy students make use of the wide range of resources available to design their career, including applying the skills obtained through their MBA such as leadership, innovation mindset, communication and project management.
Hitotsubashi ICS is the number one MBA course in Japan according to the 2022 Global MBA rankings by QS, one of the world's most highly-respected university rankings. As QS takes into consideration in its rankings the graduate employability rate, ICS's top QS ranking shows that its graduates enjoy a high rate of employment. The Hitotsubashi ICS MBA program is recognized by companies not only in Japan but around the world for producing genuine global talent, with every graduating class featuring students from a diverse range of countries/regions, as well as career backgrounds.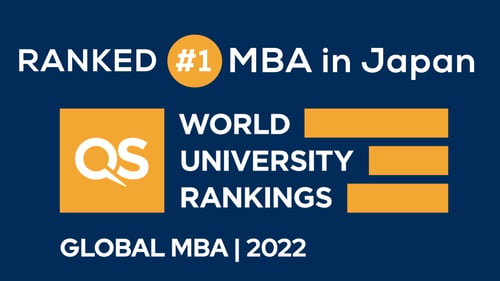 * YLP (Young Leadership Program, a Japanese Ministry of Education, Culture, Science and Technology scholarship ) YLP students are not included in the figures, as they are required to return to their home country after the completion of their MBA studies.
About ICS Career Services Office Director, Naoko Kasai
Naoko Kasai, who graduated from Lancaster University Management School (majoring in Organizational Learning), is a qualified industrial counselor and career consultant. After working for 3 investment banks (Barclays, JP Morgan, Macquarie), mainly as an IR professional, Ms. Kasai entered the field of Higher Education, initially as a designated mentor in the MEXT-sponsored special program at the Tokyo Institute of Technology. She then became a Higher Education careers advisor and has gone on to accumulate more than 3000 consultations with both Japanese and International students, mainly masters and Ph.D. she is also a part-time lecturer on Global Career Development Literacy.