Over the Summer, Hitotsubashi ICS co-hosted along with the ICS Alumni Association the first 100% online Alumni Day on Saturday, June 26. The event was co-hosted by Professor Yoshi Fujikawa (Yoshi), the faculty in charge of the external relations and external affairs, and Lavi Penaverde (Lavi), an alumna from our very first batch, graduating all the way back in 2001. Lavi joined us from Manila, Philippines.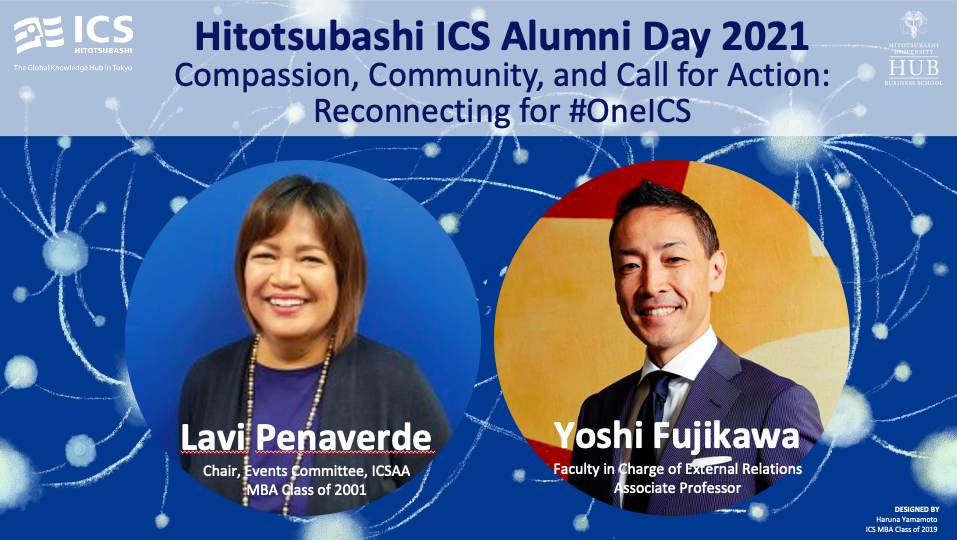 This year's Alumni Day theme was "Compassion, Community, and Call for Action: Reconnecting for #OneICS." We were amazed by the positive response we received from the alumni community, with over 250 registrations and 219 participants, making this Alumni Day the most attended event in the history of our Business School. We were thrilled to see alumni from across the globe and virtually welcome them virtually to our first Online ICS Alumni Day, especially since it had already been two years since we could meet in person, as we had to cancel last year's Alumni Day. As the world we all knew radically changed since the last time that we got together in 2019, this Alumni Day promised to be a grand reunion of some sort. It was an inspiring day for all MBA, EMBA, and DBA graduates, together with current students, faculty, and staff celebrated key milestones, memories, and friendships that started at Hitotsubashi ICS.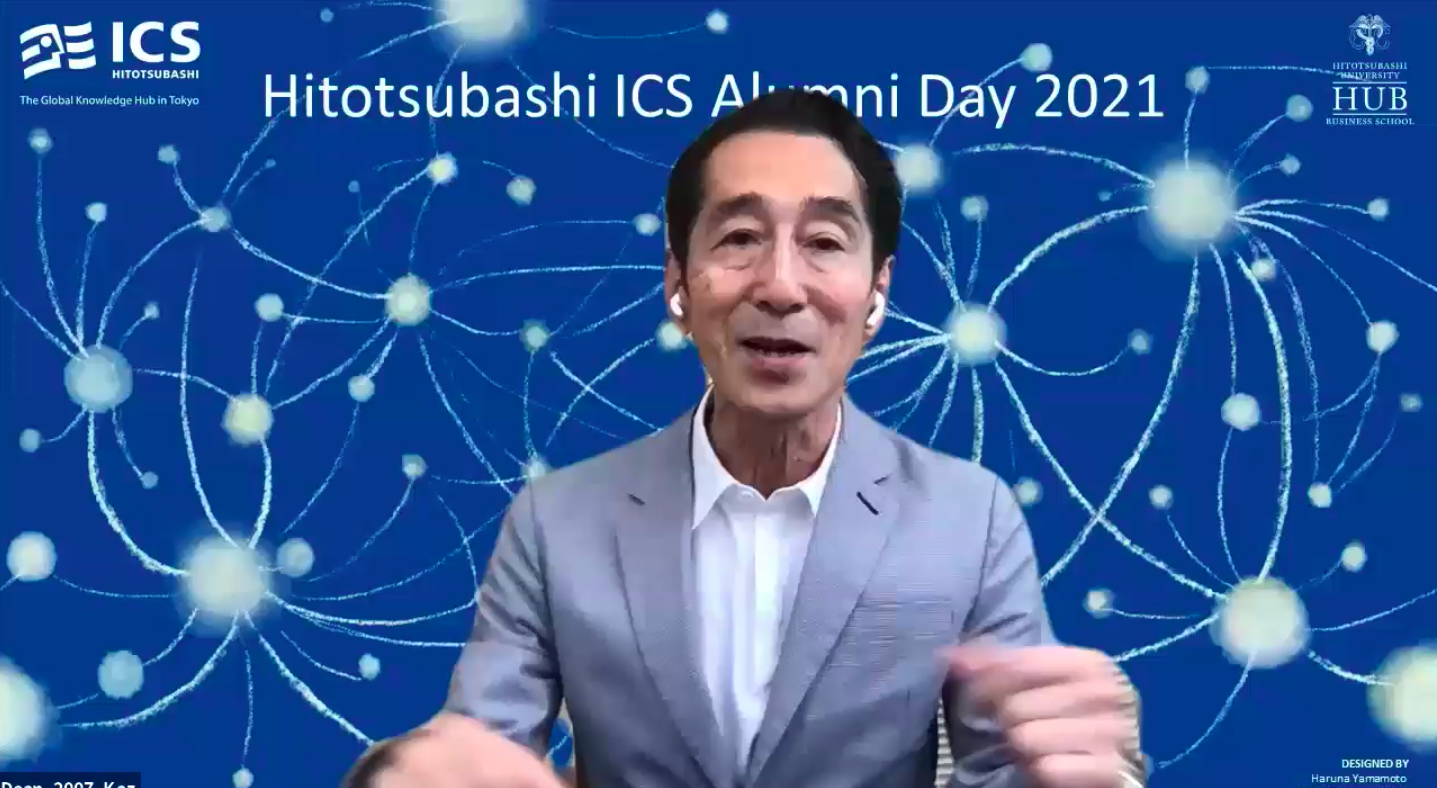 The day started with a message from our beloved dean, Kazuo Ichijo (Kaz), who opened the event with an important message to our school community, "COVID-19 is a crisis, but at the same time, COVID-19 is a great opportunity for us to transform ourselves. And in doing so, we grew, working closely together, staff members, students, and faculty members coming together as ONE ICS. So please come back online or offline to see the new ICS." Inviting everyone to "work together to create the great ICS and let's work together to create a far better society."
Alumni got a little test of the DXed ICS, as now Hitotsubashi ICS is running our MBA programs online or in a hybrid format due to the pandemic, the university policy, and our pro-active response digitally transforming ourselves. Throughout the two-hour event, we used a bunch of different platforms to offer an interactive event. One of the tools we used is a real-time polling tool that instantly creates a word cloud reflecting the results.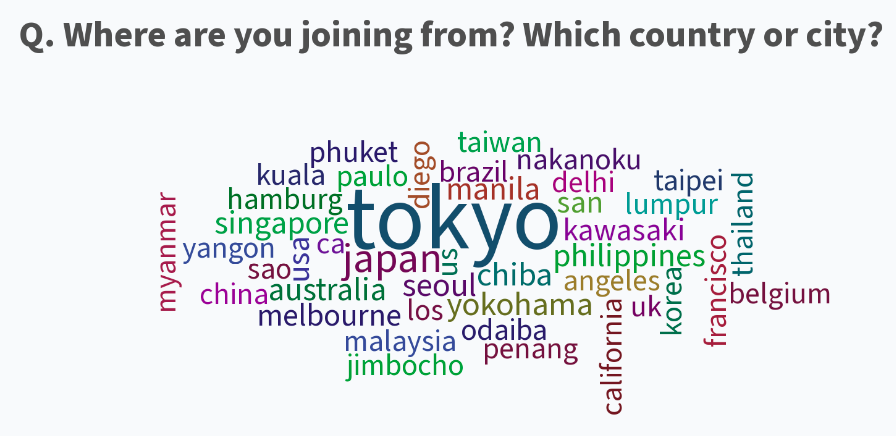 The word size reflects the number of times the word is mentioned; a bigger size equals more mentions.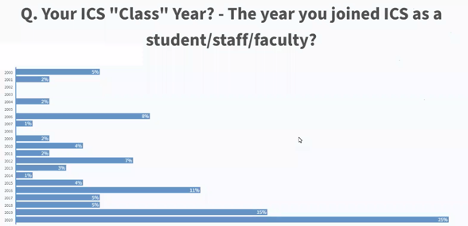 The graph above shows the year participants studied or worked at Hitotsubashi ICS, which shows the distribution of Alumni Day participants.
Also, as an ICS tradition, we commemorated the graduates celebrating their 10th and 20th anniversaries. Last year was supposed to be the year that we celebrated our 20th anniversary, so this year was pretty special, as we are celebrating the founding Class of 2000 and the Class of 2001, and the classes of 2010 and 2011. To commemorate these four classes milestone, two current MBA students, Neil and Viola, created a slideshow highlighting the memories from their time at Hitotsubashi ICS.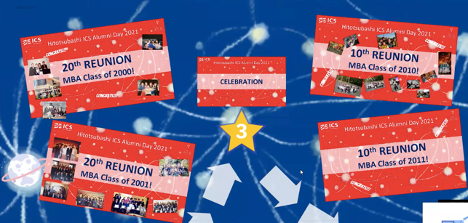 A special thanks to Neil, MBA Class of 2020, for putting the video together and, of course, to Viola for collecting the pictures. Thank you very much!
When we were brainstorming the topic for this year's Alumni Day, we thought of coming up with a simple yet meaningful theme that would capture what we are going through. And more importantly, bringing us together as ONE with action points on how we can cope, connect and move forward as a community. So, we hosted an alumni panel to chat about the compassion community and a call for action, reconnecting us towards ONE ICS.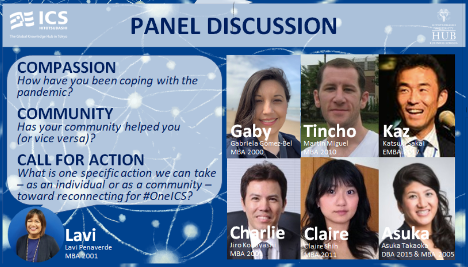 Lavi led the panel as the moderator, representatives of those classes celebrating their anniversaries, and a graduate of the EMBA and DBA programs joined the discussion.
Gabriella (Gabby) Gomez Bel, Class of 2000

Jiro (Charlie) Kobayashi, MBA Class of 2001

Martin (Tincho) Miguel, MBA Class of 2010

Claire Shih, MBA Class of 2011

Katsuki (Kaz) Sakai, EMBA Class of 2017

Asuka Takaoka, MBA Class of 2005 & DBA Class of 2015
After an enthusiastic panel discussion, Lavi summarized it into three key points, or as she said "going back to the ABCs". A- is for "agility"; we need to continue to be agile, reinventing things regardless of the circumstances that we will be facing in the future. B is for –"be intentional"; ICS gave us a really solid foundation, and it is now up to us how we are going to bring that purpose forward, in our work and in our family life. And of course, C- is, as everyone has been saying, for "connecting". One of the upsides of the pandemic is that it has allowed us to communicate through virtual platforms.
In this "stay at home" period, we need to acknowledge that we are in a different world. So, as we learned at ICS, we need to take one step forward, break out of the box, and reconnect with those people who inspire us to move onward, to be better. To conclude the panel discussion, everyone agreed that in the end, the important thing is to stay positive in these challenging times. Also, having a community is key to feel connected in what can otherwise be lonely and isolated moments. Giving our alumni community great advice: -when in need, do not hesitate to reach out, raise your voice and say, hey, I need help!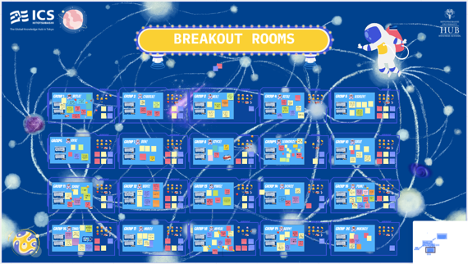 Then to pick up where the panel discussion left off, which was Call for Action, all the participants were divided into 20 breakout rooms to reflect in a small group what one specific action we can take as an individual or as a community toward reconnecting for One ICS.
To reminisce about their days as students, Yoshi cold-called some of the team leaders to share the ideas that surfaced from the group discussions:
More casual gatherings, online meetings, and maybe local face-to-face gatherings.

Have a common purpose; for example, create a foundation to work toward a shared goal.

Create small alumni groups, like hiking clubs, food clubs, etc.

Host events for students by alumni
To close the event, all the participants moved to SpatialChat for the after-party. SpatialChat simulates a real-room space so that participants could talk as if there were in the same place. We were very happy to see most of the alumni, students, and some staff and faculty joining the networking event.
All in all, this first Online Alumni Day proved to be an excellent occasion for the Hitotsubashi ICS community to reconnect. As the school year came to wrap up, and well, it has been a challenging one; however, we want to take this opportunity to give a shout out to our students, alumni, and staff, who, despite the challenges, quickly adapted to this new normal.
As a follow-up to this event, the interim alumni board sent out a survey to get everyone voting on the points discussed on Alumni Day to get everyone's input. The ICSAA and the school will use this survey to determine the alumni event calendar for the upcoming year.