In March 2021, we were honored to renew or partnership for the BEST Alliance (Beijing, Seoul, and Tokyo), uniting Hitotsubashi ICS with two Top Business Schools, Guanghua School of Management at Peking University (PKU) and Graduate School of Business at Seoul National University (SNU).
The Best Alliance network allows student exchange, a joint offering of a signature course in the comparative study (Doing Business in Asia), research collaboration at the doctoral level, and annual symposiums to develop regional savvy in East Asia.
Even under the difficult circumstances of the current pandemic, we have worked closely together to develop this unique relationship, and we successfully organized two projects in 2020.
The 9th BEST Symposium
Hitotsubashi ICS hosted this year's symposium. Given the pandemic, we held this symposium online for the first time. Twenty-two people got together from PKU, SNU, and Hitotsubashi ICS, sharing COVID-19 countermeasures, joint research findings, and the achievements of their collaborative education programs.
At the symposium, the three business schools took turns presenting their respective COVID-19 countermeasures. The schools expressed similar concerns regarding building a strong bond among students and faculty and making active efforts to improve.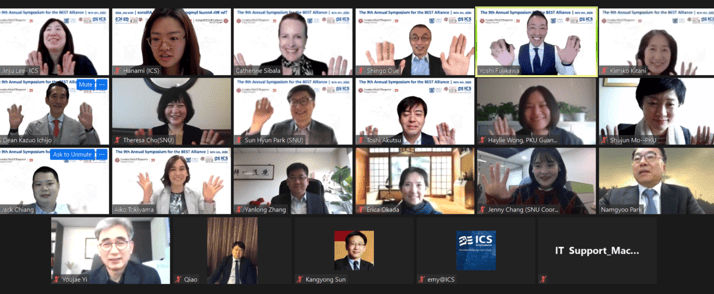 Professor Jinju Lee (Hitotsubashi ICS) discussed resource configurations and competitive actions during a changing market. Professor Jack Ting-Ju Chiang (Guanghua) and Satoshi Akutsu (Hitotsubashi ICS) investigated how narcissistic leaders make decisions regarding punishments. Sun Hyun Park (SNU) and Professor Yanlong Zhang (Guanghua) examined corporate philanthropic donations as a value-preservation strategy.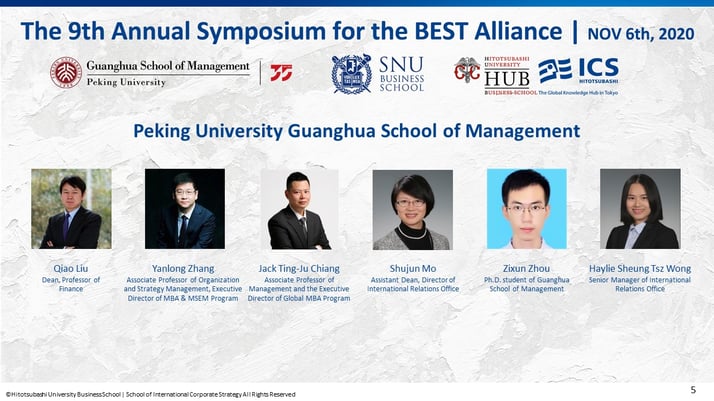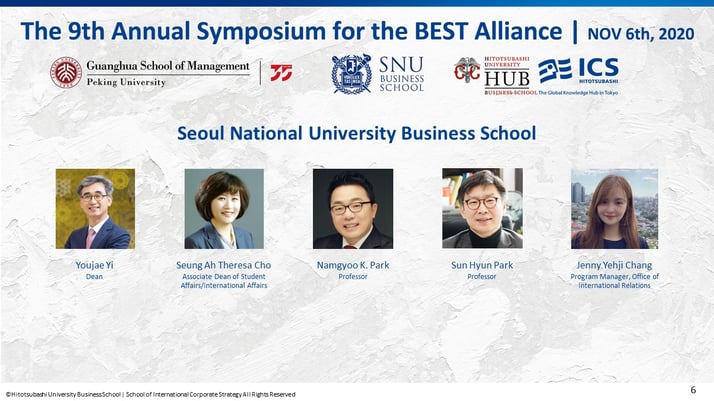 SNU Online Study Tour
Hitotsubashi ICS has hosted the SNU Study Tour since 2016. This year, we welcomed eight SNU Global MBA students and six SNU Full-time MBA students, resulting in a total of 14 students joining this online study tour. This two-day program was designed to allow students to learn about Japan's economic development, unique Japanese practices in business and management, and innovation initiatives in addressing social and economic challenges in management.
The first day of the program started with a kick-off by Professor Sun Kang-Yong, the faculty member in charge of the study tour, followed by four sessions that provided hints for learning about Japan's current situation and examining the similarities and differences between Japan and the students' home countries. In the morning, Professor Yoshinori Fujikawa gave a lecture called "Japan in 2020," and Professor Sun Kang-Yong gave a speech entitled "The Japanese Way of Innovation," followed by a talk on "Cross-Cultural Factors in Japanese Business" in the afternoon. Mr. Takayama of Eisai Co., Ltd., gave an introduction to Eisai's activities on a global scale.
The second day began with a lecture called "Competitiveness of Japanese Manufacturing" by Takahiro Fujimoto, a part-time lecturer, followed by a session entitled "Japanese Sogo Shosha" by Associate Professor Sun, and a second corporate session by Alan Sumiyama, a part-time lecturer. The second day ended with a lecture on "Japanese Human Resource Management" by Prof. Hiroshi Ono, which examined Japan's human resource system.
On the last day, Professor Masazumi Hattori gave a lecture called "Japan's Economy - Business Cycles, Policies, and Other Phenomena During the COVID-19 Crisis," which examined Japan from an economic perspective. This was followed by "Japan as Super-Aging Society" and "AI Business in Japan" by Associate Professor Sun, and "Innovation Strategies in Japanese Digital Content Industries" by lecturer Jinju Lee. The three-day program ended with lecturer Lee's presentation. The students commented that it was a meaningful program that allowed them to deepen their understanding of Japan, to compare the similarities and differences between Japan and their own countries and to reflect on the comparisons.
In 2021, we hope to restart our two other main activities: double-degree/exchange programs and the DBiA (Doing Business in Asia) short-term intensive program this coming year. However, we are certain that we will find a way, even with
unpredictable restrictions, to continue fostering this crucial relationship
To learn more details about the BEST Alliance, please read here.


*DBiA in 2019