One of the most attractive features of Hitotsubashi ICS is the double-degree program, which is an option for students in the two-year program.
Today, Charlie from the Class of 2020, who recently accepted into Peking University's double-degree program, shared with us the reason he chose to apply to Peking University, as well as his experience with the admission process.
Double-degree prog
ram with Peking University
I am currently in the first year of the two-year MBA program at Hitotsubashi ICS ("ICS"). For my second year starting this September, I am going to study abroad at Peking University's Guanghua School of Management ("PKU") through the double-degree program. Post-program, I will be graduating from both ICS and PKU.
One of the reasons I chose ICS was because it offers the double-degree program at PKU. As I am sponsored by a Japanese bank that is in one of the failing industries, learning about business in the context of not only Japan but also China, a growing economy with advanced financial technology, is essential for me to get myself prepared for my next career step to help the bank tackle its challenges after my graduation.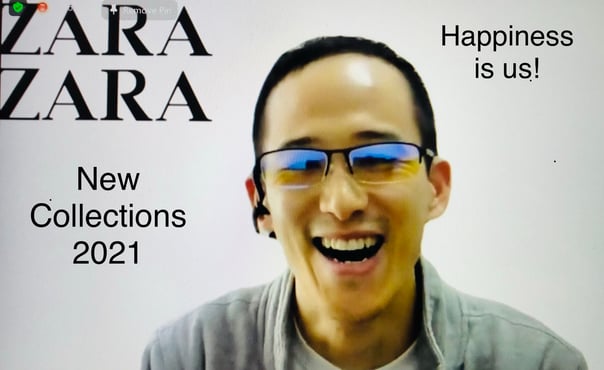 At ICS: during the Operations Management presentation
My lack of "Asian" experience – My passion comes from exploring new things
Here, let me talk a bit about myself. Unlike what I mentioned above, my focus was somehow always far away from Japan and Asia. When I was an undergraduate student, I joined a local NGO in Peru, studied abroad in Sweden, and traveled to Africa – most of my experiences were not accumulated in Asia. This continued after I started working, too. Since I joined my current sponsor company, I have been in charge of the U.S. market as a credit analyst.
After having all these experiences, I came to feel that I should explore new opportunities in my continent of origin, Asia. Because it has more diversity in various fields than the other parts of the world, I believe that Asia has more potential for collaboration and shared development going forward. I would like to be a part of such collaboration and development by becoming a bridge between Japan and other countries in Asia. Because China is advanced in terms of new businesses and expanding to other Asian countries, learning their best practices at the best university in China made sense to me. I believe that studying at PKU would help me establish my future career in Asia.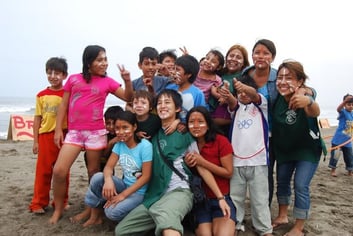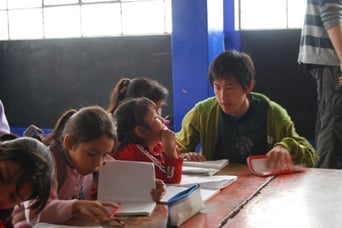 At Peru: I was an assistant teacher to teach Spanish and mathematics to kids at a community school
Preparation for the entrance exam for PKU
Joining PKU via the double-degree program is not a free pass, so I took the entrance exam like other normal candidates. I needed to have certain GMAT and IELTS/TOEFL scores, as well as a good GPA at ICS. Because I have already had a sufficient GMAT and IELTS score, working hard to get a good GPA at ICS was an essential part of my preparation in terms of providing evidence to show that I could contribute to PKU as a proactive student.
Great passion delivered by PKU professors
The entrance exam consisted of a few essay questions and an interview. Regarding these essay questions, the main topics were quite general, such as, "Why MBA?" and, "How can you contribute to the class/school?" At this point, I imagined that the interview would be a quite general, as well.
However, I was very surprised to see how passionate the interviewers (professors) were when I did the interview. Although the interview was only for 20 minutes, it was very intense in a positive way. Instead of asking me about the essay questions, they asked me various questions and brought up some discussion points related to my industry background, such as my views on the future economic outlook post-COVID, stakeholder issues related to M&A transactions and investment policies, as well as my experiences in managing and collaborating with managers and subordinates. The interview with PKU professors made me realize again that an MBA is not just another learning opportunity, but an opportunity I need to utilize as a "practitioner" after graduation. Thanks to this interview, I felt extra-energized and refreshed. Now, I am very much looking forward to starting my academic year at PKU.
To future ICS students
As you might already know, ICS offers a one-year MBA program and a two-year MBA program. At the moment, the double-degree program is offered only to two-year students (1 year at ICS and 2 years at PKU*). In addition to this program, ICS offers various other interesting opportunities during your MBA program. I strongly encourage you to make sure you check all the opportunities before deciding between the one-year and two-year program. I wish you a great and prosperous year if you decide to start your journey at ICS.
*Please note that: to receive the MBA Degree from PKU, students must be enrolled for two academic years and pass a thesis defense at the end of the second year.

Koyama Ryosuke (Charlie)
Charlie is a credit analyst with a history of working in the banking industry since 2012.
He is currently a two year
student of Hitotsubashi ICS.
His study interest includes corporate strategy and entrepreneurship.