In this Byline ICS post, Sai (MBA Class of 2019) shares his job-hunting experience in Japan.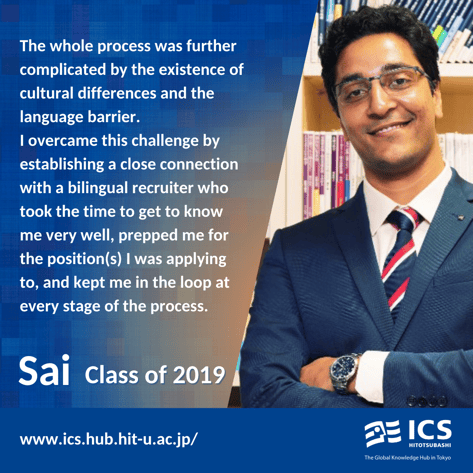 Sai | MBA Class of 2019
What was the biggest challenge you had during your job-hunting, and how could you overcome it?
The biggest challenge I had while job-hunting was identifying and communicating my value in the job market from a financial perspective. This was a huge challenge for me because of two main reasons: (#1) although I had switched jobs in the past, I hadn't had any experience negotiating my salary before, and (#2) my previous experience was in India and so didn't prove a useful baseline measure of previous compensation. The whole process was further complicated by the existence of cultural differences and the language barrier.
I overcame this challenge by establishing a close connection with a bilingual recruiter who took the time to get to know me very well, prepped me for the position(s) I was applying to, and kept me in the loop at every stage of the process. So, I ultimately secured a job with a compensation package that satisfied me.

What was your career plan before entering Hitotsubashi ICS, and how did it develop/change?
Before entering ICS, I was convinced that I would only pursue positions in strategy consulting post-MBA because I had been fascinated by the idea of working in a top consulting firm. However, I hadn't given enough thought to the specific set of skills I would need to acquire and the challenges of switching careers in a new country, not to mention the importance of work-life balance in my post-MBA career. Interacting with people from diverse backgrounds opened my mind to the wide range of possibilities that lay beyond the areas I was familiar and comfortable with and taught me that success and personal satisfaction come in different forms. We often tend to judge career progression in monetary terms or based on designation, and while those are important, they do not solely define the career we had or will have in the future.

Do you currently use Japanese at work?
My current job requires me to use Japanese almost exclusively. My current fluency level is "advanced professional," which I believe should be the level ICSers should aim for. Even if one isn't fluent in Japanese, being able to get one's point across so that it can be understood in any given professional setting is a key skill that most positions in Japan expect. I would recommend incoming students learn Japanese to a JLPT N3 level before enrolling in Hitotsubashi ICS and aim for N2 by the time they start their job search. All the best!




Liked this article? Read more about Sai's MBA journey and career change in Japan here: My MBA in Japan Journey | Alumni Voice