On June 2021, during Term 4, as a part of the Entrepreneurial Management class led by Prof. Yasuhiro (Yasu) Yamakawa, Hitotsubashi ICS MBA students (Class of 2020) made their team rocket pitches as a part of the Thursday Gathering event hosted by Venture Cafe Tokyo at CIC Tokyo, one of the liveliest startup/innovation ecosystems/habitats in this city.
Eenee, Hantao, and Lulu shared their stories about this exciting experience with us for Byline ICS.
Reduce Plastic Waste on the Planet
Entrepreneurial Management was a very interactive class during (which) we could learn a lot of new frameworks and review some courses that we had already completed. It was like a wrap-up class for marketing, strategy, design thinking, and presentation skills. On the last day of the class, many of my classmates acknowledged that they found the motivation to be more active in their professional lives. So did I. Instead of a final exam, we had to prepare a new business idea for the rocket pitch at CIC Tokyo. We'd already heard many times about CIC Tokyo, which is an innovation hub for new entrepreneurs.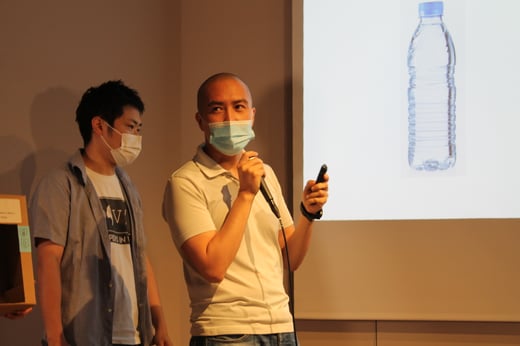 I was assigned to quite a diverse team: 4 nationalities with 4 different backgrounds. But the issue that concerned us was common: plastic waste on the planet. That's why we brainstormed about the solution regarding how to reduce plastic bottle usage. We tried our best to demonstrate all the frameworks that we learned during our MBA studies because it was our first time ever to do a presentation away from the ICS campus. All presentations went well. After the rocket pitch, Yasu-sensei led a guided tour for us at CIC Tokyo, which had a unique interior design. It was a fruitful and interesting journey!
Enkh-Amar Galbadrakh (Class of 2020)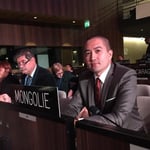 Enne is a Mongolian Diplomat with more working experience of more than a decade. Before joining the Hitotsubashi ICS one-year MBA program, he earned a master's degree in International Relations at the University of Political Science, Toulouse, France.
After graduating in September 2021, Enne returned to Mongolia to advance his diplomat career.
Skincare products to empower Myanmar's Economy
This course provided us the opportunity to elaborate on and construct our preliminary ideas into a feasible entrepreneurial business plan. One of our teammates was from Myanmar. She's a shy girl, but she has a passionate dream of commercializing and globalizing a skincare product made from local tree bark called "thanaka." Myanmar women and kids have been using thanaka for over two thousand years. Apart from cosmetic beauty, it also provides a cooling sensation and protection from the sun. We were so excited and motivated that, with proper commercialization and branding, global market consumers would welcome this exotic product, which would benefit Myanmar's economy.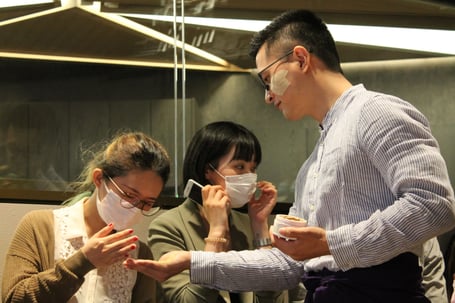 This was also, our first time to experience a rocket pitch---a pitch that must be delivered in only 3 minutes with only 3 slides. Professor Yasu kindly organized our rocket pitch at CIC, Tokyo's largest innovation start-up center -- in front of a real-world audience. In order to make our pitch unique and memorable, my teammates Ashley & Shwe suggested that I should wear thanaka makeup on my face and Myanmar's traditional Longyi sheet on my waist when making our pitch. It turned out that the audience liked Ashley's presentation and my curious appearance.
Having this opportunity, allowed our team not only to improve on presentation and teamwork skills but also, to enjoy the process toward the pitch, and grow from this challenging experience!
Hantao Chen (MBA Class of 2020)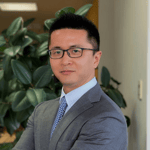 Currently working in business development at Sojitz Corporation Consumer Industry & Agriculture Business Division. Mainly focus on M&A, business risk management. I speak English, Japanese and Chinese. Before my MBA, I had 9 years of working experience in China.
During my personal time, I enjoy going to the gym and hiking.
Supporting Dual-Income Families with Children
Because I am very interested in venture capital and entrepreneurial activities, I'd been looking forward to Entrepreneurship Management, a course taught by Professor Yasu is from Babson College, which is well-known for its comprehensive entrepreneurship education.
His class introduced us to cutting-edge frameworks and perspectives, inspiring us to think in an entrepreneurial and creative way. For our group work, I came up with a childcare service idea, which was inspired by my own experience, so we started ideating from the pain (the actual problem), and not the gain (the solution).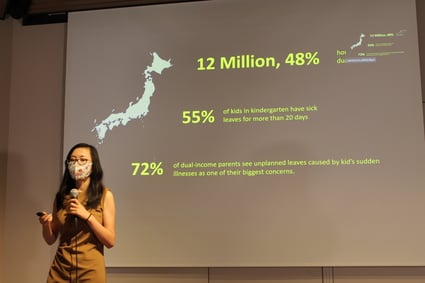 My husband and I were facing difficulties because, when our son got sick, we had to take unplanned leave immediately to pick him up, which caused a lot of trouble for us and our colleagues. The service that we proposed is called QQ Health, which helps dual-income parents pick up their sick kids and take care of them during the day. We believe that this idea can remove the physical pain for dual-income families and empower females in their careers.

On the last day, we gave a 3-minute pitch at CIC in front of those who were interested in entrepreneurial attempts and gained valuable feedback from the external advisors. We enjoyed our studies with Professor Yasu and the pitch experience at CIC.

Lu (Lulu) Wang (MBA Class 2020)

Before joining Hitototsubashi ICS, Lulu worked in different roles related to sales and product management. In 2015, she earned a Master's Degree in Engineering with Innovation and Entrepreneurship at University College London.
Lulu currently works as a Program Manager at Plastic Omnium and is the mother of one.