In this edition of Byline ICS, Coco, a 2-year student in Hitotsubashi ICS's MBA Program, talks about her experience of being an "ICSer" (ICS student), busy MBA student and mother - all while living in a different continent for over a year - as well as her time in US on exchange at one of the country's most prestigious business schools, the University of Virginia Darden School of Business with her family.
Why did you choose ICS?
"We all make choices in life. Knowing what you want is half the battle. It's not our abilities that reveal what we truly are, it is our choices. After much long-time introspection and deep conversations with people close to me, I realized that maybe I needed to 'upgrade' my capabilities through business studies and expand my network in Asia before being able to "go deeper" into the corporate world; pursuing an MBA degree in Japan responded to those goals. Hitotsubashi ICS's MBA program is Number 1 in Japan, thus Hitotsubashi University became my "dream school".
How did distance learning affect your study and your friendship with classmates throughout the 1st year at ICS in 2020-2021?
"Fortunately, I received an offer from ICS in the first round, in November 2019. My family was really thrilled about the student life that lay ahead of me and we went to Bali to celebrate this good news. Two months later, the world changed suddenly and completely. Borders were closed in many countries, including Japan. I began debating whether to postpone my enrollment or not. My firm belief was that this pandemic wouldn't last for more than one year and so I would be able to go to school as planned at a later stage. I, therefore, chose to join my peers on Zoom in 2020 as a member of the Class of 2020.
Zoom Day one was very special. Everything was new to me. I was very excited to see faculty members and my peers and get to know each one of them, even though we were not at school in person. I was surprised that ICS courses were not interrupted by the pandemic. The first step of learning seemed to be that under no circumstances should education be suspended. I spent the entire first month getting familiar with Zoom courses. Professors did not lower the requirements because courses were held online. Long periods sitting in front of a screen seemed to cause me to fatigue more quickly but the student board organized 'zoomikai' (multiple!) to help us unwind and classmates sharing their frustrations and successes with each other helped to alleviate any feelings of isolation.
Things changed in April 2021 when ICS introduced the hybrid class. I was among the few who were not yet in Japan. Professors tried very hard to manage in-person classes while simultaneously facilitating online students' participation. My classmates helped by changing camera angles and letting professors know that our hands were up. As a result, I did not miss any of the fabulous content of the courses. What I did miss was the interaction with faculty and peers after class. It was something that was hard to make up later. Nevertheless, my peers were very supportive and inclusive in the midst of this hardship and we became firm friends, anticipating excitedly a time in the future when we could meet in person".
What do you think you could leverage from the ICS experience in your life?
"ICS is unique in many ways. What I would highlight most to future students is the small cohort size of only 40 students. Because of this small number of students, faculties and students can get to know each other very well. In Term 1, students were assigned randomly into groups of 5 to 6 persons. We would work on all group assignments within this same group. This process was educational because you needed to work with people from different backgrounds. Sometimes it would be hard to get a consensus on an issue. We would have a discussion and vote to make decisions. There were sometimes "ugly incidents", but such ups and downs built unique memory and friendship in the group. We learned to be better team players and get things done by thinking outside the box.
Why did you choose Darden?
ICS is an eastern business school with a western-style, connecting the best of two worlds. I improved a lot by thinking about the big picture in this context. I realized that up to that point, I had received my entire education in the eastern world. If I wanted to understand business issues from the standpoint of westerners, it would be best to experience for myself a western business school. Thus, the Darden exchange program came into view.
Darden is one of the best business schools in the US. It is also a business school famous for the case study, a learning methodology I experienced a lot at ICS. At Darden, I would be able to see how case-study education could vary. I would be able to experience the ambiance of a 'typical' US business school. Faculty with different industry backgrounds could help me understand the business sector from a practitioner's viewpoint. Students from all over the world come together to learn business philosophy in the US. I could imagine that there would be team conflicts because of different ways of thinking. However, such interactions could help me strengthen my capability to accept others' differences and become more open-minded. When immersed in this atmosphere, I might be shocked at the diversity at first. But I was excited about how much I stood to improve myself, and how I could make a positive impact on others.
Your journey to the United States – could you explain the steps you took in terms of visa, COVID-19 protocol, accommodation, etc?
Darden has long experience in running international exchange programs. There were 8 exchange students from top European and Asian business schools at Darden during the 2022 spring semester. After I was informed by ICS that I was successfully nominated and admitted to the Darden exchange program, it took about 3 months from beginning the process to finally being able to step onto US soil. Darden's Global Programs Manager, James, guided me step by step through the process, sending me information and instructions periodically
Step 1 was to fill out the DS-2019 application online to get a J-1 visa. Polly from the International Studies Office at Darden would oversee the information that I put in. After confirmation, Polly would mail my official DS-2019 form to ICS, and then ICS mailed it to me. This process took about 6 weeks.
Step 2 was to get a J-1 visa at my local US embassy. I need to prepare SEVIS I-901 Payment Confirmation, Online Nonimmigrant Visa Application (DS-160), Appointment Confirmation, and other supplementary documents before I could see a visa officer.
Step 3 was to get a PCR test within 1 day before I got on board the flight to the US, according to CDC guidelines.
The accommodation was another story. Darden is located in Charlottesville in Virginia, a small college town close to Washington DC. Short-term accommodation is hard to find and can be very expensive. James told me about some Darden students who were doing exchange aboard during the time I would be there, so I was, fortunately, able to sublease accommodation of one of these students, Kevin, for the first half of my time at Darden. After arriving in Charlottesville, I visited some real estate agents and found an apartment for the latter period of my time at Darden. Worrying about where to live next month was not fun at all.
What are you studying at Darden? How are the professors?
It is a full-time exchange program at Darden, so I'm required to take at least 12 credits per semester. As each course is 1.5 credits, I need to finish 8 courses to fulfill the minimum requirements. I got my course selection done 2 months before the new semester began. Since I was eager to learn about businesses in the US, I'm taking a lot of courses related to finance. In the first quarter, I'm taking Mergers and Acquisitions; Financial Statement Analysis; Quantitative Portfolio Management; Global Financial Markets; Understanding the Nonprofit Sector and in the second quarter, I'm taking The Consulting Process; Hot Topics in Finance; and Critical and Creative Thinking in Business.
Most of the courses have group work and I worked with different groups of students in each course. Professors are very encouraging, welcoming, and enthusiastic about class participation. Students usually sit in the same seats for each course, so the professor can recognize students more easily. A Darden cohort is about 350 students each year, so recognizing students is not an easy task.
Any student activities? ---drinking with classmates, networking with companies, traveling around, etc?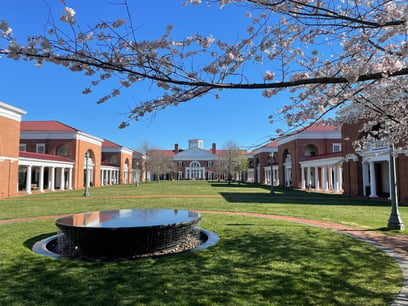 Student life is very active at Darden. Darden students study hard and play hard. There are many parties and gatherings in a lot of different places. I'm very glad that I was invited to many parties, such as on Galentine's Day, where girls enjoy the night with snacks and share their feelings; friend's birthday parties; spring festival gatherings, where students cook and celebrate the lunar new year together; ABCD (The Asia Business Club at Darden); Asia Gala Night, where participants wear traditional dress or business casual to enjoy dancing as well as the catwalk. There are also many sports events in town. UVA Cavalier has teams in basketball, baseball, lacrosse, football, etc. I went to see men's basketball games and baseball games a couple of times. Players, audiences, and cheerleaders are all in the game together. The live atmosphere is wonderful. Of course, you can buy some popcorn or French fries during the break. Cheering for your team requires a lot of energy!"
Coco (Cao Shuang) | MBA Class of 2020
Coco is a second-year student at Hitotsubashi ICS from China, awarded SMBC Global Foundation Scholarship. Before joining Hitotsubashi ICS, she worked in risk analysis and compliance in the banking sector. She is doing an exchange program at the University of Virginia Darden School of Business in spring 2022.